So what's the worth of a Sunday political talk show in 2013?
Becoming the host of one is still the core status symbol for TV news journalists. But the shows as they stand right now are relics, with declining ratings and content that's usually already been thoroughly hashed out online and on cable by the time Sunday rolls around. There's very little innovation right now in the format.
Seriously, what's the point of having them at all the way they are right now?
Does that matter to the networks?
Probably not. They'll continue to pencil these shows into the schedule and sell them to viewers as the most prestigious political show they have to offer. That doesn't mean they should ask us to sit back and enjoy another helping of John McCain and Lindsey Graham, though.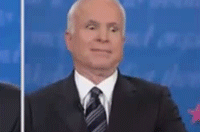 All right, what could be done differently then?
The Sunday show might be here to stay, but the routine of hosts spending the week prepping for one single hour-long show has got to go.
While they wait for the news cycle to decide their show topics, these shows could start producing some quality "web extra" content for the cord-cutters that isn't just a 10-minute interview with someone who didn't make the cut for the real show. They could also integrate some more original reporting during the week that then becomes part of the Sunday show.
Finally, the hosts of Sunday shows could actually interact with their audience. Have you seen some of their Twitter feeds? Chris Wallace doesn't even have a real account. Candy Crowley has tweeted three times since Nov. 24. To his credit, NBC's David Gregory is actually very active on Twitter and does neat things like #TweetThePress.
Well, is anything going to change soon?
Political junkies might get a chance soon since there are rumors NBC might be bringing changes to Gregory's Meet The Press. (Those rumors include potentially bringing the Morning Joe team to Sundays.)
A quick look at the other networks and you can see real opportunities. Fox News' Chris Wallace is safe at Fox News Sunday, but George Stephanopolus' loaded schedule and Bob Schieffer's age make their shows good candidates for extreme makeovers. Unfortunately for ABC and CBS, their farm systems don't seem to contain any potential hosts who can transform those shows into something exciting and new.
CNN, however, has a perfect opportunity to be the first to step things up on Sunday — and they can do it right now.
What can CNN do?
Minus her badass red leather jacket, State Of The Union host Candy Crowley hasn't really veered from the path set by her predecessor, John King. Why not hand the whole thing over to someone with the potential to really shake things up on Sunday? Someone who at one time wanted his own Sunday show but was inexplicably denied the opportunity. Someone who is respected by the left and the right. Someone who uses a cat in a Santa hat as his an avatar. Someone who gets it. Someone like Jake Tapper.
So what would Tapper bring to Sundays?
Even though it's been a down year for cable news, Tapper has been CNN's daytime MVP. It's safe to say that anyone near a television at 4 p.m. interested in news and politics is probably watching Tapper's The Lead. Even though MSNBC recently announced that they're moving Alex Wagner, one of the network's biggest non-primetime names, into that time slot, it's safe to say that Tapper is too busy to really care. He tweets, he Vines, he Instagrams, he's stepping in and keeping things running smoothly in the primetime when Erin Burnett is away. He's a tough interviewer. And, despite working for a mainstream media outlet that is not Fox News, conservatives love him for his open acknowledgement of bias in the media.
This kind of media mastery is the stuff that Sunday show hosts should be made of. Hell, this is the stuff that hosts of those legacy morning shows like Today are supposed to be made of. Look, I'm advocating for Tapper to get a Sunday show here, but assigning the guy to guest host the next time Chris Cuomo is out for extended vacay might not be a bad idea either.
Tapper's exclusive election-day interview with Chris Christie positioned him as the go-to for the early Republican front runner on the road to 2016. Add his cred with conservatives to that, and Tapper could be the go-to for every Republican running for president in 2016 who wants to reach "the center." That's just the kind of thing that could help CNN stomp past MSNBC during the election in the mornings and would definitely come in handy for CNN's State of the Union, a show that isn't even listed in blog posts about Sunday show ratings.
If Tapper doesn't fit into CNN's long awaited primetime changes and Wolf Blitzer stays put in The Situation Room, Zucker and company can't possibly come up with a good reason not to get Tapper on television on Sundays.