Dennis Rodman Apologizes After Freaking Out On CNN, Admits He Had Been Drinking
CNN's Chris Cuomo's interview with the former NBA star, who is in North Korea, (predictably) went off the rails.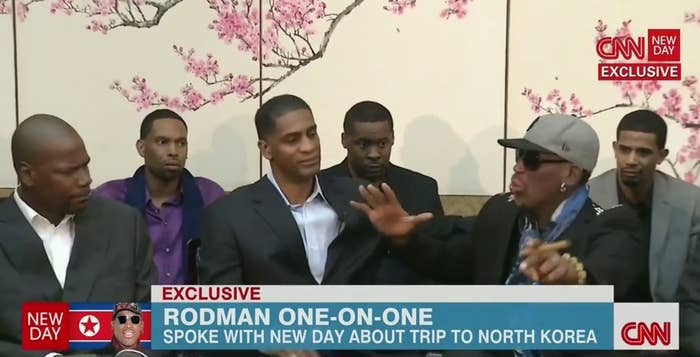 Update - 12:15 a.m., ET Thursday: Rodman apologizes.
Dennis Rodman issued an apology Thursday through his publicist Jules Feiler in an email to the Associated Press.
I take full responsibility for my actions. It had been a very stressful day. Some of my teammates were leaving because of pressure from their families and business associates. My dreams of basketball diplomacy was quickly falling apart. I had been drinking. It's not an excuse but by the time the interview happened I was upset.

I want to first apologize to Kenneth Bae's family. I want to apologize to my teammates and my management team. I embarrassed a lot of people. I'm very sorry. At this point I should know better than to make political statements. I'm truly sorry.
Former NBA star Dennis Rodman, and friend of North Korean dictator Kim Jong-un, reacted wildly to questions about imprisoned American Kenneth Bae from CNN's Chris Cuomo on Tuesday morning.
"Are you going to take an opportunity, if you get it, to speak up for the family of Kenneth Bae and say, 'Let us know why this man is being held?' If you can help them, will you take the opportunity?" Cuomo asked.
"The one thing about politics, Kenneth Bae did one thing. If you understand — if you understand what Kenneth Bae did," Rodman said, adding "Do you understand what he did? In this country?"
Rodman went on to scream at Cuomo for not recognizing the sacrifice being made by the other former NBA players who are in North Korea to play a game as a "birthday present" for Kim Jong-un.
Watch the full interview at CNN.
NBA commissioner David Stern had this to say about Rodman's trip to North Korea.