CNN May Never Stop Covering Flight MH370
The Malaysian government announced Monday that the plane crashed in the southern Indian Ocean.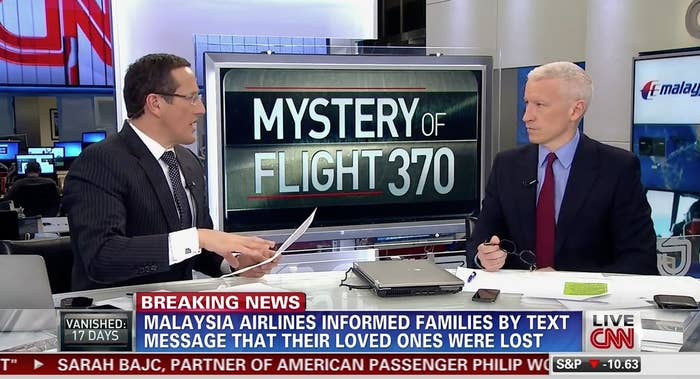 Malaysia's Prime Minister Najib Razak announced Monday that it's been determined that Malaysia Airlines Flight 370 crashed in the southern Indian Ocean.
In lesser stateside news, the announcement begs the question, "What will CNN do now?"
When asked by BuzzFeed if CNN would stay committed to the story despite the Malaysian government's determination, a spokesperson from the network provided a non-reply of sorts in the form of a list of reporters CNN has covering the story:
We are in live simulcast coverage now, with Anderson Cooper anchoring.

Here's a list of all our reporters and their locations:

Kuala Lampur, Malaysia
Sara Sidner
Jim Clancy
Saima Mohsin
Atika Shubert

Perth, Australia
Kate Bolduan
Andrew Stevens
Kyung Lah

Beijing, China
Pauline Chiou
David McKenzie

In the US, Richard Quest, Jim Scuitto, Martin Savidge, Rene Marsh, Evan Perez, Barbara Starr and Tom Foreman.

Will keep you posted.

Thanks.
With Anderson Cooper anchoring at 11 a.m., and the wealth of overseas resources highlighted in the email, this is a less-than subtle message that CNN is prepared to continue its "over-coverage" of this story — a strategy that, thus far, has raked in ratings for the network and divided media watchers across the country.