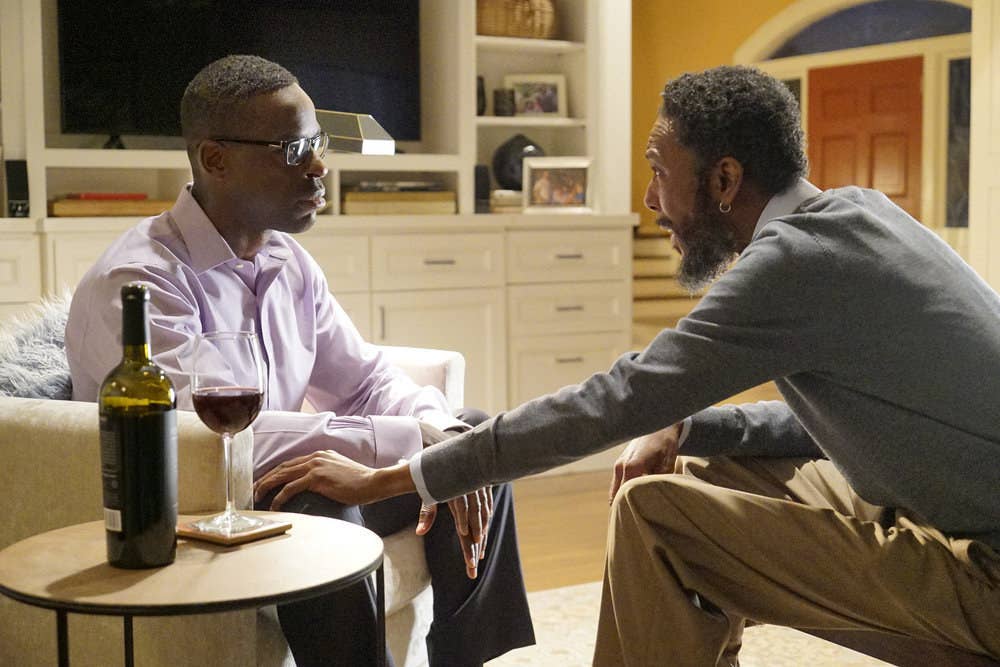 My first inkling that the NBC show This Is Us was truly going to be a blockbuster was when I got an email from my mom three weeks into the season. The subject line was: "A fantastic show." The email: "Watch This is Us. NBC. Tuesdays at 10. Really wonderful." Then I saw that a woman I'd gone to summer camp with was posting about how much she loved the show on Facebook, and dozens of people, mostly women, had commented that they loved it too. Then another friend posted that she, too, loved it (even if it wasn't as good as Parenthood, the show that it's most compared to). When I visited my younger sister, she insisted that I watch the show. It was the first time in a long time that so many non-media people in my life — and all women — had been discussing a TV show. And a network TV drama about family, at that.

Indeed, This Is Us — which was nominated for three Golden Globes, and returns from its fall hiatus on Jan. 10 — is the most popular new drama of the season. Its fall finale, which aired on Dec. 6, had the highest ratings of the season, with 15.4 million people watching within three days of airing and a 4.49 rating in adults 18–49; it was the No. 3 show that week, behind only football on Sunday and Thursday nights. It's also killing it on social media — its season premiere had the most Facebook and Twitter interactions of any of the fall shows — and the show trends every Tuesday night that it airs. (Facebook users could even make temporary profile pictures with a This Is Us filter.) It's managed to engage viewers with an interactive experience that encourages them to tweet and Facebook throughout the show, which many shows attempt but few — save almost anything created by Shonda Rhimes — are actually successful at doing.
As cable and streaming services double down on niche audiences and become edgier, with more sex and violence than ever, networks have seen less critical praise and smaller viewership than in years past. But This Is Us has changed the equation. The show tackles potentially fraught issues (adoption, race, drug abuse), but in a broad, comfortable way that reaches the biggest audience possible. "The world has grown so cynical and our art has grown so withholding and cynical," showrunner Dan Fogelman said on IndieWire's Turn It On podcast in September. "Everybody's so scared to touch anything involving sentiment because you're gonna get hammered for it, and it'll happen here, inevitably. But we've done it in as elegant a way as possible, and I think if people don't like it, fuck 'em."
If nothing else, what This Is Us has done is shown that a mass-appeal network drama can still succeed in the current environment. As Channing Dungey, head of programming at competitor ABC, put it: "In recent history we haven't paid enough attention to some of the true realities of what life is like for everyday Americans in our dramas." The present-day characters in This Is Us may be upper-middle class to wealthy, but the Pearsons of the 1980s are decidedly middle class, and one major character, the birth father of one of the Pearson siblings, is supposed to be poor. And the struggles that all the characters have are ones that seem relatable, no matter where you fall on the class spectrum.
Certainly, This Is Us does not shy away from sentimentality bordering on melodrama — one major storyline involves Sterling K. Brown's character, Randall, reconnecting with his birth father, who's dying of stomach cancer — but perhaps that's actually the key to its success: It not only gives viewers an outlet for their emotions, but also approaches Big Issues like racism with a soft touch, allowing people to feel as though they've engaged with these important questions from the comfort of their couch. In an age when divisiveness reigns, it's no surprise that a show like This Is Us, whose sentimental storylines seem to take their cues more from movies than from TV (Fogelman has cited Terms of Endearment as a major influence on his work), has resonated so widely. "If you break down any human being's life into big moments and big choices and big moments of choice and meetings and the strange moments when you meet husbands and wives and have kids and get jobs or change career paths or lose a parent, life is very cinematic in that way," Fogelman said on the IndieWire podcast. (He was not available for an interview.) "It's big and it's beautiful and it's ugly and messy and so... that's what the show's about. This big, sprawling, mess of a thing."
The show focuses on the Pearson family — mom Rebecca (Mandy Moore), dad Jack (Milo Ventimiglia), and triplets Randall (Brown), Kate (Chrissy Metz), and Kevin (Justin Hartley). The twist: The family is portrayed both in the past, when the triplets are children, and in the present, when they are adults. Twist number two: Randall is black; he was adopted by the Pearsons after their third triplet died in childbirth, and he was abandoned at a fire station by his father. In the present, Randall has found his father, William (Ron Cephas Jones), and has brought him back to Connecticut to live with his wife, Beth (Susan Kelechi Watson), and two daughters. Meanwhile, Kate, who Fogelman has said is loosely based on his sister, has a storyline that focuses mostly on her obesity and her struggle to lose weight, while finding love for the first time in her life. (Metz is supposed to be losing weight in real life as well, although reports that it was written into her contract were not accurate.) Kevin, who is handsome in a milquetoast Ryan Seacrest way, is trying to be taken seriously as an actor, so he quits his job on a sitcom called The Manny and moves to New York to try his hand at theater.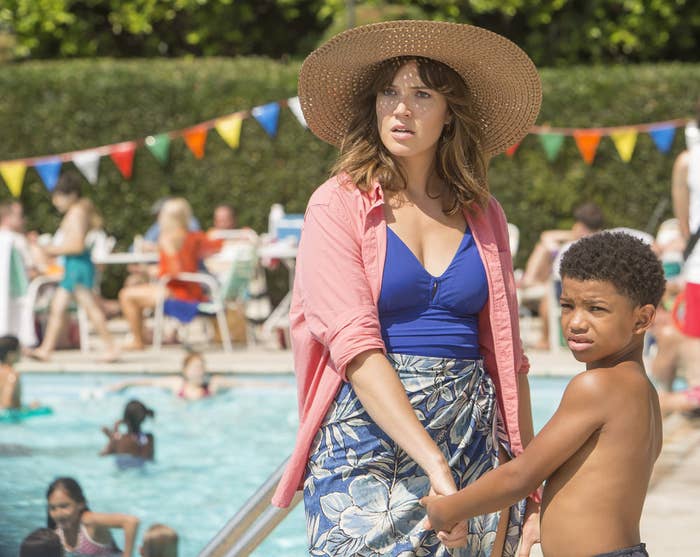 Natalie Guevara, the 30-year-old head of communications for Genius who lives in New York, rarely watches TV; she has no kids; the last show she says she became obsessed with was Freaks and Geeks. But she is unabashedly obsessed with This Is Us. "On the whole I wouldn't say I'm a huge TV watcher," she told me. "So for me to become as obsessed as I am with a show is remarkable. It's even more rare for me to become obsessed with a show when it's actually on air."
For Guevara, This Is Us has tapped into something fundamental. She listens to podcasts about it; she watches the aftershows; she reads Reddit threads; she follows the cast members on Twitter. And she discusses each episode with her mother, who, she says, has "very different taste" than she does. "She lives in Miami and it's very sort of rare that we'll agree on something — we live very different lives — but it's been kind of cool how we've both become really enamored of the show," Guevara said. "We go through all these theories we have, which characters we relate to. She comes at it from a totally different perspective."
The show is also resonating with evangelical Christians, who gravitate toward This Is Us's emphasis on family, its focus on forgiveness, and its flawed but ultimately good-hearted characters. For Christians in particular, the interconnected storylines demonstrate that God truly does have his hand in everything, no matter how complicated things appear to be. (One Christianity Today writer referred to God as "the divine showrunner.")
In interviews, Fogelman has never brought up the idea that we are meant to see the characters as guided by God. But in contrast to cable shows like Game of Thrones or The Walking Dead, which seem to exist in a completely godless universe — or at least in a universe where God is cruel and unforgiving — a show like This Is Us is a salve.
The flaws portrayed on This Is Us are approached in a way that emphasizes their relatability and the idea that everyone's shortcomings — and biases — are surmountable. William was a drug addict — an issue that, thanks to the opioid epidemic, white families are perhaps finding more relatable now than ever before — but he's been clean for years; his addiction is portrayed as a fixable problem (although he's also being punished for it by having incurable stomach cancer). Kate is overweight, but she's working on it. Kevin is not taken seriously as an actor, but he moves to New York and gets into theater. In one of the scenes in the past, Rebecca finds young Randall at the pool playing with some black kids, and at first she's defensive about it, but she quickly comes around and realizes that Randall needs black friends, too. She starts bringing him over to play with one of the children he's met, and asks his mother about how to deal with Randall's hair and whether he needs to wear sunscreen.
Christian writers have applauded the show's portrayal of the "messiness" of life, and the ways in which the show portrays their struggles relatably — and in a way that seems biblically inspired. As a review on the Christian blog Crosswalk noted, "Many of us are just like the characters in This Is Us; stuck in neutral, unsure of ourselves, and still fighting old temptations we thought we'd put to rest. Yet, even in these difficult times we're reminded that God has bigger plans for us."
And This Is Us's "messiness" is a necessarily circumscribed messiness (one that gets resolved over the course of an episode or two) — nothing truly bad ever happens, and no one's worldview is ever actually challenged. As Jen Chaney points out in Vulture, "This Is Us tends to practice what I'll call comfortable progressiveness. It tackles challenging subjects, but in a way that feels much too safe" — as is the case when Randall finds out that Rebecca actually knew that William was his father all along, but had been hiding it from him because she didn't want William to be in his life. Randall is angry for about half an episode, then gets over it thanks in part to a well-timed accidental mushroom trip (really).
Jen Hatmaker, the popular Christian author and blogger, posts a recap of each episode on her Facebook page; hundreds of her fans also chime in each week. Like the Pearsons on This Is Us, Hatmaker's family is also multiracial — she has two adopted black children — and the transracial adoption aspect (international adoption in particular has been pushed by evangelical leaders, though it later came under fire) of the show seems to have resonated deeply with her, as well as with her readers. After the fall finale, Hatmaker wrote, "I utterly, completely cannot handle the Randall storyline. It is too close. (Is that part connecting to those of you outside the transracial adoption community as deeply? Because every single week, I feel like the writers have been spying on my family, and I cannot deal in the slightest.)"
Reed Lackey, a 36-year-old writer in the suburbs of Los Angeles, has no personal connection to adoption, but finds Randall's storyline the most compelling, and cited Randall's trip scene in particular. "A lot of Christian theology understands a posture that God has adopted us as his children. Maybe that's tapping into something that's resonating with me," Lackey said. "A fundamental tenet of my understanding of Christianity is this idea of adoption by grace into a redemptive state.. Randall's not the product of his birth father or his adoptive father, he's his own person but he's influenced by both; we call God our Heavenly Father. There's a lot of that balance that really resonates."
But as This Is Us continues — and it's a no-brainer that the show will get renewed — it will also have an audience that expects complicated storylines and twists without devolving into gimmickry or contrivance. And perhaps more important, as it tackles storylines with potentially bigger, and more controversial, stakes — like William being queer, which was revealed in the fall finale — will it risk alienating evangelical or conservative viewers, and is that something that the show's writers are now concerned with? (One way This Is Us might deal with it: Unless William makes a miraculous recovery from his terminal cancer, he will die soon.) In the meantime, however it evolves, This Is Us has at the very least managed to become the rarest of beasts in the current television landscape: a show with true mass appeal that has also garnered critical respect.
Want more of the best in cultural criticism, literary arts, and personal essays? Sign up for BuzzFeed Reader's newsletter!
If you can't see the signup box above, just go here to sign up for BuzzFeed Reader's newsletter!