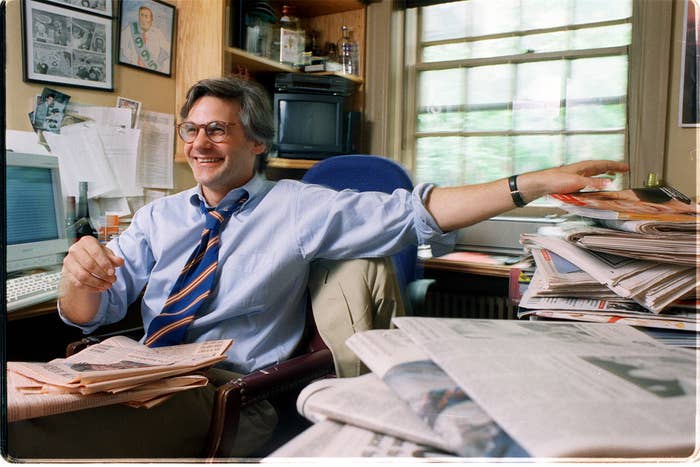 Everyone's story about being hired by Peter Kaplan is quirky and telling in its own way, and I think mine is probably no exception: In July 2007, when I was a writer for Gawker, I got an email from Nikki Finke that said in the subject line: "peter kaplan called and asked who to hire as his media writer/editor. i said you." And so a few days later I got coffee with Peter at Le Pain Quotidien on 19th Street between Park and Broadway, just down the block from the old Observer offices, and a few weeks later, after several back-and-forths about what the job was (I was to be writing about "ideas") and how much money I would be making (not very much), I was hired.
Peter was a brilliant editor, a wonderfully idiosyncratic writer ("The barefoot contessa wore rubber thongs," begins what is perhaps the ur-text for Kaplan scholars, a profile of Ava Gardner he wrote for the Times in 1985), and a New York City institution, but above all he was a spotter of talent and a mentor to dozens of writers and editors working today. He recruited people from the pages of college newspapers, local papers, trade magazines, gossip columns, literary journals, legal journals, and academic journals; if he had known what LiveJournal was he probably would have plucked people from there as well.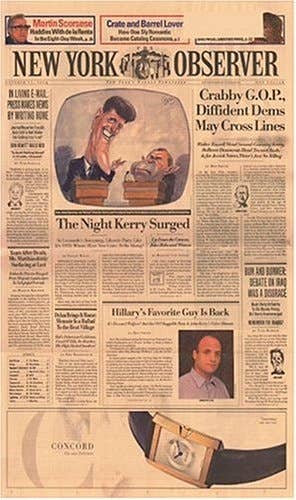 Getting hired by Peter Kaplan felt like getting tapped for the most thrilling secret society ever, and Peter loved hiring people. (He hated firing people; it was rumored that, in fact, he had never personally fired anyone.) At a place like the Observer, which was constantly teetering on the brink of insolvency if not utter collapse, hiring people was not always easy — either in terms of convincing the powers in charge of the paper to release the funds or in terms of convincing a young person to accept the paper's almost laughably low salary — but he managed it. He was completely and utterly convincing; when he had an idea for you, whether for a story or for a job, it was a good one whether you realized it at first or not.
When BuzzFeed's founder Jonah Peretti was looking for an editor-in-chief, he offered the job to Peter, who at the time was working for a division of Conde Nast. Peter turned it down, but recommended one of his former reporters, Ben Smith, for the job. And when Ben was thinking about hiring me, he called Peter.
Peter had a coterie of editors, many of whom had become close friends, who had worked for him for years, but much of the staff at the New York Observer was made up of young, hungry (literally and figuratively) reporters who were hired when they were 22 or 24 or 27, worked for him for two or three years, and then got hired at the Times or New York or BusinessWeek or Entertainment Weekly, or wrote a book, or a screenplay, or started their own magazine or website.
Indeed, he clung close to his editors — there were always rumors in the newsroom about, say, this editor whom he'd convinced to turn down a job at the New Yorker, and that one who was offered a position at the New York Times Magazine who was still toiling away in her shared Observer office — but his writers were a different story. Writers were to be hired and nurtured and then, when the time was right, preferably after they had written dozens of stories that made people laugh or cry, or made them angry, or got someone fired, or revealed corruption or hypocrisy, or laid bare the mechanisms of power in the great city of New York, set free. But he knew, and we knew, that he would always be with us.