After Amber Heard filed for divorce from Johnny Depp and amid allegations that he abused her, People put Heard's bruised face on the cover last week with the headline "INSIDE THEIR TOXIC MARRIAGE: Jealousy, fights, and accusations of violence. Why they're divorcing after 15 months." Writing for The Cut, Allie Jones argued that the cover is a departure for People: "This is pretty incredible considering People's long-held tendency to protect the A-list."
Certainly, the People cover may be a departure in some ways, particularly in the context of celebrity media: It's revolutionary that the image of the battered Heard dominates, with just a small, separate photo of Depp and Heard together; there's no turning away from the powerful imagery of this battered woman staring at us from the supermarket checkout line. And yet the cover also tells a depressingly familiar Hollywood narrative, one that has, in fact, been told over the years. Besides pregnancies and babies, marriages and divorces are the bread and butter of celebrity journalism — and a "turbulent" marriage only adds to the drama.
An examination of stories from the last 30 years shows that domestic violence narratives have been depressingly consistent — and often make it seem like both parties were at fault. The caption on a headshot of Mia Farrow on a "Sinatra & Women" People cover from September 1986 said, "Her independence made him violent." A December 1987 cover featuring Madonna and Sean Penn was accompanied by the headline "DIARY OF A MAD MARRIAGE: Jealousy, booze and brawling sink Hollywood's most outrageous couple." And a March 1989 cover of actress Sean Young featured the caption "Sean Young & James Woods FATAL ATTRACTION: Their razor's edge romance turned to rage, two of Hollywood's hottest stars play out a real-life tale of love gone mad."

In January 1989, when People revisited Madonna and Penn's relationship with "Surprise! It's Splits, Fits and Quits Again for Sean and Madonna," the lede of the story was almost snarky: "Maybe it's going to be an annual event, like the Super Bowl or the swallows returning to Capistrano or spring cleaning: Sean Penn, 28, and Madonna Louise Ciccone, 30, heading for divorce—again." The article claims that Madonna had "tired of Sean's stunts—his temper tantrums and jealous rages, his bell-to-bell drinking and fisticuffs with paparazzi."

There's also the narrative of the "crazy bitch" — as in this 1993 cover of Shannen Doherty wearing a low-cut top and staring sullenly into the camera. "90210's Shannen Doherty OUT OF CONTROL!" the cover screams. It continues: "Fearing for his life, her ex-fiancé went to court claiming she threatened to shoot him, tried to run him over and trashed his house. These days, Beverly Hills' hard-partying, check-bouncing bad girl may be going way too far." (Less than a year earlier, Doherty had been on a cover of People that cinematically foreshadowed what was to come: "TV's brashest 21-year-old talks revealingly about her wild past, her brief engagement, and 'people who think I'm a bitch.'")

Far more common, however, is the Hollywood-style narrative about domestic violence that casts the male in the relationship as a "bad boy." A 1994 headline in the British newspaper the Evening Standard: "The Men Who Are Too Bad to Resist: They Drink and Smoke Too Much, Leer at Other Girls and Lie." One of their examples was the actor Mickey Rourke, who had just been arrested for assaulting his wife, Carré Otis — which the article describes as "an incident," and then concludes: "Bad boys behave badly, and yet women like Otis, and many millions of others, still fall for them. They should know better by now."
Ah yes. Let's not forget that crucial bit of the narrative: Women "should know better" than to engage with a known bad boy. There's that implication hanging over the current situation between Amber Heard and Johnny Depp, who's been in the news for his temper and destructive tendencies since the 1990s. If she didn't want a bad boy, the logic goes, then why would she get involved with Depp?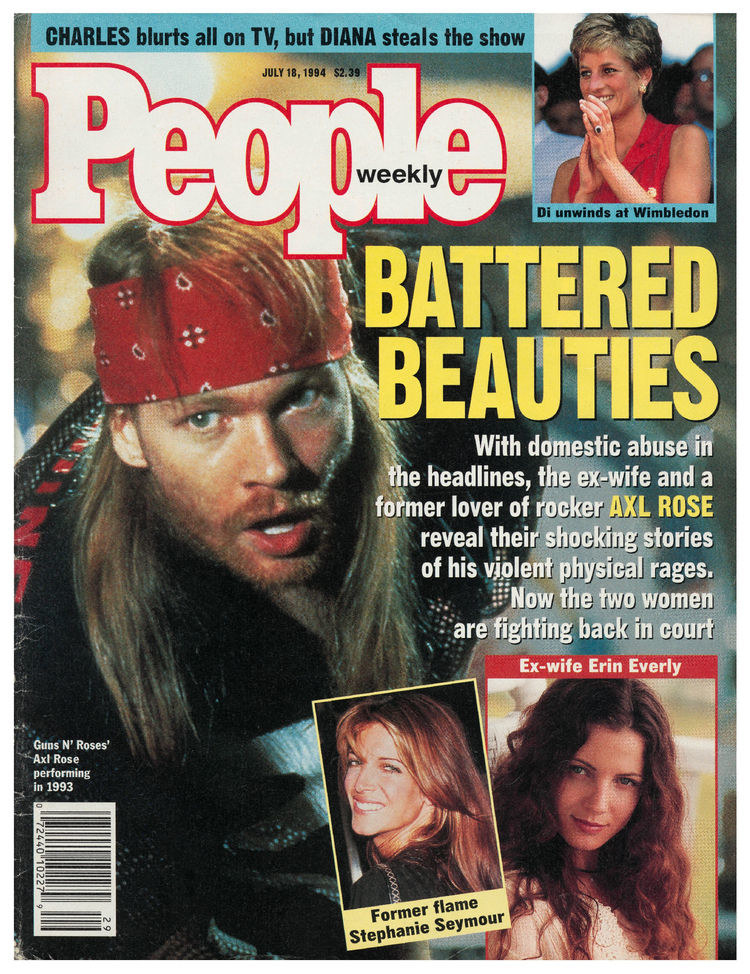 In that context, it's not altogether shocking that People's first full cover story about an abused woman that almost exclusively told her side of the story was about the ex-wife of Axl Rose — the implication being that readers would readily accept that someone like Rose would beat his wife. The July 18, 1994, issue of People featured Guns N' Roses frontman Axl Rose, his ex-wife Erin Everly, and ex-girlfriend Stephanie Seymour on the cover with the headline: "BATTERED BEAUTIES: With domestic abuse in the headlines, the ex-wife and a former lover of rocker Axl Rose reveal their shocking stories of his violent physical rage. Now the two women are fighting back in court." By then, Rose's penchant for violence had practically become a punchline, as in a 1994 Washington Post description of the plot of the movie The Hidden: An alien cop is "caught up in the chase after the body-hopping creature, a lobster-size leaping lizard with an appetite for loud music, sex, drugs and violence (no, the monster is not played by Axl Rose)."
The timing of the People cover was not coincidental. Nicole Brown Simpson had been murdered a month before, and even though he had not yet been tried, O.J. Simpson's history of domestic violence against Nicole had brought the issue to the forefront of the case. A July 1994 story in USA Today proclaimed: "Ever since revelations of the charges that O.J. Simpson repeatedly battered his wife, Nicole Brown Simpson, a new national focus on domestic abuse has gripped the public consciousness — and created an outpouring of calls for help." The Los Angeles Times ran a story that same month with the headline "D.A. Reports Huge Jump in Spousal Abuse Calls; A Surge in the Number of Prosecutions Sought Is Attributed to the Simpson Case." And even the People story about Rose and Everly acknowledges this peg in the opening paragraph — though it emphasizes that the interview was "done before the O.J. Simpson case focused the nation on domestic violence." (One wonders whether the magazine would have seen fit to make the story a cover if Simpson were not in the news.)
The story itself is shocking: "Everly says that throughout her four years with Rose, she suffered regular beatings that left her bruised, bloodied and sometimes unconscious. ... Everly claims that during his frequent, unpredictable rages, Rose brandished guns, smashed her belongings and yanked telephones from the wall. At one point, she alleges, he removed all the doors inside her apartment so that he could monitor her movements." It took that much violence for an outlet like People to frame the allegations of domestic abuse in this way — not that Everly had in any way invited it or asked for it, or was at fault for what had happened to her, or that her relationship with Rose could just be chalked up to a typically tumultuous Hollywood union. (The article does point out — skeptically — that Rose, in response to Everly's lawsuit against him, "claims that the 5'6", 104-lb. Everly provoked him — Rose is 5'9", 145 lbs. — and that his actions were purely in self-defense," but also quotes a friend of Rose's saying that "Erin portrays herself as the victim and him as the evil aggressor. From what I witnessed, she was the aggressor.")
Even so, the story itself still feels somewhat opportunistic, building as it was on the Nicole Brown Simpson murder, which had overtaken tabloids and the mainstream media at the time. And by the end of the year, with the O.J. trial in full swing, domestic violence was still very much in the collective consciousness. In December 1994, People published a feature titled "Hollywood's Most Wanted! '94: Arrested! Sued! Defended! Courtroom Dockets Look Like Casting Calls as Stars Cope with a Squad Car Full of Legal Woes." The story catalogued celebrities who were embroiled in allegations, court cases, or lawsuits about their misdeeds, many involving some kind of domestic violence situation; the framing was more salacious than critical.

Among them are actor James Farentino, accused of stalking his ex Tina Sinatra (daughter of Frank); TLC rapper Lisa "Left Eye" Lopes, accused of setting her boyfriend's house on fire; actor James Caan, accused of "punching and throttling" his girlfriend Leesa Anne Rowland; actor Mickey Rourke, accused of "slapping and kicking" his estranged wife, Carré Otis; actor Dudley Moore, accused of "attacking" his girlfriend Nicole Rothschild; actor Jan-Michael Vincent, whose wife alleged that her husband had been beating her since 1983 and had threatened to kill her; and the daredevil Evel Knievel, accused of hitting his girlfriend Krystal Kennedy. And, coincidentally, the "Most Wanted" list from that year also includes Johnny Depp, who that year had caused nearly $10,000 in damages to a New York City hotel room at 5 a.m.
All of the cases were either settled or the charges were dropped, and many of the actors continued to work, with little to no long-term damage to their careers or reputations. (An exception: Farentino, whose career had started promisingly with a role as Dr. Nick Toscanni on Dynasty, but whose obituary in The Independent was headlined "James Farentino: Actor Whose Personal Life Damaged His Career.") For some, like Rourke, the allegations seemed to only add to their mystique as troubled bad boys.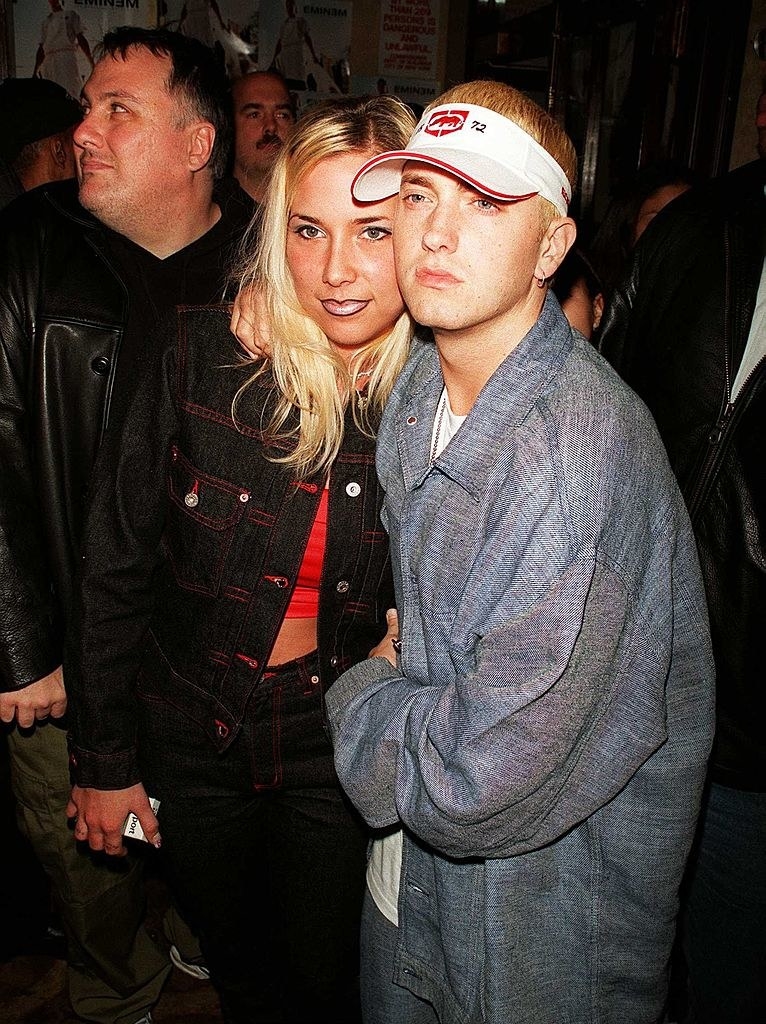 Other celebrities, like Eminem — whose abuse of his ex-wife, Kim Mathers, was documented in his own songs — haven't seen their legacies tarnished by allegations against them, even when Mathers herself said publicly in 2007 that Eminem's abuse led her to attempt suicide. (Even Chris Brown seems to have mostly rehabilitated his image.)
And today, the language around domestic abuse remains euphemistic. Marriages or relationships that seem haunted by the specter of physical and/or emotional abuse are often labeled "turbulent" or "volatile" — certainly a legal hedge, but one that also allows the severity of domestic violence to be downplayed and, in a way, normalized. The marriages I found described this way at some point in the media include those of Nora Ephron and Carl Bernstein, Whitney Houston and Bobby Brown, Scott and Zelda Fitzgerald, Joe DiMaggio and Marilyn Monroe, Carré Otis and Mickey Rourke, Frank Sinatra and Ava Gardner, David Gest and Liza Minnelli, Josh and Anna Duggar, and Sharon and Ozzy Osbourne.
It's not at all clear whether Depp's legacy will be permanently tarnished by Heard's allegations. But if past examples are any indication, it's likely that it won't. And it still takes a lot for a narrative of abuse to actually harm a celebrity's career. Today, Rose is remembered more for his unpredictability onstage than for the way he treated the women in his life. The "troubled artist" trope — one that allows these haunted geniuses to continue as abusers because we can't reconcile the idea that talented people can do awful things — is one that continues to this day, and implies that we as a society value abusive male creators more than we do the women who are with them.
In 2014, the website The Gloss published the list "10 Violent Men Who Are Always Forgiven Because Everyone Loves Their Art." On the list were actors like Michael Fassbender (accused of, among other things, dragging his girlfriend alongside their car, rupturing an ovarian cyst; she dropped the charges), Sean Penn, and Eminem. It concluded that "maybe we should start thinking of these guys as rapists/abusers who make art, instead of the other way around." But sometimes it seems like there are too many forces working against women, in particular, who accuse more-powerful men of abuse; there's a built-in bias against women who are perceived as bringing "heroes" down. Take how Everly is perceived today: A 2013 Rolling Stone article about Everly auctioning off letters and other mementos from their time together called their relationship "occasionally turbulent" and seemed implicitly critical of Everly for selling their marriage certificate and Rose's childhood photos, among other things. Most stories about Rose don't mention Everly at all; she's become a forgotten footnote.
Heard, whose career is just taking off, has a lot to lose by coming forward about Depp — and not much control over how her story is told in the media. Her bisexuality, in particular, is being used as a cudgel, as in a Daily Mail story from last week titled "Johnny Depp's marriage fell apart after he was 'driven insane by fear that Amber Heard was cheating with Cara Delevingne,'" and on Tuesday it emerged that Heard was arrested in 2009 for assaulting an ex-girlfriend (charges were dropped). It's not hard to see these types of stories as attempts to reframe the narrative and paint Heard as the villain. Someone as duplicitous as Heard, these stories imply, couldn't possibly be telling the truth; instead, she must be "after" something, as the comedian Doug Stanhope wrote last week ("Johnny Depp Is Being Blackmailed by Amber Heard — Here's How I Know").
What People's framing implies is that Heard, and other survivors of sexual assault and domestic abuse, can fight back — and, little by little, change the way these stories are framed by centering them around the victims, rather than the abusers. Given Hollywood's tendency to protect itself at all costs, it's hard to tell if any particular scandal or woman alone can bring about a definitive shift. But surely, Amber Heard and the countless women whose faces may never grace magazine covers deserve change.