Walmart Workers Walked Out On Black Friday
Stand up. Live better. Lost in the feeding frenzy of the busiest shopping day of the year was the fact in many cities, Walmart employees were forming picket lines.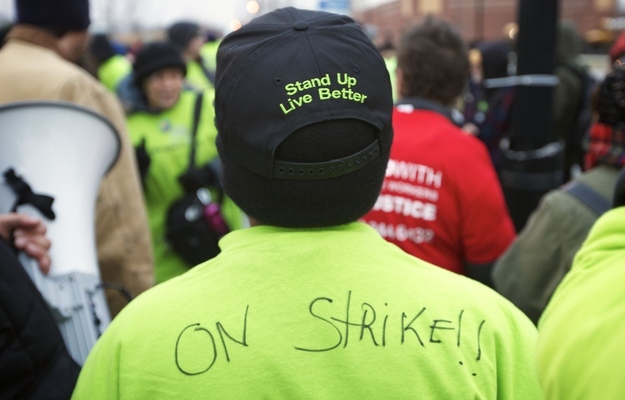 While not enough to dampened what is shaping up to be the best Black Friday in Wal-Mart history, the protests are nothing to shrug off.
For the first time in the company's 50 year history, employees and supporters from across the country banded together in a strike. Considering Wal-Mart's heavy-handed anti-union stance, this is an important first step.
However, Wal-Mart's official statement in response to the protests shows they're not concerned:
The number of protests being reported by the UFCW are grossly exaggerated. We are aware of a few dozen protests at our stores today. The number of associates that have missed their scheduled shift today is more than 60 percent less than Black Friday last year.

It was proven last night – and again today – that the OUR Walmart group doesn't speak for the 1.3 million Walmart associates. We had our best Black Friday ever and OUR Walmart was unable to recruit more than a small number of associates to participate in these made for TV events. Press reports are now exposing what we have said all along – the large majority of protesters aren't even Walmart workers.
While technically true, they leave out that the protests are ongoing, reaching 12 states over the course of several months. It also glosses over the even with 1.4 million workers, many of them are working for minimum wage and have bills to pay. With the real possibility of being fired for attempting to unionize, it isn't worth the short term risk even if the long term reward is a living wage and better conditions.
If you'd like to know more about OUR Wal-Mart, the company behind organizing the protests, head over to their website.