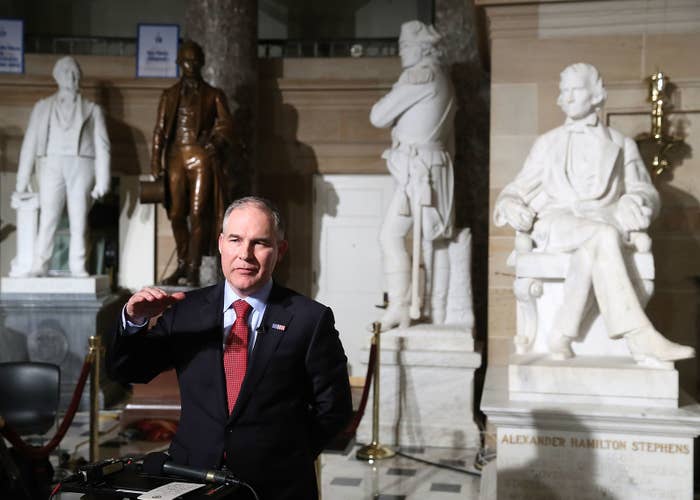 A decade ago, Bruce Anderson's small government office in Wyandotte County, Kansas employed 10 air quality workers .
They made sure that the pollutants that cause smog didn't build up in the air over the country of about 158,000 residents. Anderson, director of the county's Department of Air Quality, and his workers staffed information booths and handed out pamphlets that let residents know how to reduce emissions. They also inspected factories and enforced environmental laws to improve air quality.
But like so many other local air and water quality offices around the country — clobbered by 2008's Great Recession and state budget cuts — Anderson's office has shrunk to six employees. Today, they no longer have the means to do the simple public outreach they once did.
"We're already strapped," Anderson told BuzzFeed News. If funding from the federal and state governments stays the same, as it has for years for Anderson's office, "I don't think we can absorb increases in responsibilities and duties," he said.
But taking on greater authority is exactly what Scott Pruitt, President Trump's top environmental law enforcer, wants state and local governments to do as the Trump administration seeks to scale back the role of the Environmental Protection Agency nationwide.
On Thursday, President Trump released a "budget blueprint" that would eliminate a fifth of the EPA's workforce and slash funding for the agency by 31%, from $8.2 billion down to a proposed $5.7 billion.
Trump's budget proposal is simply a starting point for negotiation, one that is unlikely to pass even a Republican-controlled Congress as it stands. But the proposal signals the administration's ambitions.

Echoing a common conservative argument, Scott Pruitt wants to reduce the role of the federal government in people's lives. When it comes to environmental regulation, that means delegating more power to state governments to manage air and water quality — something that, in speeches and interviews since becoming EPA administrator, Pruitt says he intends to do in a big way.
"Federalism matters," Pruitt said in his first address to EPA employees last month. "I seek to ensure that we engender the trust of those at the state level."
To Pruitt and other conservatives, EPA must adhere to the letter of law — in this case, the Clean Air Act, the first page of which says that air pollution prevention is "the primary responsibility of States and local governments."
But since the financial crisis of 2008 and 2009, a combination of a weakened economy and strong industry lobbying has squeezed the budgets of state and local environmental regulatory agencies. Those agencies, current and former environmental officials worry, may not have the fiscal wellbeing to take on additional responsibility in managing public health.

Pruitt's EPA could deliver one-two punch to already weakened state and local pollution offices: First, by cutting EPA grants that help states and tribes implement air and water programs. And then, by hoisting more enforcement responsibility onto them.
"The states and localities are certainly eager to accept greater delegation of authority," Bill Becker, executive director of the National Association of Clean Air Agencies, told BuzzFeed News.
However, he added that "simply giving states more authority but taking away the tools they need to make implementation of the Clear Air Act work effectively is not an appropriate policy. It won't work."
EPA funding to help states and tribes implement clean air and water programs has fallen precipitously since the post-recession high, from a total of $5.2 billion in 2010 to $3.6 billion in 2016.
Many states have been unwilling or unable to offset that loss in federal dollars in their own budgets.
Between 2011 and 2015, for example, the budget for Florida's Department of Environmental Protection (DEP) fell from $1.8 billion to $1.3 billion, according to data collected by Ballotpedia. Funding for North Carolina's Department of Environmental Quality (DEQ) dropped from $166 million to $81 million during that period of time.
As a result, enforcement in those states shriveled. Air-related penalties issued in North Carolina dropped 93% from 2011 to 2014, the Center for Public Integrity reported. Environmentalists in the state point to leaking ponds of coal ash as a consequence.
According to data collected by the Public Employees for Environmental Responsibility (PEER), Florida only opened 297 environmental enforcement cases in 2015, an almost 82% drop from 10 years ago. In 2014, Florida Gov. Rick Scott boasted that under his watch DEP reduced "permitting time down to just two days," according to the Tampa Bay Times.
"What we see Pruitt saying, you can keep doing what you've been doing," Jerry Phillips, a former enforcement attorney at the Florida's DEP now with the organization Public Employees for Environmental Responsibility, told BuzzFeed News. "That's not encouraging at all."
Part of that shrinkage to state environmental budgets is due to the growing dominance of cost-cutting Republicans at the state level during Obama's presidency. In 2009, the GOP controlled just 14 state legislatures. This year, the party controls a record 32 legislative branches of state governments.
But enforcement has declined even from environmental agencies in states where Democrats retain much control, such as the Department of Environmental Conservation (DEC) in New York. The agency's budget dropped from a pre-recession high of $1.2 billion in 2008 to $899 million in 2014. The state comptroller warned in a 2014 report that the "combination of increased responsibilities, reduced staffing, and ongoing fiscal pressure raises questions regarding the DEC's capacity to carry out its critical functions."
State-level environmental agencies operate with a mix of funding from the federal and state government, the ratio being determined by how generous state governments decide to be to their respective environmental agencies.
In Washington State's Department of Ecology, for example, "we primarily rely on our state clean air law for our authority and on state money to conduct the majority of our work," according to Stuart Clark, the state's program manager for air quality."
But like many states, Washington was "hit hard during the great recession and funding for programs was limited or cut," Clark said.
The White House's budget proposal would leave states to fend for themselves even more so by eliminating funding for several regional environmental protection efforts, including ones focused on the Great Lakes, Chesapeake Bay, the US-Mexican border and native villages in Alaska, which are already seeing their coastal homelands erode away due to climate change.
Trump's budget's proposal justifies these "geographic program eliminations" by arguing that the cutting "returns the responsibility for funding local environmental efforts and programs to State and local entities, allowing EPA to focus on its highest national priorities."
Even under the best fiscal conditions, states rely on the EPA to step in during catastrophes, according to Mindy Lubber, president of the environmental sustainability nonprofit Ceres and former regional administrator for the EPA's New England office.
That's exactly what the EPA did during the Flint water crisis in Michigan, where the state's Department of Environmental Quality (DEQ) actually saw its budget rise 27% between 2011 and 2015.
"The backstop is clearly the federal government," Lubber told BuzzFeed News.
"In every instance where we see major environmental problems," she added, "the federal government in the end is called in to really fix it."