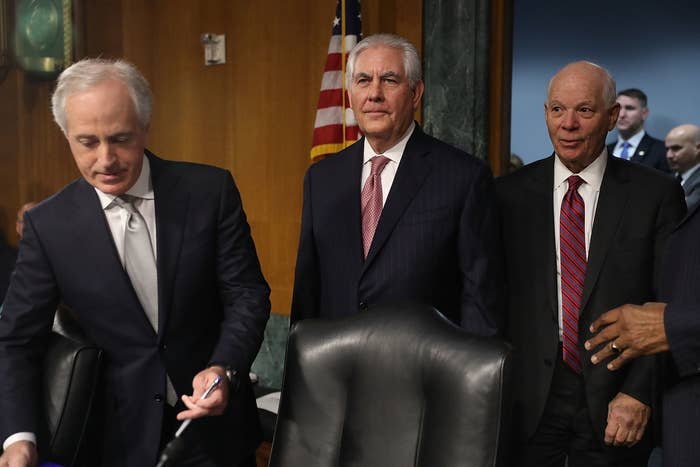 With cameras trained on him for more than six hours of questioning, Rex Tillerson told Democratic senators on the Senate Foreign Relations Committee many of the things they wanted to hear when it came to climate change.
"Climate change does exist," said President Donald Trump's nominee for secretary of state at the Jan. 11 hearing. He said "the consequences of it could be serious enough that action should be taken."
But with the cameras turned off, Tillerson took a different tone.
In responses to written questions from at least two senators, Tillerson questioned the consensus among climate scientists about humanity's role in warming the planet — including some scientists who work for ExxonMobil, the company Tillerson ran for a decade. He also doubled back spoken testimony that said the United States should remain in the Paris climate accord.
Tillerson's responses to these two senators, Ben Cardin of Maryland and Jeff Merkley of Oregon, are not yet public but were obtained by BuzzFeed News. The offices of both senators confirmed that the answers to their questionnaires are real.
On Wednesday, the Senate voted 56 to 43 to confirm Tillerson as secretary of state.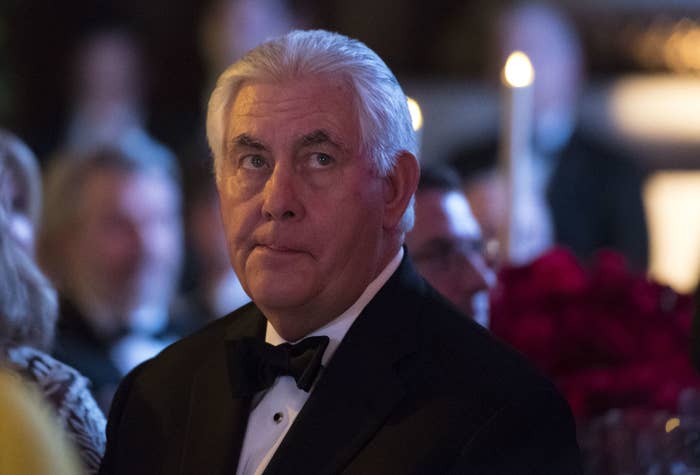 In 2007, one year after becoming Exxon's top executive, Tillerson reformulated the company's position on climate change to acknowledge that it is happening. The shift came after decades of funding organizations that doubted the science and arguing, as Tillerson's predecessor Lee Raymond once put it, that "the scientific evidence is inconclusive as to whether human activities are having a significant effect on the global climate."
Tillerson's Exxon took a different tack, in part in order to lobby the Obama administration as it sought to curb carbon emissions. "The risk of climate change is clear, and the risk warrants action," the company's website reads today. "Increasing carbon emissions in the atmosphere are having a warming effect."
Given the turn the Republican Party took away from acknowledging global warming nearly a decade ago, when Newt Gingrich said "our country must take action to address climate change," Tillerson was one of the only Trump nominees to publicly maintain that climate change was, in his words, an "important global issue."
When asked during his confirmation hearing if he, now retired from the company, will "still personally stand by" Exxon's position, Tillerson said "I do not take exception to that statement," before adding "I might articulate it a little different as to my personal views."
Indeed, Tillerson did give a different articulation in one of his written responses, saying increasing carbon emissions were not "key" to understanding the rise in global temperatures.
"I agree with the consensus view that combustion of fossil fuels is a leading cause for increased concentrations of greenhouse gases in the atmosphere," he wrote to Cardin. "I understand these gases to be a factor in rising temperature, but I do not believe the scientific consensus supports their characterization as the 'key' factor."
In reality, the 2013 Intergovernmental Panel on Climate Change report that synthesized thousands of climate studies to examine the physics behind a warming atmosphere concluded that increased carbon dioxide, a by-product of burning coal, oil, and natural gas, caused the "largest contribution" to global warming, followed by other greenhouse gases that are likewise emitted by human industry.
Anthony Leiserowitz, director of the Yale Program on Climate Change Communication, said that while his comments at the hearing and in writing were not "logically inconsistent" — one can believe carbon dioxide contributes to warming but isn't the driving cause — the two testimonies have left different impressions.
"Many people in the press, when they wrote about his statements at the hearing, interpreted it as, 'Hey, this guy thinks climate change is happening,'" Leiserowitz told BuzzFeed News. "He's got a view that seems to be quite different than his boss, and that became the storyline."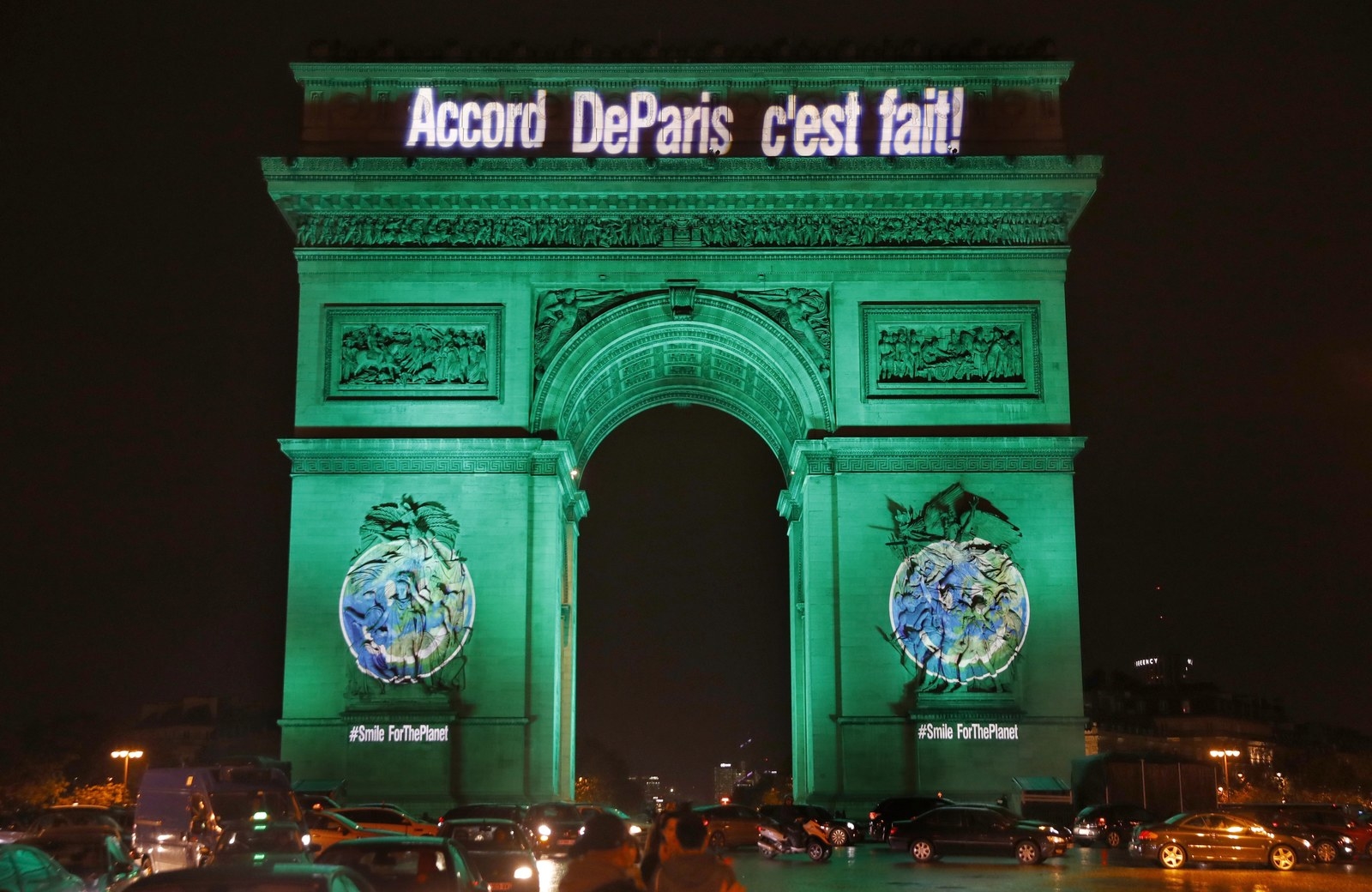 During the hearing, Tillerson also echoed another Exxon position on the Paris Agreement, a global accord under which most of the world's nations agreed to voluntarily curb greenhouse gas emissions through 2030 to help hold the global rise in temperatures to below 2 degrees Celsius above pre-industrial levels.
Late last year, Exxon backed the agreement. During the hearing, Tillerson too seemed to support it.
"It's 190 countries or thereabout [that] have signed on to being to take action," Tillerson said when asked about the Paris Agreement. "I think we're better served by being at that table than leaving that table." (A total of 194 nations have signed the Paris accord.)
When it came to international discussions on global warming, Tillerson repeated the phrase "seat at the table" four times.
But again in a written response, Tillerson gave himself and his future boss room to waver.
"The United States should decide to join an international agreement based on its own national interests and not the interests or opinions of other nations," Tillerson wrote in response to a question from Merkley about maintaining "global leadership" in the Paris Agreement.
Then he gave an out: The US shouldn't stay in the agreement if it hurts business.
"If confirmed," Tillerson continued, "I will support U.S. membership in only those international agreements that advance our national interest and do not cause harm to the American people or our economic competitiveness."
That leaves a back door for opting out of the agreement that looked closed during Tillerson's confirmation hearing.
"The overall sense you get is that he is continually trying not to answer the questions," said Leiserowitz. "He is trying to give himself as much free rein as possible."