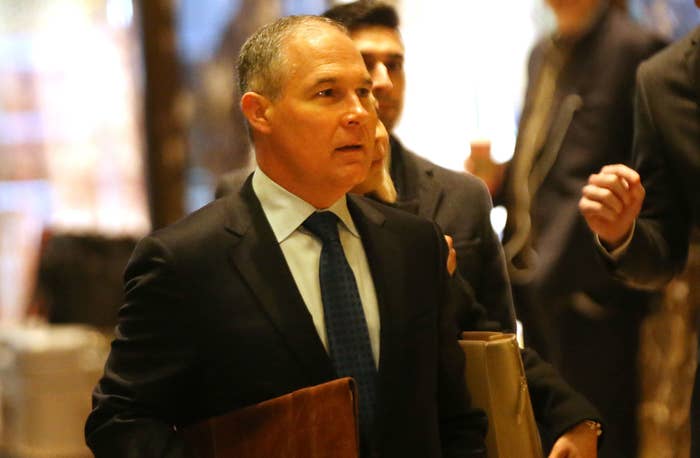 WASHINGTON — Scott Pruitt, the attorney general of Oklahoma who has opposed the US Environmental Protection Agency through letters and lawsuits throughout the Obama administration, is Donald Trump's pick to run that agency during his presidency, his transition team announced on Thursday.
Pruitt is, by his own admission in his online biography, a "leading advocate against the EPA's activist agenda."

That advocacy includes a multi-state lawsuit filed against the agency for Obama's ambitious plan to reduce greenhouse gas emissions from the nation's power plants.
Pruitt has said the policy, called the Clean Power Plan, is "unlawful and overreaching." As part of that plan, the Obama administration has asked states to decide on their own mix of energy sources, including coal-fired plants, wind turbines and nuclear reactors, to meet requirements for lower greenhouse gas emissions.
"For too long, the Environmental Protection Agency has spent taxpayer dollars on an out-of-control anti-energy agenda that has destroyed millions of jobs," Trump said in a statement.
Pruitt will need confirmation from the Senate to take the post.
In discussions of man-made climate change, Pruitt has said as recently as May that the large body of research indicating that carbon dioxide and other pollutants from the burning of fossil fuels are warming the planet is unsettled science.
"Scientists continue to disagree about the degree and extent of global warming and its connection to the actions of mankind," he wrote in the Tulsa World.
But surveys of peer-reviewed journals show that 97 percent or more of climate scientists think that the observed warming trends are very likely due to human emissions. In a 2007 Supreme Court case, Massachusetts vs. EPA, the high court also found that scientific evidence convincing enough to order federal regulators to limit emissions of greenhouse gases from fossil fuels under the Clean Air Act.
Under that decision, the EPA in 2009 determined that carbon dioxide and five other greenhouse gases were dangerous to human health. The finding gave the federal agency nationwide authority to begin curbing emissions of those gases.
If Pruitt is to unravel Obama's climate legacy, he will have to contend with that ruling by either reversing it or having Congress amend the underlying law that created the EPA. If Pruitt's EPA ignores the ruling outright, it will opens itself up to lawsuits from states and environmental advocates, similar to 2007.
Pruitt was elected to the office of Oklahoma Attorney General in 2010, after he had served in the Oklahoma State Senate for eight years. Pruitt spent much of his time as Oklahoma's top law enforcement officer defending the oil and gas industry from regulators during the fracking boom.
For example, early in his tenure Pruitt sent letters to Lisa Jackson, then EPA administrator, accusing the agency of greatly overestimating the amount of methane, another greenhouse gas, being released by natural gas wells.
Many of the notes sent under Pruitt's name were written by lawyers from Devon Energy, an oil and gas company based in Oklahoma City, a 2014 New York Times investigation found.
"You couldn't pick a better fossil fuel industry puppet," May Boeve, executive director of the climate change nonprofit 350.org, said in a statement on Pruitt.
Last year, BuzzFeed News revealed Pruitt's office had misled the US Supreme Court in a brief about the unavailability of execution drugs. His office took a letter a pharmacy sent to another death penalty state, redacted the identifying information, and then claimed it was sent to Oklahoma.
After the BuzzFeed News report, Pruitt's office filed a correction with the court, calling it an "inadvertent citation error."
Pruitt's side ended up winning the case, allowing Oklahoma and other states to use a controversial sedative in executions. But that was far from resolving the controversy.
After winning the case, the Oklahoma Department of Corrections would go on to inject an inmate with the wrong execution drug, and nearly repeated the mistake months later. Afterward, Pruitt launched a grand jury investigation into the department that found carelessness, incompetence and apathy towards "established procedures that were intended to guard against the very mistakes that occurred." No indictments were recommended.
Chris McDaniel contributed reporting from New York.