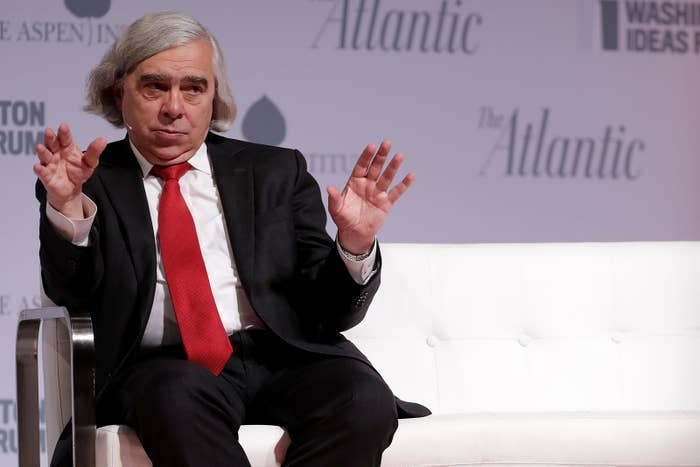 The next leader of the Department of Energy might be its current one.
Hillary Clinton is considering keeping Ernest Moniz on as secretary of energy, should she win the presidential election next month, a source familiar with the Clinton campaign's planning told BuzzFeed News.
Moniz is well-liked by members on both sides of the aisle and keeping him on would allow Clinton to avoid at least one contentious confirmation. He had a brief star turn as the administration's top salesman on the Iran deal and his memeworthy hair has earned him shoutouts on late-night talk shows.
Two other sources, both recent Energy Department employees, told BuzzFeed News Moniz is interested in leading the department into the next administration.
During his three-year tenure as energy secretary, Moniz has won praise from outside observers and lawmakers, who voted unanimously in the Senate in 2013 to confirm him as secretary of energy.
A professor emeritus of nuclear physics at the Massachusetts Institute of Technology, Moniz was crucial in getting Iran to agree to curtail its development of weapon-grade nuclear fuel — and, importantly, convincing the Iranians that the US is scientifically capable of monitoring whether enrichment facilities have truly been shut down.
"It takes someone special to translate from the technical world to the world of what actually can get done," David Hart, a professor and director of the Center for Science and Technology Policy at George Mason University, told BuzzFeed News. "My impression is that he's been effective, which isn't always the case for professors in the political world."
And because Moniz is already energy secretary, he would not need to be confirmed again, allowing a Clinton administration to focus its lobbying efforts on not only confirming her nominees to other agencies but on filing the Supreme Court vacancy left after Antonin Scalia's death.
Avoiding a new confirmation hearing for energy secretary also prevents Congress from re-litigating the Iran deal, which many in the GOP thought gave too many concessions.
Others thought to be considered for the appointment, sources told BuzzFeed News, include two former Democratic governors, Jennifer Granholm of Michigan and Bill Ritter of Colorado, along with John Podesta, chairman of Clinton's presidential campaign and one of her in-house climate policy experts, whose hacked emails have trickled out of WikiLeaks over the past few weeks.
An often-ignored agency that manages the nation's nuclear arsenal and conducts the lion's share of the federal government's research in the physical sciences, the Department of Energy may receive extra scrutiny as it leads the US commitment in the Paris climate agreement to double research and development into clean energy over the next five years.
"I do think climate change will be a defining issue for the next administration as we continue seeing real-world impacts," Kateri Callahan, president of the nonprofit Alliance to Save Energy, told BuzzFeed News. "So we need someone at the Department of Energy who can build on his legacy, who knows how we can continue developing affordable, reliable and clean energy."
"Obviously we think Secretary Moniz has done a tremendous job," she added.
With her lead in the racing widening in October, the campaign began hiring staff to review potential Cabinet appointments, Politico reported.
A spokesperson for the Energy Department declined to comment. The Clinton campaign did not respond to requests for comment.