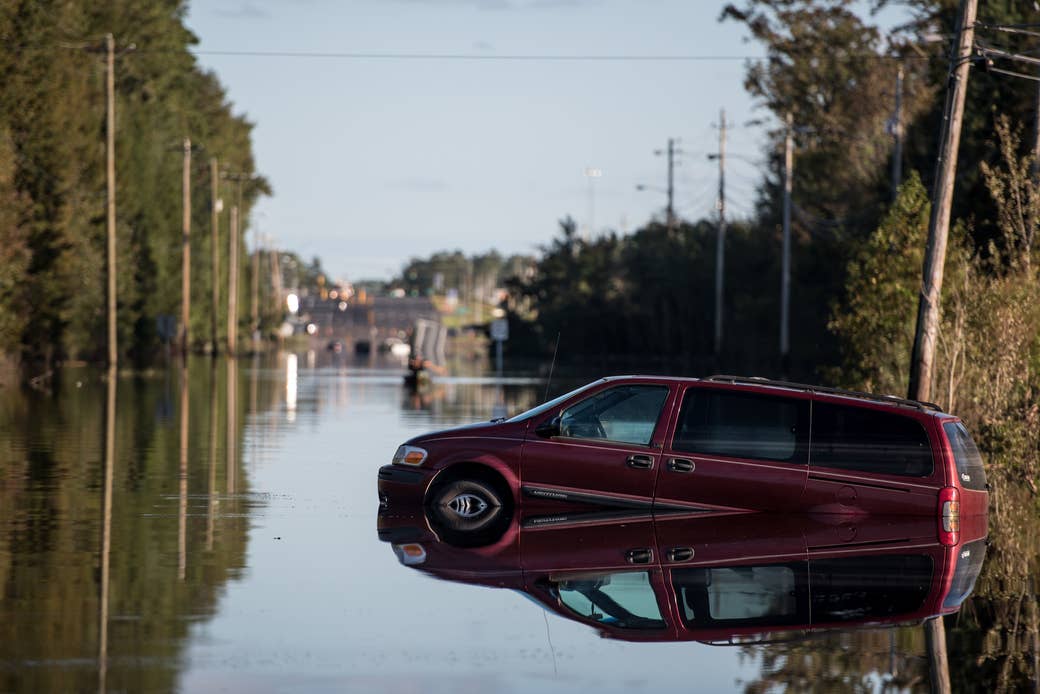 LUMBERTON, NORTH CAROLINA — After the heavy rain and high winds had finished rattling his home, Dennis French thought that the worst of Hurricane Matthew was over. With the last of the storm's remnants rolling over this small city, French finally relaxed and took a nap that Sunday.
But when he woke up, the water that had gushed over the banks of Lumber River about half a mile away was right at his doorstep, and it was still rising.
"Baby, we got to go. Get the grandbaby and let's go," French told his wife Vickie. They didn't wait for a rescue boat, he told BuzzFeed News. Instead they waded through the floodwater to higher ground.
Six days later, Dennis and Vickie surveyed the damage to their home for the first time. The living room and master bathroom were swamped by floodwaters, and the whole house reeked of mildew.
"This is something new to us, Dennis French said. "I'm halfway scared to move back over here, to tell you the truth."
"We've never seen anything like this before," said Vickie French, who grew up in Lumberton.
It turns out the federal government wasn't expecting a flood in the Frenches' neighborhood, either.
But such floods might be the new normal in places unaccustomed to inundation, a watery welcome to an era of rising seas and warmer oceans spurred by climate change. And some observers fear the new Trump administration will halt the small steps that the federal government had taken to protect people living where floods now threaten.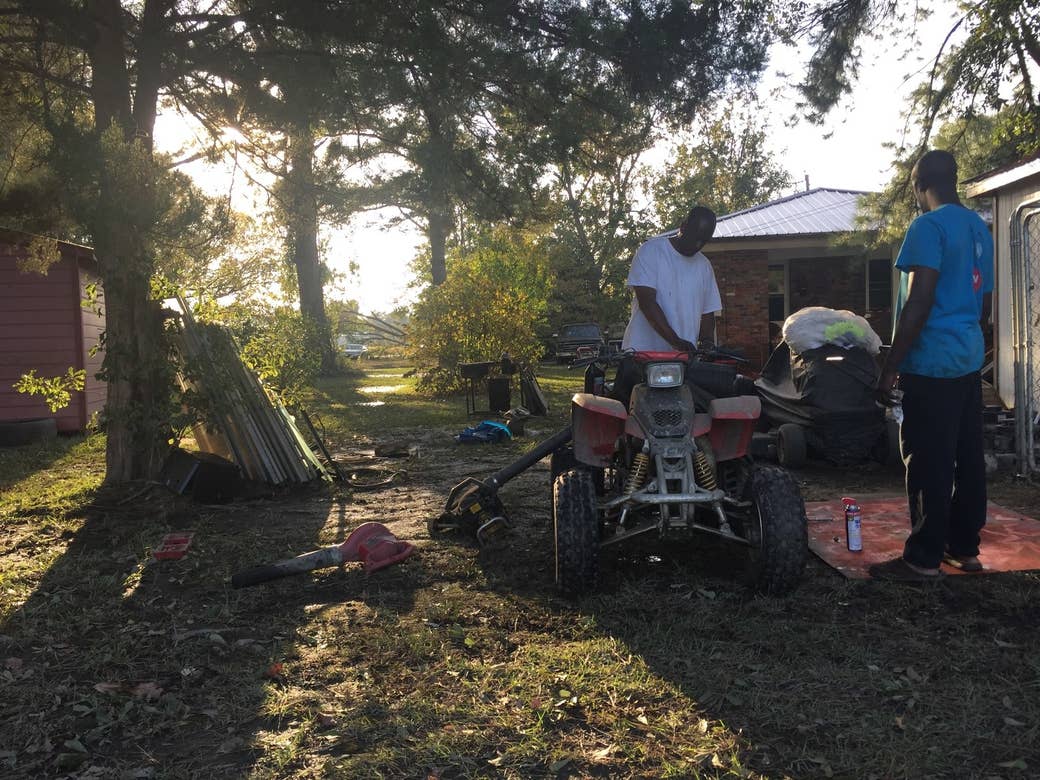 The French's block near the southern edge of Lumberton, one of the cities hit worst by the Category 5 Hurricane Matthew, is outside the "100-year floodplain" designated by the Federal Emergency Management Agency (FEMA).
Banks require that mortgage holders with homes inside the 100-year floodplain — zones that government experts estimate have a 1% chance of flooding every year — buy flood insurance from the federal government. That insurance pays homeowners to repair or replace their residences.
But those living outside the floodplain, like the Frenches and their neighbors, are not required to buy federal flood insurance. So most don't. When the worst happens, they often must take out a hefty loan or tap into savings to rebuild.
"If I'd known it was in a flood area, I'd have probably got that insurance," Dennis French said.
Hurricanes are heat engines, powered by the warmth of ocean water. Many scientists predict climate change, which has raised the ocean's average surface temperature by more than a tenth of a degree Fahrenheit each decade in the last century, will make hurricanes wetter and windier as a result, climate modelers at the National Oceanic and Atmospheric Administration say, even if that change in Atlantic hurricanes awaits statistical confirmation.
"It will likely be decades before these effects are clearly noticeable," Kevin Walsh, a professor of meteorology at the University of Melbourne, told BuzzFeed News. That's because tropical cyclones are rare events, which makes establishment of clear trends with them a matter of decades of observation.
But other trends that make flooding more likely are already noticeable. For example, there's been an increase in the number of heavy downpours nationwide between 1958 to 2012, according to a report compiled by 13 federal agencies. The reason is largely a simple one — warmer air can hold more water vapor, which then falls as heavier rains during storms. And with a documented rise of as much as 8 inches since 1960 along parts of US East Coast, rising sea levels are making coastal floods more common during storms.

All that means that flooding outside of FEMA's flood zones will likely become more common, although it's hard to predict exactly how fast this will happen.
That's left some floodplain managers worried that FEMA will not be able to redraw flood maps quickly enough to keep up with the potential threat, possibly leaving thousands of vulnerable homes uninsured.
"This is a real policy issue that we need to face as a country," Chad Berginnis, executive director of the Association of State Floodplain Managers, told BuzzFeed News. "We need to recognize that with climate trends, at least as far as the scientists can understand right now, it seems like that we are headed for a future of more intense storms."
Such flooding can occur anytime, but it is brought into relief during major inundations. For example, after the historic rainstorms in Louisiana this August, one third of all the land flooded was outside FEMA's 100-year floodplain, according to an analysis done by Center for Watershed Sciences at the University of California, Davis.
But FEMA faces political resistance when it tries to expand flood maps. The agency often gets pushback from homeowners who don't want to pay the mandatory insurance premiums — which averages about $700 a year.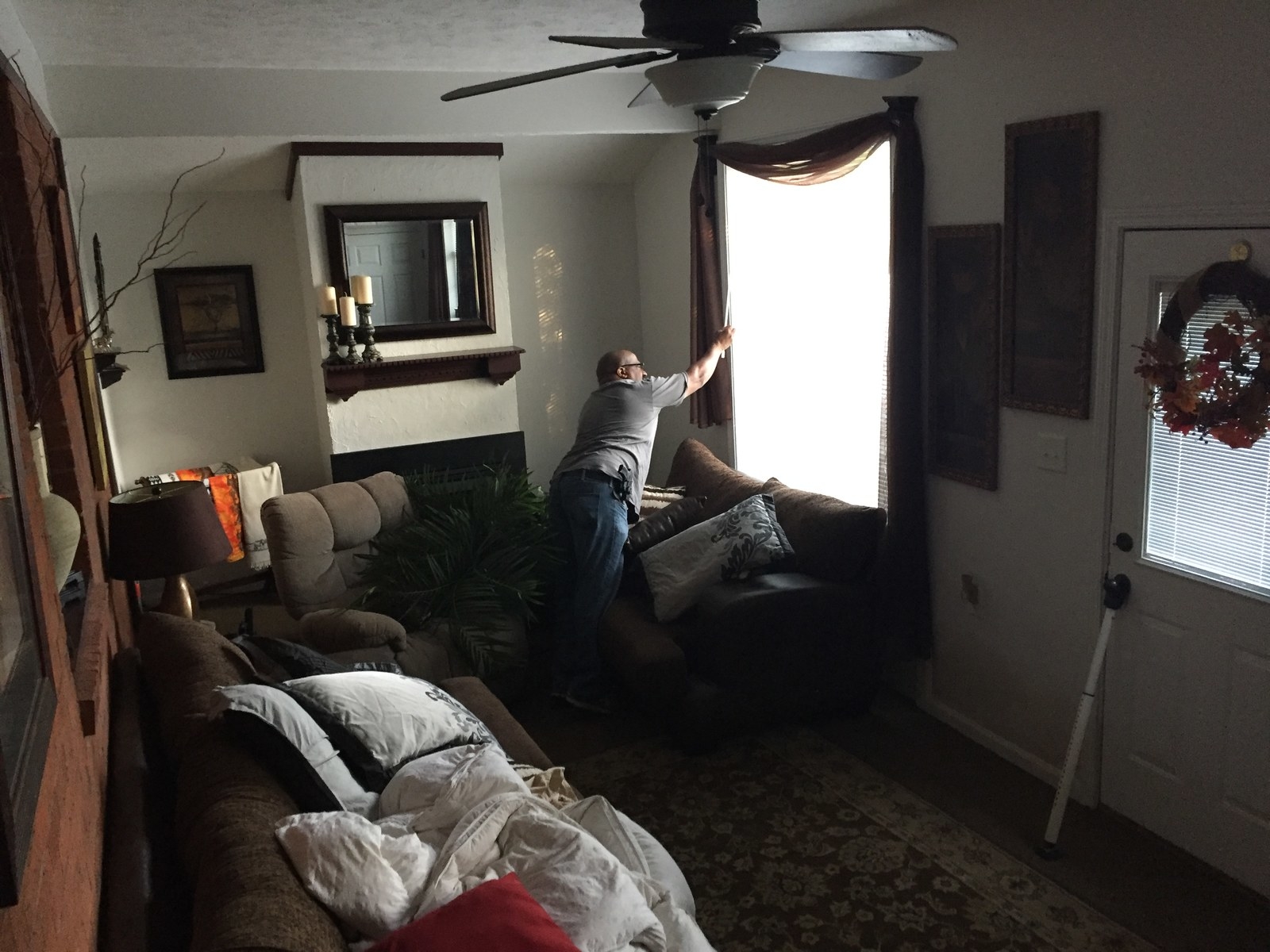 The federal government has already taken steps toward safeguarding its own buildings against rising tides and rain-fed flooding. Last year, President Obama ordered agencies to consider the "best-available, actionable" climate science when determining how closely federally funded projects can be built to oceans and other bodies of water.
But that executive order did not require FEMA to take into account rising sea levels or increased rainfall when drawing maps that determine which homeowners must buy flood insurance. And even if it had, it probably wouldn't have helped anyone hit by this year's storms, as FEMA only updates insurance maps, on average, every 10 to 15 years, the agency said.
"There needs to be a redefinition of what is a floodplain," David Hayes, a former deputy secretary at the Department of Interior under Obama, told BuzzFeed News. Heavier rains and floods, "now clearly linked to climate change," he said, will force the change.
With the recent presidential election won by Donald Trump, much attention has been paid to the fate of the landmark 2014 Paris climate accord, which commits nations to reduce their greenhouse gas emissions. But there's concern among policymakers that the slow progress of grappling with the climate change impacts, such as flooding, will be halted by the next president.
"The Obama administration began this examination, but there's much more to be done," Hayes said. "I worry that it won't be done under the Trump administration."
Local floodplain managers — including those in Robeson County, where Lumberton is located — face the difficult task of encouraging homeowners to take the risk of flooding seriously, even when there is no legal requirement for them to own flood insurance.
Last year, for example, Robeson County held an open meeting for residents to find their homes on the floodplain map and ask questions about their risk. After weeks of advertising the meeting on the radio and in the local newspaper, Dixon Ivey, the county's planning and zoning administrator, was stunned by the turnout.
"Nobody showed up," Ivey told BuzzFeed News. "I sat out here for an hour, and not a single person walked in."
Food insurance is a tough financial sell, with rates varying widely based on elevation and other factors.
Just outside of a flood zone, like in this section of Lumberton, $425 per year will buy a homeowner $350,000 worth of coverage for a house without a basement. Still, without a requirement to buy the insurance, few homeowners do.
"There are probably very few people in this area with flood insurance because this is not a flood zone," Randy Kirk, a lifelong Lumberton resident who lives down the street from the Frenches, told BuzzFeed News. He never bought any.
Unlike the Frenches, who fled to their son's home about 20 miles away, Kirk decided to wait out most of the storm in Lumberton. The water came up about 12 to 18 inches along his single-story home, where Kirk, who works at a nearby sink manufacturer, lives with his wife and son.
By sandbagging his front porch, Kirk stopped the water from creeping into his living space. But over the next week, he noticed that his home's insulation was soaked and sagging within its walls, and needed to be replaced.
"My floor may start buckling later," Kirk said while working on his ATV, also inundated by Hurricane Matthew, in his backyard. "The water was just underneath the house. When you take the vent off, you could see water." Such floor damage would usually be covered by federal flood insurance.
At the edge of the floodplain, the Kirk and French families were still among the more fortunate. Houses in surrounding neighborhoods were still inundated on the Saturday that the Frenches first visited their home. Approximately 1,100 other people in Robeson County, many with homes still swamped, were stuck in shelters.
Kirk and French applied for aid from FEMA, but the agency often offers loans to rebuild flooded houses. Any grants given out are "not designed to bring homeowners back to full recovery, but rather to begin the recovery process," a FEMA spokesperson told BuzzFeed News.
"If they can't help us," Dennis French said, "I don't know what I'm going to do."