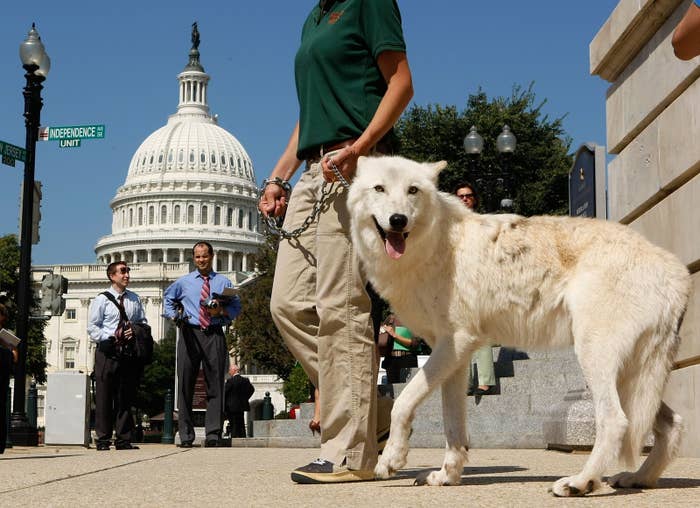 WASHINGTON — On Wednesday, Congress took its first step toward repealing a ban on shooting wolves and bears from airplanes, along with other hunting activities that were halted by the Obama administration, across large wildlife refuges in Alaska.
The House of Representatives voted 225 to193, largely along party lines, to undo a recent Department of Interior rule that had pitted federal and Alaskan wildlife officials against each other over how to manage animal populations in the state's 16 national wildlife refuges.
After passing the House of Representatives on Thursday, the resolution is likely to become law; it now just needs approval by a majority of the Senate, where Republicans can provide all of the votes they need, and President Trump.
Sen. Dan Sullivan of Alaska says he supports the resolution and expects it to pass the Senate as well, according to a spokesperson.

In August, the US Fish and Wildlife Service issued a rule banning hunting tactics that its director, Dan Ashe, characterized at the time as "a withering attack on bears and wolves that is wholly at odds with America's long tradition of ethical, sportsmanlike, fair-chase hunting."
The banned activities on Alaska's wildlife refuges included hunting tactics common elsewhere in Alaska and the US, but nevertheless troubling to wildlife advocates: baiting brown bears to draw them to hunters and shooting them; shooting bears ensnared in traps; and shooting bears and wolves in their dens with their cubs or pups.
Also banned is a practice unique to the state with more forest than any other in the US: gunning bears and wolves from airplanes, a practice that has been banned by federal law nearly everywhere else in the US since 1972.
The state says that the purpose of aerial shooting is to curb predator populations in a "highly regulated" way that sustains large herds of moose, caribou and deer that many Alaskan rely upon for food, according to Bruce Dale, director of the Division of Wildlife Conservation in the Alaska Department of Fish and Game.
"A lot of good sized families, if they get a moose, they're set for a year," Dale told BuzzFeed News. "There's 300 or 400 pounds of meat there. That's a lot of meat."
Former Alaska Gov. Sarah Palin is perhaps the nation's most prominent supporter of aerial shooting and was a fierce advocate of the policy during her time as governor. In 2007, her administration offered $150 cash rewards to aerial hunters and pilots who returned the left forelegs of wolves they killed, in a year in which wolf kills were lower than usual. That program was later overturned by the courts. And the topic became an issue during her 2008 vice presidential run, when wildlife advocates released ads criticizing her support for aerial hunting.
The federal government, Dale said, began gunning predators from planes before Alaska even achieved statehood. In the mid-2000s, Alaska reintroduced the practice for wolves after years sporadic use. And in 2012, the state went one step further and lifted a blanket ban on the aerial shooting of bears as well.
Sticking to "a scientific protocol," Dale said, only members of the public with special permission from the state, along with some state employees, can conduct aerial hunts.
Wildlife advocates argue in response that the purpose of the national wildlife refuges — which cover about 76 millions acres of Alaska and make up nearly one fifth of the state — is to preserve biological diversity in otherwise vulnerable ecosystems.
"These are extreme hunting methods that are being prohibited," Patrick Lavin, Alaska representative for the nonprofit Defenders of Wildlife, told BuzzFeed News. He added that most sportsmen in Alaska should not be affected by the ban because "hunting is still allowed on these lands."
That argument won the day under the Obama administration. "This is not sportsmanship," Ashe, head of the US Fish and Wildlife Service, wrote in August. "It is purportedly aimed at increasing populations of caribou and moose but defies modern science of predator-prey relationships."
After the rule was issued last year, the state of Alaska filed a lawsuit against the federal government, arguing that "the power to manage and protect wildlife, including on federal lands, lies with the states."
Rep. Don Young of Alaska agrees. But, as the sponsor of the resolution in the House of Representatives, he is not waiting for the courts to decide on a rule he regards as a violation of the law that established Alaska's statehood.
"Some of you will say, 'Oh we had to protect the wolf puppies,' " Young told his colleagues on the House floor. "That's not what it's about. It's about the law."
Young and other House Republicans dusted off a once obscure bill called the Congressional Review Act to begin undoing the Obama administration rule on Thursday. Using the act, they are able to undo rules finalized since last June with simple majorities in both chambers of Congress, circumventing any filibuster Democrats could mount in the Senate to try to stop the resolution from going forward.
Republicans in Congress have spent the first weeks of 2017 using the CRA to great effect, pushing bills to repeal regulation after regulation issued in the waning months of the Obama administration.
Wildlife managers in Alaska and other states leery of expansions of federal regulations cheered the House's first step to repeal the ban.
"We think it's bad policy and we think it's bad for the state of Alaska in particular," Ron Regan, executive director of the Association of Fish and Wildlife Agencies, which represents Alaska's and other state-level wildlife agencies in Washington, told BuzzFeed News. By broadening federal power, Regan added, "we think it has potential to be bad for other states in the future."