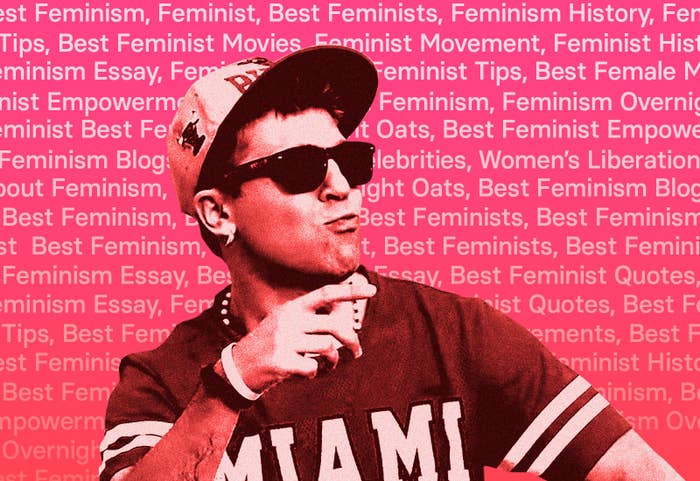 On first glance, the Frisky appears to be a thriving women's entertainment and lifestyle website. Founded in 2008 "for women, by women," the site currently attracts over 1 million pageviews per month.
But beneath the surface, the site is filled with a strange mix of awkwardly written celebrity clickbait, articles promoting floorcare and acupuncture, and a post that attacks Long Island attorney Frederick Oberlander, a nemesis of onetime Trump business partner Felix Sater. The bylines of the site's original authors have also been scrubbed and replaced by pseudonyms and stolen profile photos.
The Frisky as it once existed is gone. Today it's a vampire website feeding off the property's former popularity and brand name to sell pay-for-play articles in order to influence search engine rankings. The site is one of a growing number of once-lucrative web domains that are taken over and then milked for every last drop of search engine optimization value before they are inevitably downranked for shady practices.
Recent examples of other sites using this model include HillaryClinton2016.com, an anti–Hillary Clinton site now used to sell essay writing services, and AirCraftHomeBuilder.com, a hobby model airplane site now used to promote former Trump business partner Tevfik Arif.
Last June, TheFrisky.com was bought by Nebojsa Vujinovic aka DJ Vujo#91, a Serbian music producer whose videos for songs like "Miami" — in which he parties on a boat with two scantily clad women — get millions of views on YouTube.
"I'm in Miami, bitch," he sings in the video, which was filmed in Croatia.
On freelancer site Fiverr, Vujinovic currently charges up to approximately $130 to publish guest posts on an unnamed "magazine blog" that fits the description of the Frisky.
"The post will be listed on the homepage of our site for a limited time until new posts are published," reads the ad for the 11-year-old mystery domain. "We will add internal and external links to improve SEO and to make the article look more natural."
Other ads for the Frisky can be found on freelancer sites like People Per Hour and SEO Clerk, where dozens of self-proclaimed "SEO experts" in countries like Pakistan and Bangladesh are currently charging up to approximately $200 per guest post.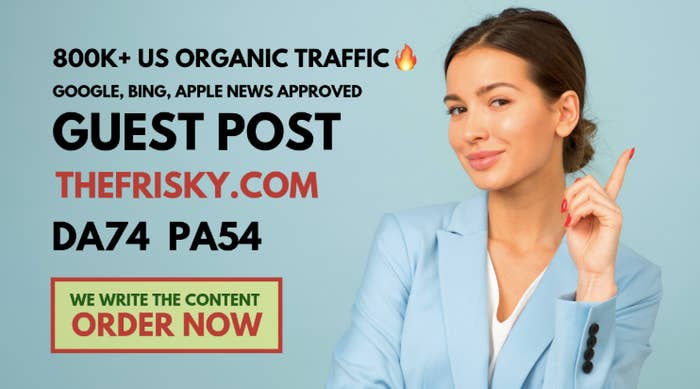 In February, it appears someone paid to publish an article on the site as part of an ongoing effort to whitewash Donald J. Trump's relationship with Russian-born businessman Felix Sater. The article, attacking Sater's nemesis, Long Island attorney Frederick Oberlander — who was suspended from practicing law last August for leaking Sater's 1998 cooperation agreement with the FBI — is just one of hundreds of equally suspicious articles that currently litter the site.
When asked who paid for the article, Vujinovic told BuzzFeed News by email, "we have lot of [new] articles every day, so we really can't find who and why write that."
He declined to comment about the guest posting services he advertised on Fiverr. "Why you asking me questions like that?" he said. "Who cares about Fiverr?"
Former editors and writers for the Frisky who spoke to BuzzFeed News said they were appalled at what the site had become.
"I have tried not to look at it for the last few years, to be honest. It just bums me out," said Jessica Blankenship, the site's editor-in-chief until 2016. "[But] at this point, it's kind of entertaining what a horrible shitshow it's turned into."
Lauren Holter, whose political articles were scrubbed from the site after Vujinovic took over, said she found the whole thing "extremely upsetting."
After purchasing the site, Vujinovic removed the names of the site's original authors and, using pseudonyms, republished huge amounts of its original content.
"All of the old material is under [the name] 'Wendy Stokes' now — most of the political stuff is gone," said the Frisky's former assistant editor Robyn Pennacchia, who only learned that the site was still online in September, four months after it had officially closed.
Stokes' byline does not appear anywhere else online and a reverse image search reveals that her profile photo, a jpeg titled "cool profile pictures," is actually of Swedish Iranian actress Maryam Zakaria.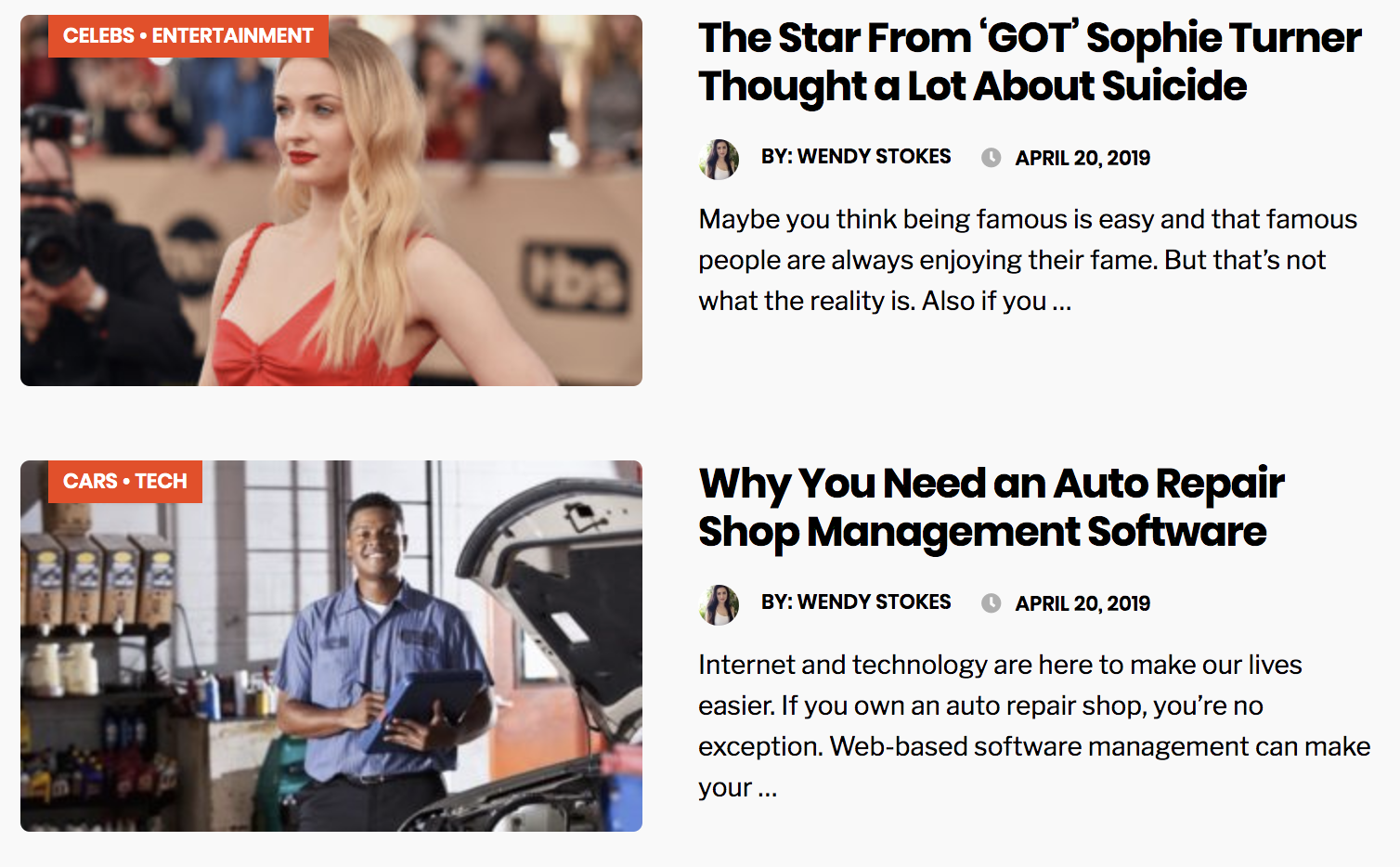 It's unclear how Vujinovic ultimately came to own to the site. But according to Patrick Hogan, director of legal affairs at Digital Remedy, which acquired the Frisky in 2016 and still owns the rights to its archives, Vujinovic did not seek permission before republishing the site's old content.
"We have not sold any of the content we purchased or developed," said Hogan. "If they are using the old content it is most likely without [intellectual property] rights."
When asked for comment, Vujinovic was less than forthcoming.
"I can't tell you secrets of my business," he said.
Google's webmaster guidelines prohibit attempts to manipulate its search index using deceptive SEO tactics. When asked about the Frisky's pay-to-play marketing strategy by BuzzFeed News, Google appears to have downranked the site, according to a review of recent search rankings and data from SEMrush, a search marketing analytics site. A Google spokesperson declined to comment.
Brendon McAlpine, business development manager for Australian online takedown service Internet Removals, said that SEO tactics like paid guest posting are an inevitable result of Google's "first-to-the-top" search ranking criteria, and the benefits that come from being highly ranked.
"If you aren't on page one, you can basically write your business off unless you: Do paid ads; or operate on referral," McAlpine told BuzzFeed News in an email. "Thus, any new start-up is almost forced into using these sites in competitive industries in order to gain some traction within Google."
However, "if the site owners are inducing people to believe that they are the original site, then that is not only unethical but potentially illegal."
Despite the negative attention, Vujinovic does not appear to be slowing down. The Frisky continues to churn out questionable content at a rate of around 20 articles per day, most of it rewritten from other sites like CheatSheet.com.
Recent titles include "What Royal Babies Eat?"; "How to Become an FBI Agent in Arizona"; and, fittingly, "How to Build a Successful Digital Marketing Career?"
CORRECTION
Maryam Zakaria's name was misspelled in an earlier version of this post.