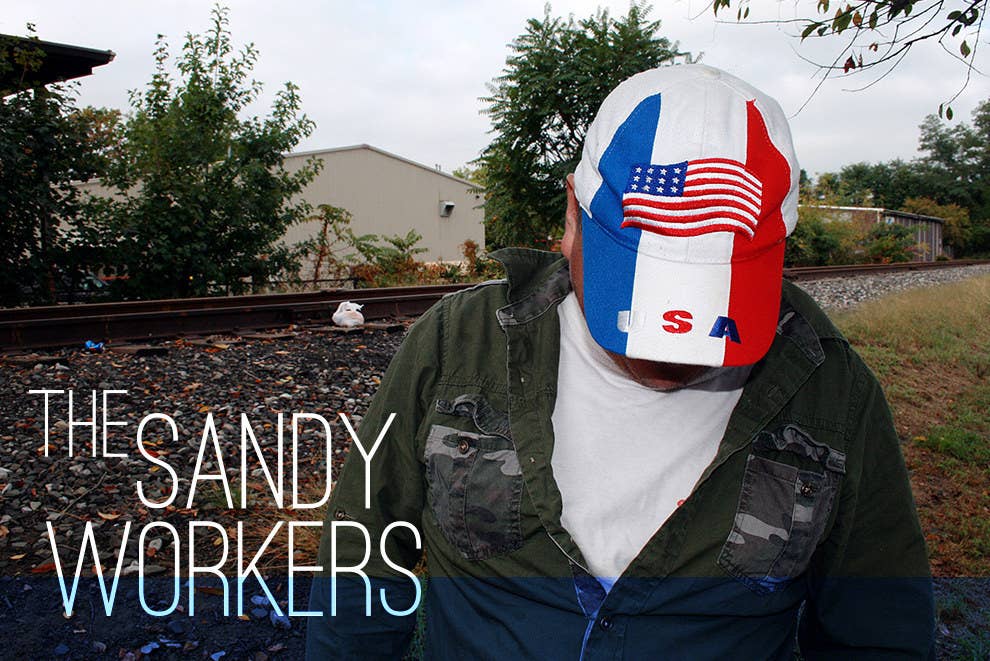 After the destruction and death and confusion, what 2012's Superstorm Sandy left behind was work. The storm littered roadways with the trunks and branches of trees. It flooded hundreds of thousands of basements, rotting walls and corroding wires and exposing insulation. And it ripped houses clear off their foundations and deposited them in other people's yards alongside marooned boats. The storm damaged or destroyed more than 650,000 homes in New York and New Jersey alone, and caused some $50 billion in damage in the U.S.
Someone had to clean it all and — slowly — rebuild it.
At least 4,000 day laborers worked on Sandy recovery in the New York metro area, according to an estimate provided to BuzzFeed News by Baruch College sociologist Héctor Cordero-Guzmán and the National Day Laborer Organizing Network. Cordero-Guzmán estimated, based on the usual characteristics of the day laborer population, that some 75% of those workers were undocumented.
It's been two years since the disaster, and BuzzFeed News spoke with nearly two dozen immigrant day laborers who worked to clean up the New York metropolitan area.
Most of these workers hail from Mexico or elsewhere in Latin America, and the large majority are undocumented. Some requested that we change their names and hide their faces for fear of deportation or retaliation from contractors; names that have been changed or truncated are marked with an asterisk. All interviews were conducted in Spanish.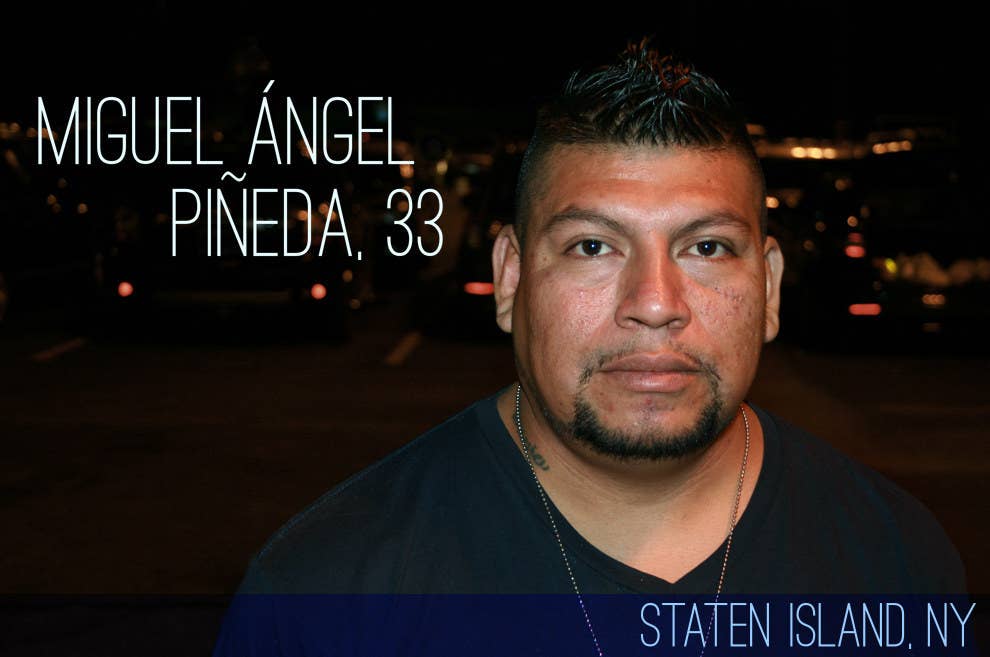 Miguel Ángel Piñeda, 33
Staten Island, New York
"Maybe two or three days after the storm, when the water started to go down, everything was chaos. There was no gasoline, people had lost their jobs. The first person who called me was a doctor I had done work for before."
The doctor hired Piñeda and a group of other men to empty his basement and clear rubble from his property.
"They didn't give us gloves or masks or anything." One day, believing a worker had tried to steal scrap metal from the house, the doctor threatened Piñeda and his colleagues: "I'll take out my gun and kill all of you."
Piñeda had experience as an electrician, and about a week later he got work with an electrical contractor restoring power to homes in the area. Piñeda said the contractor ordered him to do illegal work: repairing and replacing meters, a task restricted to electrical utility workers. Piñeda said he opened the meters by cutting through Con Edison's locks with a power grinder.
(A Con Edison spokesperson told BuzzFeed News that the utility is not aware of such illegal work being done after the storm, but said it may have been performed by "a rogue contractor skirting the city's regulation.")
In most cases, Piñeda said the cables delivering electricity to the homes were still live.
"People were desperate because they didn't have power. The kind of work I'd usually do in three days I had to do in a few hours … One time, I was replacing a meter panel, and I felt a piece of plastic break — the piece that keeps the power line from touching the metal of the panel. Since I had been doing this work for a few days and I knew the cables were live, all I'd been thinking was, When is something going to happen? So when I felt the plastic break, in the moment before the cable touched the metal, I reacted — I jumped off my ladder. And then I heard an explosion, and all I saw was this ball of fire ...
"When I opened my eyes I couldn't see anything. I saw light, and nothing else, like when you stare at the sun. Two or three minutes went by before I could see again … I ran to my car and looked in the mirror and my eyebrows were all brown. The tips were scorched. My eyelashes were half burnt off … Nothing worse, thank god.
"I'm not from here, from this country, but I've lived half my life in Staten Island, and when I saw that disaster, well, the truth is that it hurt … There wasn't racism then, not like now or like before. There was a lapse of time when Americans didn't see us as immigrants, but as other people here dealing with the same things."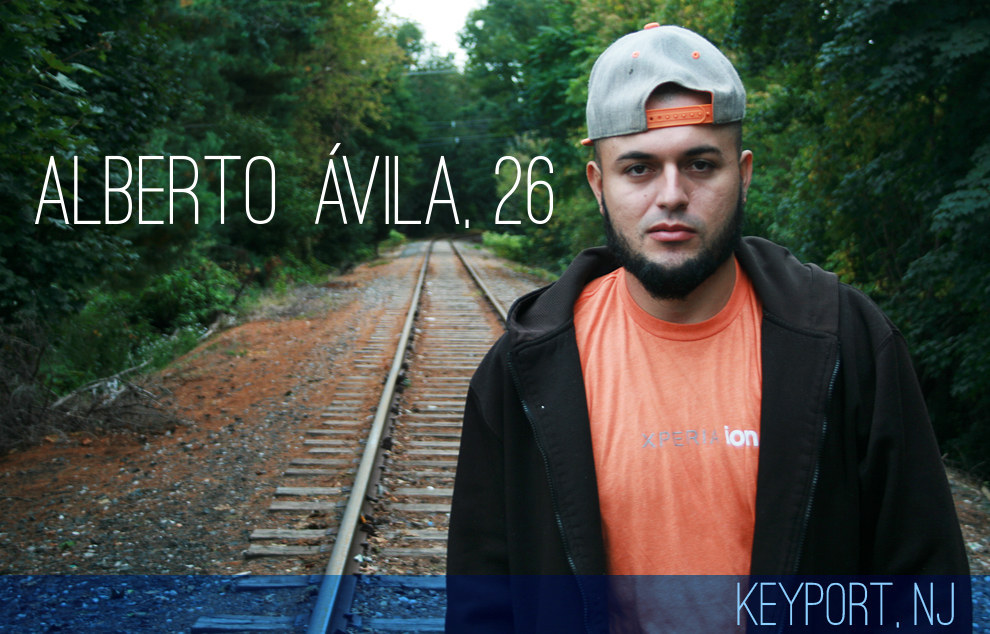 Alberto Ávila, 26
Keyport, New Jersey
Like many day laborers, Ávila first did volunteer work after Sandy before he looked for any paid jobs. He and a group of workers from CASA Freehold, a worker center and immigrant advocacy group, helped rebuild a church in Union Beach, New Jersey, ripping up rotten floorboards and laying new ones.
Later, Ávila worked for pay cleaning out a flooded video arcade in Keyport, on the Jersey Shore. "We had to drag out all the machines, really heavy machines. There was humidity, mold, mud, everything ... I wound up getting sick for almost a month, just from three days of work. I don't know if I breathed something in or if it was just the cold and the humidity. I had a fever for three or four days, but I felt the symptoms for a month. I still went to work, but I could barely breathe …
"I'm from Mexico. From Michoacán. I've been here since I was 14, working ever since. I became a man at that age. Not going to school, hiding from the police … I'm sick of this country, bro, working like an animal since I was 14."
And yet, after the storm: "I felt sad for people, more than anything. And I felt like helping. Even though they might not think about you very much, you think about them, when you see that they fought their whole lives for something — a business or a home. Then you see them with nothing."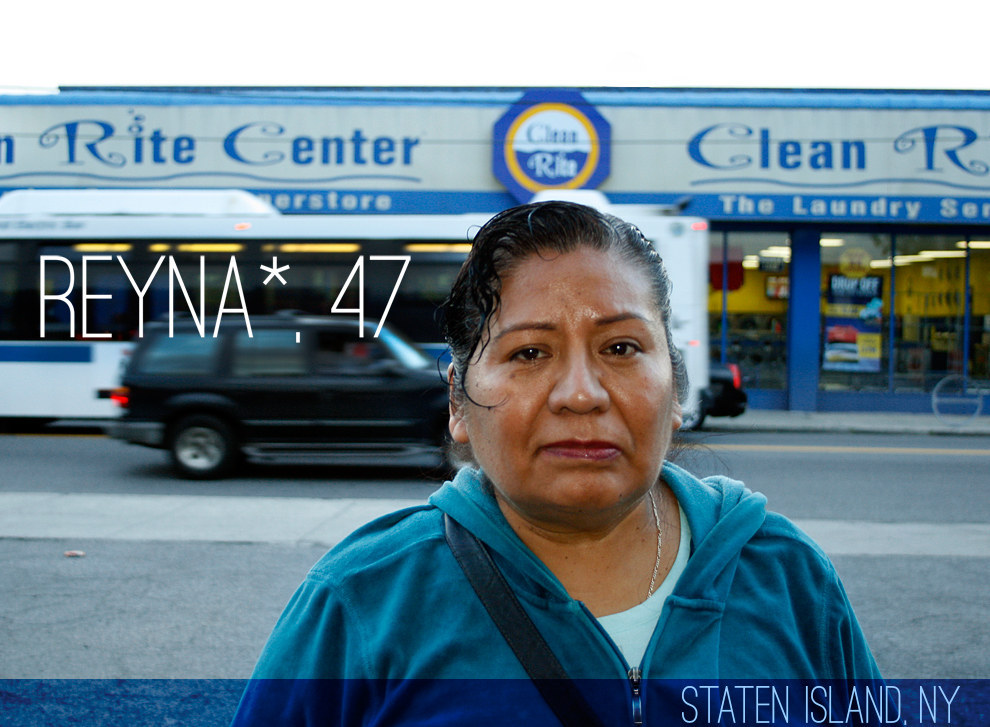 Reyna*, 47
Staten Island, New York
"My usual job is cleaning houses, so when the storm happened I was left without work. The houses didn't have electricity, and who knows where the owners were — I would call them but they wouldn't answer … Some time later I got a call from a woman, one of my clients, to come help her clean up the basement of her house ...
"The basement was filthy. She gave me gloves, but they were the really thin kind, and they kept breaking. My fingers started turning white and the skin started peeling off around the fingertips. All she gave me was a mop, a broom, and some trash bags. I had to carry out all the furniture and clean the mud off the floor. She paid me the usual: $10 an hour … They never treated me badly. They're good people, they treat me with respect. I was grateful for the work."
After helping clean four flooded houses, Reyna began feeling sick. "I think I got some kind of infection. When I tried to breathe, I would feel a lot of pain in my chest and in my back. My throat hurt, my eyes itched … I couldn't breathe. I just couldn't.
"For two months I would get these attacks, like asthma attacks. I don't have medical insurance. I didn't go to the hospital because the emergency room is too expensive, I would have gotten a very big bill and I wouldn't have been able to pay it. I never go to the doctor because they ask for too many papers, and I don't have Social Security or anything like that. I used home remedies, breathed in water vapor…"
Weeks later, Reyna recovered. "I think people here sometimes don't appreciate what they have. This is a beautiful country. Where I come from there is very little water. Here there is a lot of water. Sometimes people who have everything don't realize it. Some of them — not all of them."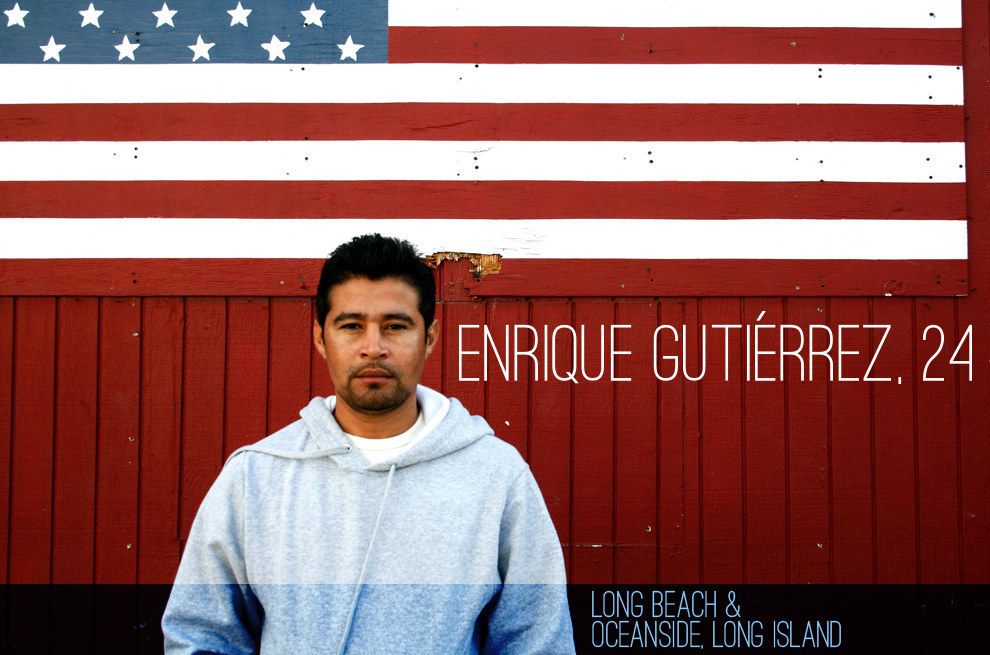 Enrique Gutiérrez, 24
Long Beach and Oceanside, Long Island
"At first we were worried that people would die. But once we realized there wasn't that much human damage, mostly damage to houses, even though we knew so much was destroyed, then we thought mostly about the work.
"In all the basements and first floors, everything was filled with water, so everything had to be dragged outside. And the walls that the water reached were wet, they were rotten, they smelled bad. Because you had water that was there for a month. And all the dirty water that was in the sewers rose up.
"So we had to do the work with all the risks, with bosses who wouldn't give us safety equipment. That's how we had to do it.
"I had a boss after Sandy who didn't pay me overtime. He would take me to work and say, 'OK, I'm going to give you $120 at 4 o'clock, and at 4 o'clock you can leave.' So I would go and work, and 4 o'clock comes and goes, and nothing. It's that overtime that they don't pay you, even if they keep you working very late. So you work more hours for less money. That's their thing, always: more work for less money."
Eduardo*, 38
Colts Neck, New Jersey
"I didn't think the storm was going to hit so hard. The next day I got a call from one of my bosses telling me to show up to work at 7:30. We'd been hired for 80 hours to clear fallen trees and branches around some city offices … then the snowstorm came" — the nor'easter that brought sleet and snow to an already storm-ravaged New York on Nov. 7, 2012.
"So we went back to the same place. I think the snowstorm destroyed more trees even than Sandy. And I remember that my colleague told me he didn't want to use the cherry picker to cut the higher branches, because he was afraid of heights. I had experience cutting trees, but never using a cherry picker. I like to learn how to use all sorts of machinery, so I said yes. The days went by, and I started getting good at it.
"I don't know if it was the boredom from doing the same thing every day, or the sound of the chainsaw, but I wasn't paying attention … The branch was pinned against the cherry picker, so when I sawed through it, the part that was still attached to the tree snapped up and hit me in the face, between my nose and my mouth.
"They gave us helmets, but nothing to protect our faces. And I remember I couldn't even pronounce a single word when I went to tell the foreman I'd been hit. I couldn't even tell him what happened, because my mouth was so swollen.
"I went to the hospital with my boss's brother. I told them at the hospital that this was a work accident, but the brother didn't want to give them the information for the company's insurance. He said the bills should go to me directly, then I would take the bills to the boss. He said that's how the company operated...
"So then I got a bill for $1,000. I took the bill to my boss, and he said don't worry about it. Some time went by and I got the same bill again. So I asked him what happened, and he said that I had to wait until it went to debt collection so that he could negotiate a lower price … My wife convinced me to talk to the lawyer who's handling my immigration case. The lawyer said no way can you let it go to collection.
"So I went to the boss and told him that I needed him to pay, or at least tell me if wasn't going to. I said, 'We've worked together before. We have a good relationship. I don't want to sue you.' And that's when he finally took care of it."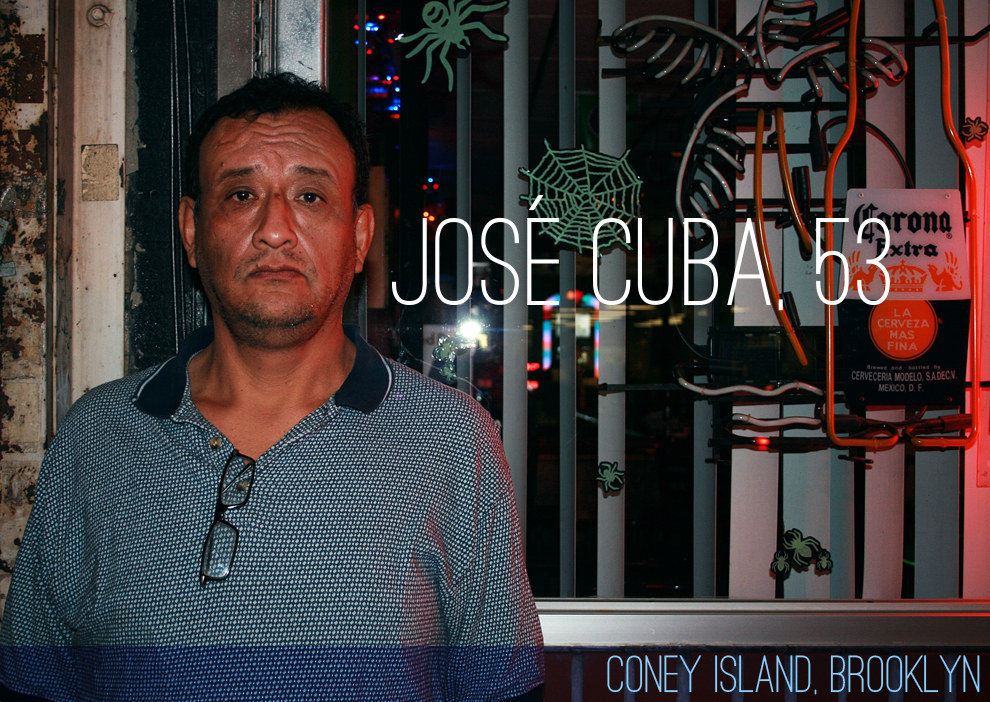 José Cuba, 53
Coney Island, Brooklyn
Three city-owned hospitals were flooded by Sandy. Signal Restoration Services, the private contractor hired to repair them, was found by the New York attorney general to have underpaid its workers and was ordered to pay $500,000 in back wages.
José Cuba was one of those workers.
"I was on the corner of 69th and Roosevelt [in Jackson Heights, Queens], where the day laborers usually get together, and an Ecuadorian guy I know showed up with three vans and filled them with workers. As the day went on he kept bringing more and more people to the hospital … We worked every day, Monday to Sunday, from 7 in the morning until 9 at night.
"Eventually they brought in big lights to illuminate the hospital, but the first few days it was dark. And the first few days they didn't give us any safety equipment. You showed up to work with the clothes you were wearing, that's it …
"Our job was to clean up the hospital. We took out everything. Televisions, computers, X-ray machines, gurneys. We went from room to room, little bit little — waiting rooms, operating rooms, the morgue … Then we demolished everything that was damaged.
"The first few weeks they paid us $12 an hour with no overtime. But then Local 79 [the Construction and General Building Laborers Union] found out and told us they weren't paying us enough. They paid us in cash, once a week. They said they would pay us at the end of every week, but it was, you know, the day after, or two days after, or the week after … It's not that I'm a conformist. But for someone who's illegal, who doesn't have papers — you have to take what you can get."