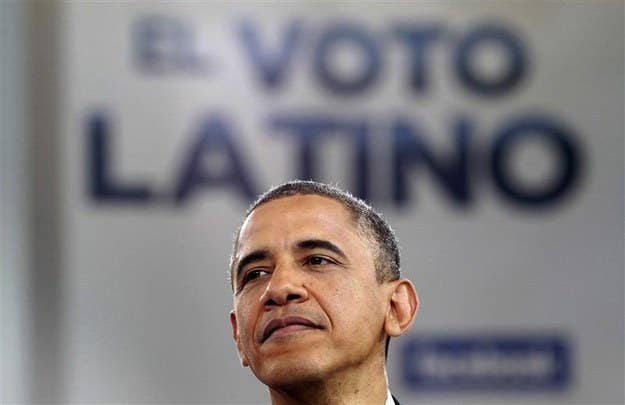 On Monday, close to 50 Latino groups from around the country will announce Hispanic Heritage Month of Action, a new coalition dedicated to registering as many Latino voters as possible ahead of the November elections, BuzzFeed News has learned.
The initiative comes after bitter disappointment by Latino and immigrant groups over President Obama's decision last weekend to delay executive action on slowing deportations until after the midterm elections. Immigrant advocates felt "frustrated, upset, demoralized," Ben Monterroso, executive director of Mi Familia Vota, said.
The coalition is unprecedented for the number and scope of groups involved, from the expected advocates and activists to media companies, business consortia, and arts nonprofits.
Monday, the day the coalition launches, also marks the first day of Hispanic Heritage Month. "This month is not only about celebrating our heritage," said Maria Teresa Kumar, president and CEO of Voto Latino, a decade-old organization dedicated to increasing voter participation among Latinos. "It is about recognizing the power of our votes."
Voto Latino and Mi Familia Vota cobbled the partnership together in the week since Obama announced he would delay action on slowing deportations. Kumar and other Latino leaders saw this as a move on Obama's part to sweep immigration reform under the rug for the midterm elections, so they decided to react. "We're saying that we're not going to let immigration reform not be an issue for this election," she said. "Because, at the end of the day, 2014 is a platform for 2016."
Kumar and Monterroso both stressed that the effort is nonpartisan — the partnership includes traditionally conservative groups like the United States Hispanic Chamber of Commerce and The Latino Coalition. The alliance includes other strange bedfellows: groups that have criticized Obama harshly — the National Council of La Raza president Janet Murguia, for example, has dubbed him the "deporter-in-chief" — as well as progressive organizations and even Univision radio host Fernando Espuelas, who fiercely defends the president and blasts Republicans.
"One party is taking us for granted, and the other is trying to prevent us from participating," Kumar said. "They're still not taking us seriously in Washington. They're asking us to stand in the back of the line to wait for whenever it's convenient for them to do the right thing."
The website for the effort, Latinos 2014, makes no mention of Obama or immigration. And, with Hispanic Heritage Month set to begin, some groups that are part of the coalition will probably attend celebrations held by Democrats and the White House in the coming weeks, potentially creating an awkward moment.
Already there were fireworks on Saturday at a Voto Latino event in San Antonio, where a routine panel discussion turned into a confrontation, as Rep. Joaquin Castro and longtime union and immigration activist Eliseo Medina were the target of sharp questions by a Texas DREAMer over Obama's immigration delay.
The number of Latinos who said they were registered to vote grew 18% between 2008 and 2012, according to the Pew Hispanic Center. However, some 40% of eligible Latinos are still not registered, and voter turnout rates for Latinos lag behind other groups.
Monterroso, of Mi Familia Vota, said harnessing the growing — but still, in many ways, dormant — political power of Latinos was essential to advocating more effectively. "We know that in order for us to get what we need on immigration reform, we need to continue building that political power," he said. "We know that we're getting close to being more properly respected."
In the meantime, Monterroso said, the new coalition intends to broadcast a message to Obama and politicians in both parties: "We're not going to go away."