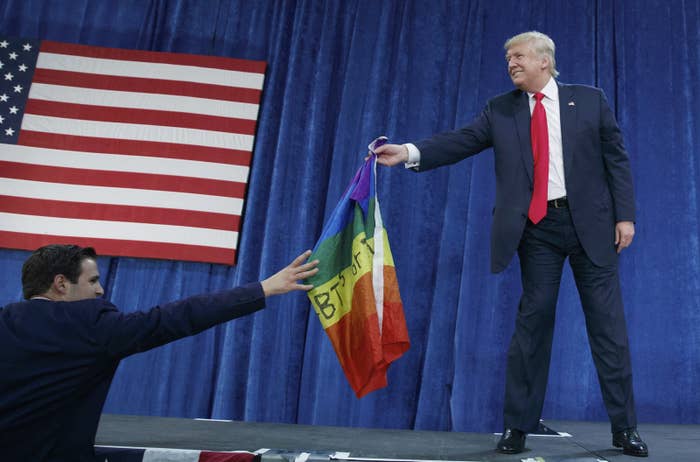 The White House ended June on Friday by stubbornly refusing to offer even the most perfunctory act of symbolic recognition to a section of the US population, and its struggle for civil rights.
Despite attempting to position himself as a friend to the LGBT community during the election, President Donald Trump opted not to issue a statement or proclamation marking June as Pride Month.
Had he done so, Trump would have been the first Republican president to recognize pride. Yet Trump, who made history by becoming the first GOP presidential nominee to mention the LGBT community in his convention acceptance speech, remained silent.
"I'm most certainly disappointed," Gregory T. Angelo, president of the Log Cabin Republicans, a prominent LGBT conservative group, told BuzzFeed News.
"I think it would have been a strong, symbolic, and historic gesture if he'd put out a statement," Angelo said, noting his group had urged the administration to do so.
BuzzFeed News contacted the White House every single day in June to ask if a statement or proclamation was forthcoming — and if not, why not.
It took two weeks for spokesperson Kelly Love to respond. "We will let you know if anything official goes out," she wrote in an email on June 14.
Responding to a subsequent June 15 emailed inquiry as to whether the White House was taking the unusual step of waiting until the end of the month to mark pride, Love again replied, "We will let you know if anything official goes out."
Three email inquiries later, Love responded, "As I've said, if we put anything official out you'll be the first to know." This was the last time a White House spokesperson responded to a request for comment about Pride Month. (See the full list of emails below.)
Presidents routinely use their executive powers to issue symbolic proclamations to mark days, weeks, or months they deem to be of national value. They can also release statements through the White House press office.
So far during his presidency, Trump has issued such proclamations with zeal, marking big-ticket events for different communities — such as National African American History Month, Women's History Month, and Jewish American Heritage Month — as well as smaller, more focused events such as National Poison Prevention Week, National Charter Schools Week, and National Hurricane Preparedness Week. (See the full list of the President Trump's proclamations below).
In 1999, on the 30th anniversary of the Stonewall uprising that spawned the LGBT civil rights movement, President Bill Clinton became the first president to issue a proclamation marking June as Pride Month. "I encourage all Americans to observe this month with appropriate programs, ceremonies, and activities that celebrate our diversity, and to remember throughout the year the gay and lesbian Americans whose many and varied contributions have enriched our national life," Clinton declared. He issued one again in 2000.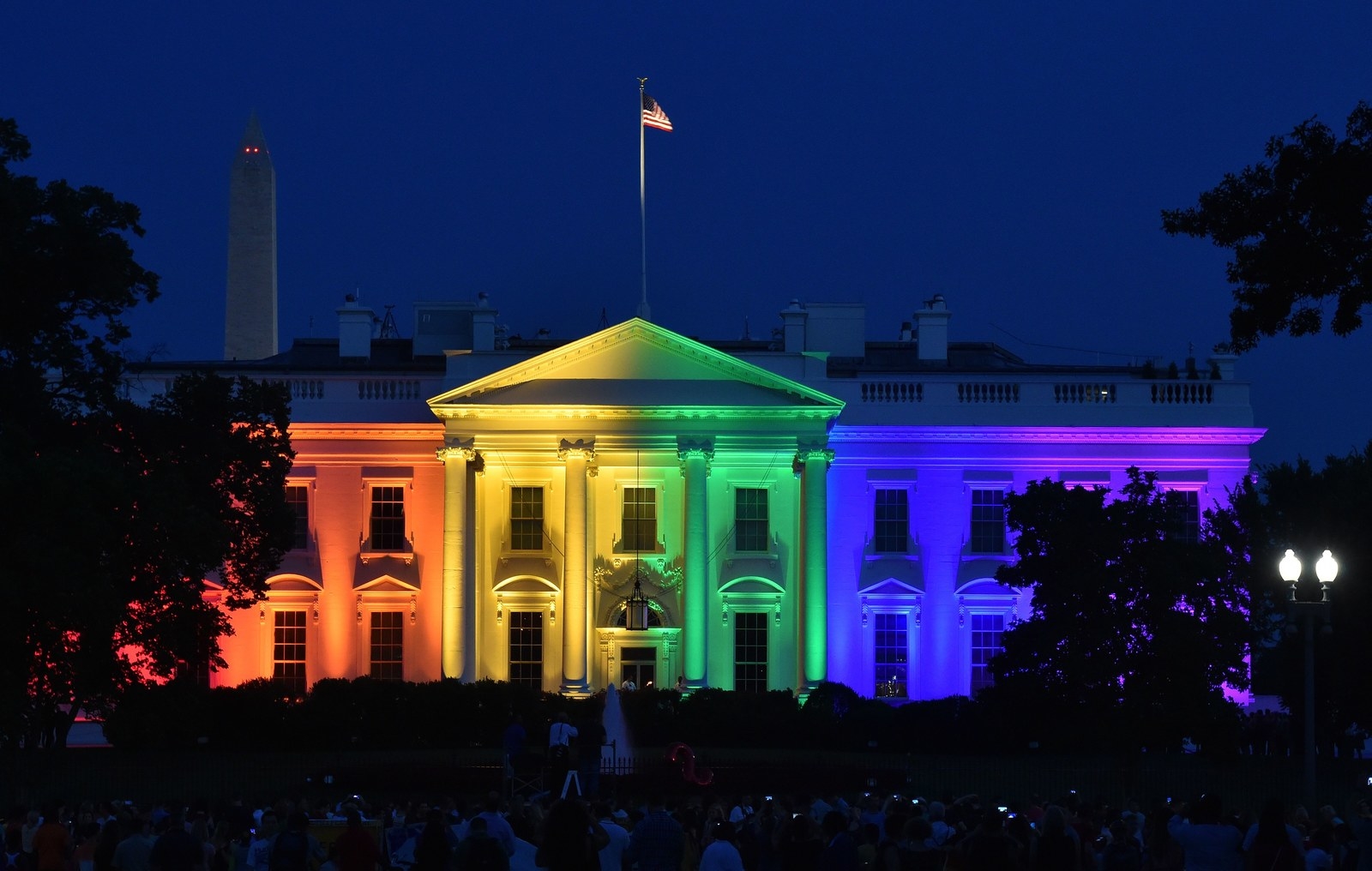 While President George W. Bush, a staunch opponent of marriage equality, didn't issue any pride statements or proclamations during his presidency, they were resurrected under President Barack Obama, who also hosted receptions and lit up the White House with rainbow lights after same-sex marriage was legalized.
While Trump did not mark Pride Month, his daughter and senior adviser, Ivanka Trump, tweeted her best wishes.

Angelo, of the Log Cabin Republicans, noted these tweets were met with hostility and "vile responses" from some on the left.

But, he said, "if we as a movement are truly trying to move the needle to full equality we should be welcoming the gesture of anyone and everyone who will stand with us, especially someone who happens to be the president's daughter and senior adviser."
Angelo also criticized LGBT advocates for what he said was an attempt to turn pride events into "resistance marches" — using the month as a vehicle to oppose the president. "One wonders if they had put out a statement if it would have been welcomed by LGBT advocates," he said.
For Angelo, the president's actions speak louder than words. He argued that the Trump administration has taken steps to protect and celebrate the LGBT community, and noted that the Pentagon and the Justice Department each held pride events — the latter of which had the express support of Attorney General Jeff Sessions.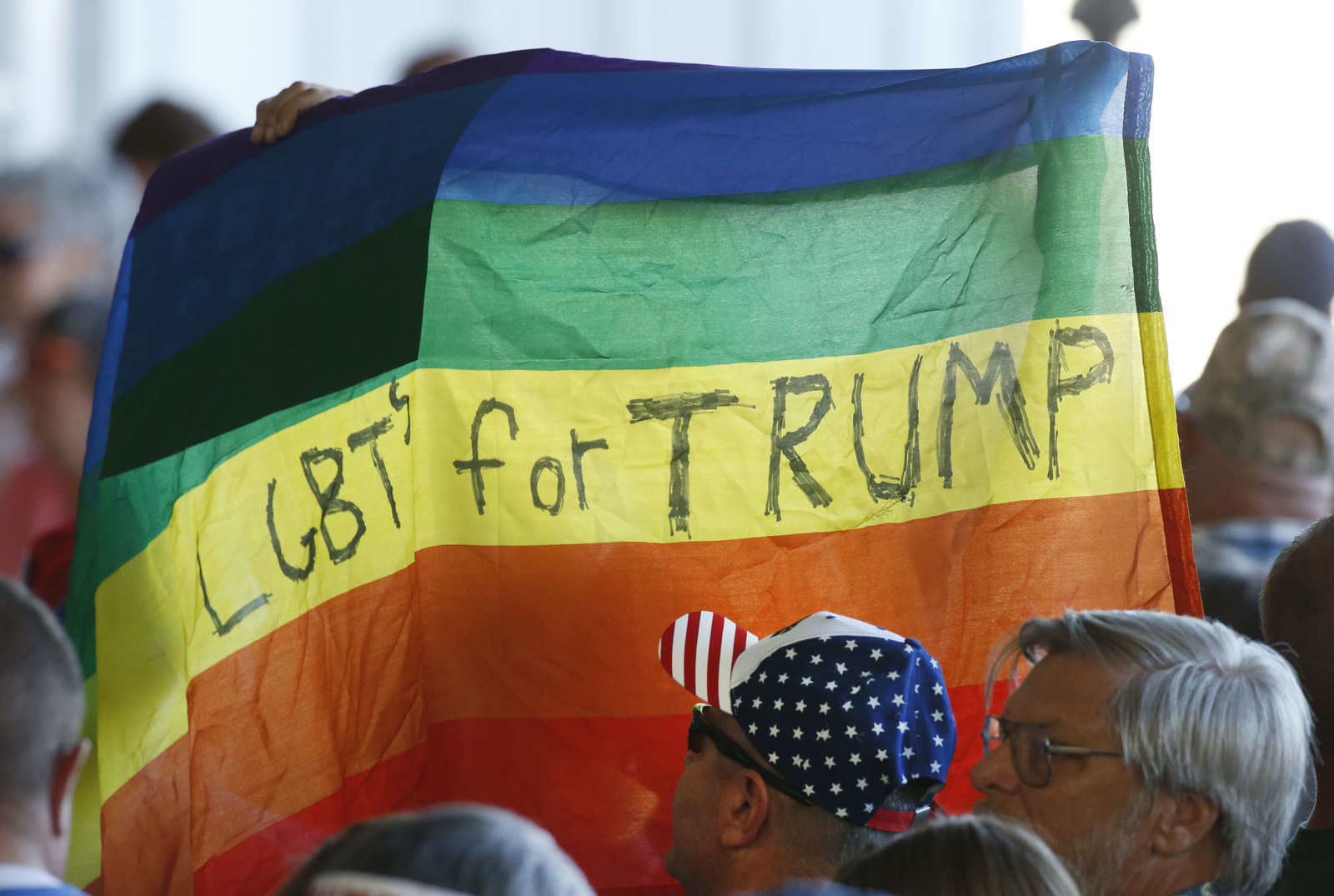 Trump's critics, however, contend that his silence during Pride Month was a symbolic snub of a community with which he attempted to align himself during the 2016 election, albeit mostly on issues of national security.
"Ask yourself who is really the friend of women and the LGBT community, Donald Trump with actions or Hillary Clinton with her words?" he said in Manchester, New Hampshire, on June 13 last year.
"I will tell you who the better friend is, and someday that will be proven out big league," he continued, assailing the Obama administration's LGBT policies as a disgrace.
"Believe me, I am better for the gay community, I am better for women than [Clinton] will ever be on her best day," he said in Raleigh, North Carolina, on July 5 last year.
Democratic National Committee CEO Jessica O'Connell told BuzzFeed News the White House was "obviously not walking the talk" when it comes to being a friend of the LGBT community.
"Here we are in Pride, we haven't heard a word from the president," she said on June 22. "I think that this is an administration that might have wagged a flag during the campaign, but it seems like they're trying to erase us right now. It's very quiet."
During the campaign, Trump distinguished himself slightly from his fellow conservatives by pledging to "fight" for the LGBT community — despite being personally opposed to same-sex marriage.
In April 2016, he criticized an anti-LGBT law in North Carolina during an appearance on NBC, and said that transgender star Caitlyn Jenner could use the bathroom of her choice at his properties. Speaking later the same day on Fox News, however, he said North Carolina had the right to enact the law.

At his July 21 appearance at the 2016 Republican National Convention, Trump made history by becoming the first Republican nominee to reference the LGBT community in his acceptance speech — and praised the conservatives in the audience for their applause.
Only weeks ago, in Orlando, Florida, 49 wonderful Americans were savagely murdered by an Islamic terrorist. This time, the terrorist targeted our LGBTQ community. No good. We are going to stop it. As your President, I will do everything in my power to protect our LGBTQ citizens from the violence and oppression of a hateful foreign ideology, believe me.

And I have to say as a Republican it is so nice to hear you cheering for what I just said. Thank you.
Trump also invited Peter Thiel, the openly gay Silicon Valley tycoon, to speak at the convention. "I am proud to be gay," Thiel told the crowd.
At an Oct. 30 rally in Greeley, Colorado, Trump borrowed a pride flag emblazoned with the words "LGBTs for Trump" from a fan, holding it up with a smile to the cheering crowd.
"He's the most pro-LGBT Pres candidate ever nominated by either party," Chris Barron, a former leader of GOProud (a now defunct gay conservative group) who launched an LGBT for Trump campaign, tweeted about the display.
Barron did not respond to requests for comment on Trump's declining to issue a Pride Month proclamation, but tweeted on June 3, "If you voted for President based on whether or not they would issue a Pride Month declaration you might want to reevaluate your priorities."
Since he was sworn in, however, the president's record on LGBT rights has been mixed.
In January, Trump said his administration would continue to enforce Obama-era workplace protections for LGBT federal workers and contractors. The following month, however, he rolled back Obama administration guidelines designed to reduce anti-transgender discrimination in public schools and give trans students access to gender-appropriate restrooms and locker rooms. The administration also rejected calls to have the 2020 census ask questions about sexual orientation and gender identity for the first time.
Former vice president Joe Biden told a DNC gala in Manhattan on June 22 that the LGBT community needs to hold Trump to his word. "The first thing you should do, even though he won't respond, is hold President Trump accountable for his pledge to be your friend," Biden said.

In response to Biden's speech, White House spokesperson Love told the Associated Press, "President Trump has been clear in his commitment to improving the lives of all Americans, including those in the LGBT community."
Here's a list of the proclamations or statements issued so far by President Trump for symbolic days, weeks, and months:
National African American History Month

American Heart Month

Women's History Month

Irish-American Heritage Month

American Red Cross Month

National Consumer Protection Week

National Poison Prevention Week

National Agriculture Day

Greek Independence Day: A National Day of Celebration of Greek and American Democracy

National Sexual Assault Awareness and Prevention Month

National Child Abuse Prevention Month

National Donate Life Month

National Financial Capability Month

Cancer Control Month

World Autism Awareness Day

National Crime Victims' Rights Week

National Financial Capability Month

National Former Prisoner of War Recognition Day

Education and Sharing Day

Pan American Day

Pan American Week

National Park Week

National Volunteer Week

Days of Remembrance of Victims of the Holocaust

Loyalty Day

National Physical Fitness and Sports Month

National Charter Schools Week

Small Business Week

Older Americans Month

Jewish American Heritage Month

National Foster Care Month

Asian American and Pacific Islander Heritage Month

Law Day, USA

National Mental Health Awareness Month

National Day of Prayer

Earth Day

Armenian Remembrance Day 2017

National Hurricane Preparedness Week

Public Service Recognition Week

Military Spouse Day

National Defense Transportation Day

National Transportation Week

Cinco de Mayo

Mother's Day

Women's Health Week

Peace Officers Memorial Day

Police Week

National Maritime Day

National Safe Boating Week

Emergency Medical Services Week

World Trade Week

Third Saturday of Each May as Armed Forces Day

Memorial Day, Day of Prayer for Permanent Peace

Cuban Independence Day

Ramadan

National Caribbean-American Heritage Month

African-American Music Appreciation Month

Great Outdoors Month

National Ocean Month

National Homeownership Month

National Flag Day

National Flag Week

National Cancer Survivors Day

Men's Health Week

Father's Day

Juneteenth

Eid al-Fitr

International Day Against Drug Abuse and Illicit Trafficking

National HIV Testing Day

Post-Traumatic Stress Disorder (PTSD) Awareness Day

Here's the entire email exchange between BuzzFeed News and the White House in June on the subject of Pride Month: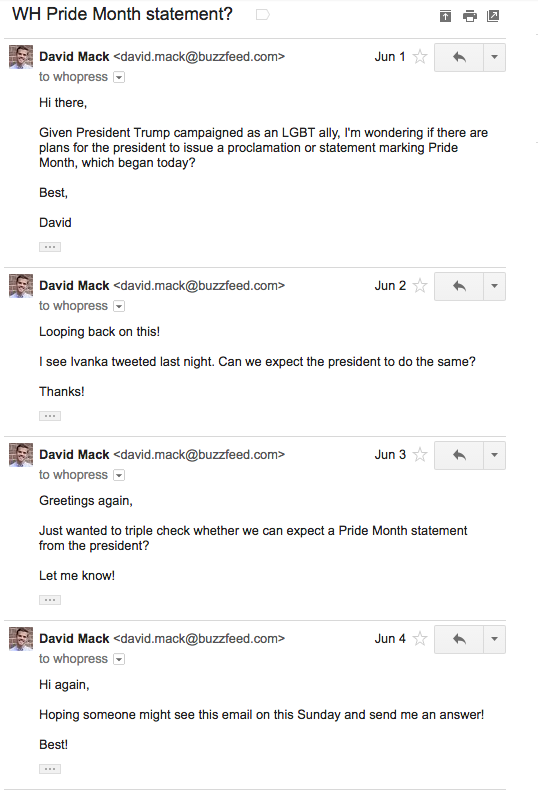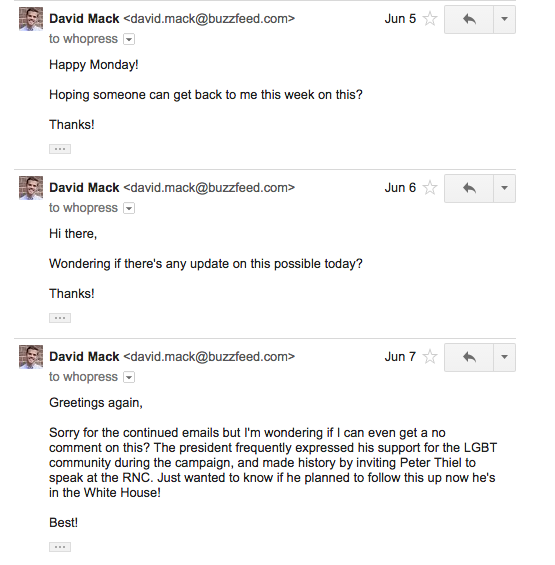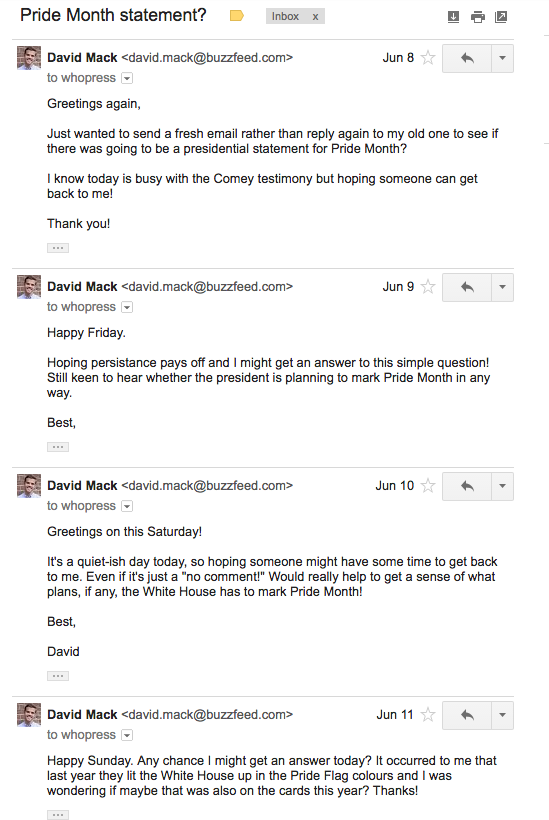 NOTE: This was, in fact, the correct general email address for seeking comment from a White House press official. We're not sure what they're talking about here.