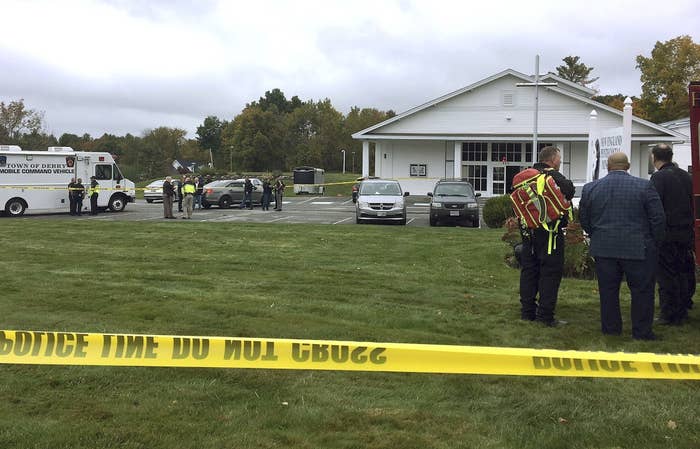 A man was arrested in connection with a shooting at a church that injured a bishop, bride, and groom during a wedding ceremony, a little more than a week after another shooting which involved family members of the alleged gunman and groom.
The gunman at Saturday's wedding was overpowered by people at the ceremony at the church in Pelham, New Hampshire. Authorities said they believe the shooting was targeted, and on Sunday, they identified a suspect as the stepson of a minister who was killed on Oct. 1. The groom's son had been charged with second-degree murder in the minister's death.
In Saturday's shooting at the wedding, Dale Holloway, 37, was charged with first-degree assault on Stanley Choate, 75, who is a bishop at New England Pentecostal Church. Choate was shot in the upper chest and is currently in serious condition, according to a press release from the New Hampshire Attorney General's office. He is being treated at Tufts Medical Center in Boston.
The bride, 60-year-old Claire McMullen, was shot in the arm and is in good condition at a local hospital. She is expected to be released later today, according to Benjamin Agati, an aide for New Hampshire Attorney General Gordon MacDonald. The groom, 60-year-old Mark Castiglione, was hit in the head by an object and has since been treated and released from the hospital.
Pelham police said they were called to an active shooter situation at the New England Pentecostal Church at around 10:12 a.m. local time, arriving within three minutes.
Police arrested the suspected shooter and rendered medical aid to the two people injured by gunshots, a man and a woman, who were then taken to hospitals for further treatment.
Police say the shooting appears to have been targeted.
"This does not seem to be a random event at this point," Pelham Police Chief Joseph Roark told reporters at a briefing. "At least that's what preliminary investigation is telling us."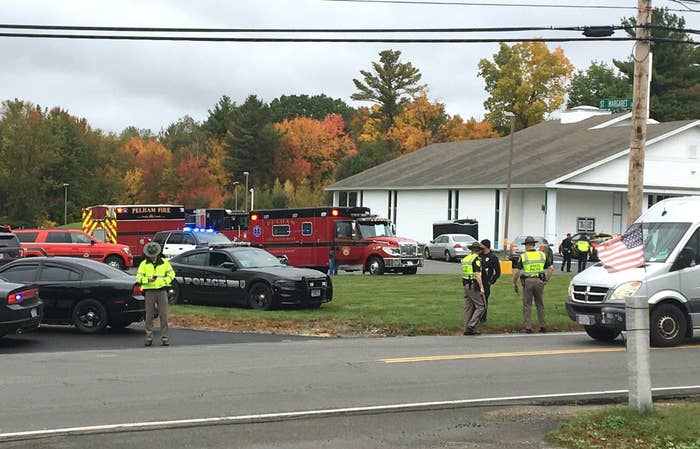 Holloway is the stepson of Luis Garcia, a minister at the church who was shot and killed earlier this month, Agati told BuzzFeed News. The groom's son, 24-year-old Brandon Castiglione, was charged with second-degree murder in connection with the death of Garcia, who was an ordained minister and a member at New England Pentecostal Ministries, according to his obituary.

Choate told local news station WMUR 9 at the time that Garcia had been trying to help Brandon Castiglione when he was killed. "Brandon was having some problems mentally, and Luis was there to try to help him out," said Choate.

"I don't know what occurred, but apparently, there was something that sparked Brandon off to become irritable to Luis," Choate added.
The Saturday morning wedding took place just hours before Garcia's funeral service was scheduled to take place at the church, which is northwest of Boston on the Massachusetts–New Hampshire border.
The shooter arrived at the church as the wedding with roughly 40 guests was beginning, according to Roark. After he opened fire, the man was then tackled to the ground by people who suffered minor injuries in doing so, Roark said.

The local police department has turned the investigation over to the state attorney general's office and investigators with the New Hampshire State Police major crime unit.
"I'm deeply disturbed to hear about the shooting in Pelham this morning," Sen. Maggie Hassan of New Hampshire tweeted. "Today was supposed to serve as a celebration of the life of Minister Luis Garcia. This senseless violence can't continue — my prayers are with the victims of this terrible attack."
Holloway is due to be arraigned at Hillsborough County Superior Court, Southern District, in Nashua on Tuesday.