Using an article from the fake news website The Onion as evidence, former FIFA Vice President Jack Warner alleged Sunday that the U.S. had pursued corruption charges against him and other executives out of spite at having lost the 2022 World Cup to Qatar.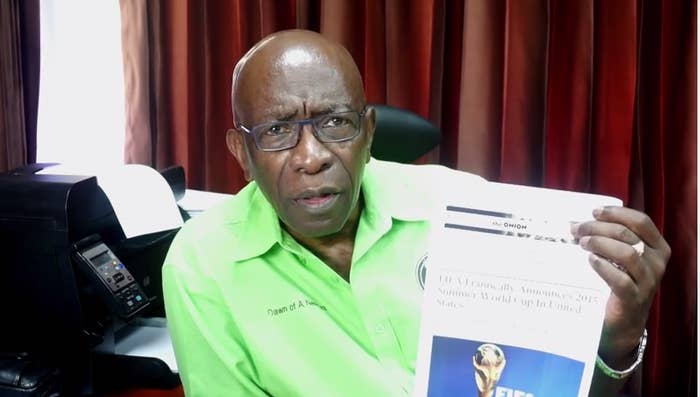 After the U.S. Department of Justice on Wednesday announced charges against Warner and 13 others, The Onion published this parody article.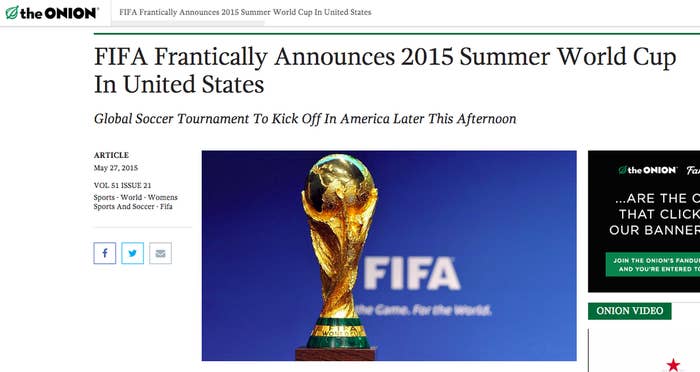 Describing an "impromptu press conference" by "frantic and visibly nervous officials from FIFA," the story also had FIFA President Sepp Blatter suggesting matches would kick off that afternoon.
"At press time, the U.S. national team was leading defending champions Germany in the World Cup's opening match after being awarded 12 penalties in the game's first three minutes," the story continued.
All this was good enough for Warner to record an eight-minute video in which he lashed out at the charges against him.
"I look to see that FIFA has frantically announced 2015 — 2015, this year— Olympic Final in the World Cup beginning May 27," Warner says in the video, brandishing a printed copy of The Onion article. "If FIFA is so bad, why is it that the U.S. wants to keep the World Cup? Why is that they began games on May 27? ... Why is it the U.S. authorities sought to embarrass FIFA in Zurich? Something has to be wrong!"
Warner then alleges the U.S. case against him stems from sour grapes at having lost out on the 2022 World Cup to Qatar, which Warner says irked the U.S. because Qatar is as "a small country, an Arab country, a Muslim country."
Warner also points to the re-election of President Sepp Blatter during Friday's FIFA Congress as evidence that soccer's world governing body is not corrupt.
"Jack Warner is everybody's whipping boy," he says in the video, which is set to Hans Zimmer's Inception score.
The video was later deleted from Warner's YouTube account and reposted with the section citingThe Onion article edited out.