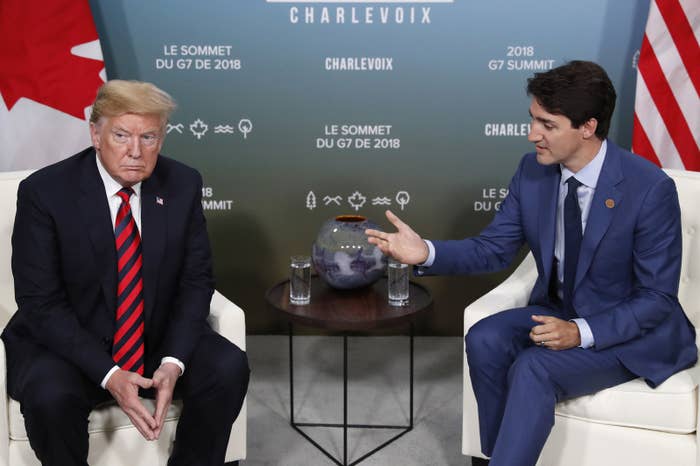 Relations between the US and Canada continued to deteriorate on Sunday as two of President Donald Trump's top advisers accused Canadian Prime Minister Justin Trudeau of "stabbing us in the back" and making the US look weak before high-stakes negotiations with North Korea.
It comes after Trump blew up two days of negotiations at the G7 in Quebec, announcing via Twitter on Saturday night that he would not sign a communique agreed to by the leaders at the summit in protest against what he said was "false statements" made at a press conference by Trudeau, whom Trump described as "very dishonest and weak."
But US National Economic Council Director Larry Kudlow, who was at the summit, said Sunday that Trudeau, not Trump, was to blame.
"He really kind of stabbed us in the back. He did a great disservice to the whole G7," Kudlow said on CNN.
White House trade adviser Peter Navarro also attacked Trudeau, using even more inflammatory language. "There's a special place in hell for any foreign leader that engages in bad faith diplomacy with President Donald J. Trump and then tries to stab him in the back on the way out the door," he said, "and that's what 'bad faith Justin Trudeau' did with that stunt press conference."
At his press conference, Trudeau had announced to applause that the leaders had managed to agree to a joint statement after some concern that divisions over trade would be impossible to overcome.
But, when asked by a reporter about Trump's decision to impose steel tariffs on Canadian steel, Trudeau also said Canada would respond with retaliatory tariffs of their own on July 1.
The prime minister said it was "kind of insulting" that Trump would justify his tariffs in the name of national security, given Canada's history of fighting alongside the US in combat.
"I have made it very clear to the president that it is not something we relish doing but it is something we absolutely will do," Trudeau said of his tariffs decision. "Because Canadians, we're polite, we're reasonable, but we also will not be pushed around."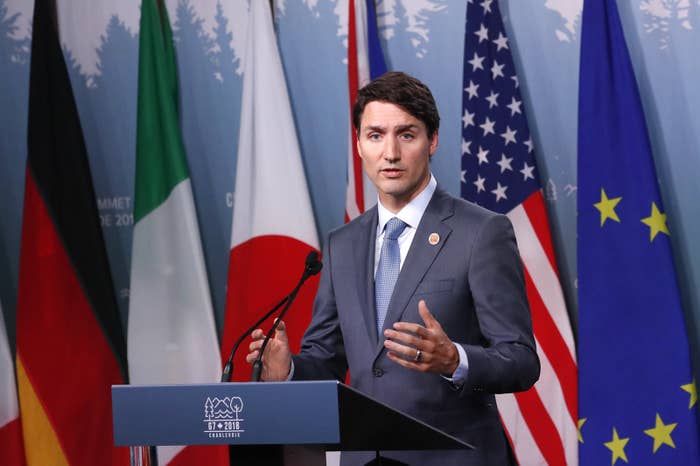 Trudeau's comments were apparently seen by the president as he flew on Air Force One to Singapore, as just hours later he fired off the tweets announcing he was pulling out of the communique, which included commitments ranging from trade to the environment to ending sexual- and gender-based violence.
"PM Justin Trudeau of Canada acted so meek and mild during our @G7 meetings," Trump tweeted, "only to give a news conference after I left saying that, 'US Tariffs were kind of insulting' and he 'will not be pushed around.' Very dishonest & weak."
Despite the US steel tariffs being imposed officially in the name of national security, the president also tweeted that "our Tariffs are in response to [Trudeau's] of 270% on dairy!" He also said the US may impose tariffs on automobiles.
He doubled down on the criticism 24 hours later, from his hotel in Singapore, firing off a series of tweets that attacked US-Canada trade policies — and took a couple of shots at America's European allies as well.

A spokesman for the Canadian prime minister said Trudeau had said nothing at the press conference that he hadn't said before publicly and in private meetings with Trump. But Kudlow, the top Trump economic adviser, accused the Canadian leader of a "sophomoric political stunt for domestic consumption."
"Don't blame Trump. It was Trudeau who started blasting Trump after he left, after the deals had been made," he said.
Kudlow also said Trump was determined not to look weak as he arrives in Singapore to negotiate with North Korean leader Kim Jong Un.
"POTUS is not going to let a Canadian prime minister push him around," he said. "He is not going to permit any show of weakness on the trip to negotiate with North Korea."
"Kim must not see American weakness," he said, accusing Trudeau of "pouring collateral damage on the whole Korean trip."
The economic council director said Trudeau needed to apologize, retract his statements, and wish Trump well in the North Korean meeting "instead of taking pot shots."
Asked about Kudlow and Navarro's comments on Sunday, Canadian Foreign Minister Chrystia Freeland told reporters, "Canada does not conduct its diplomacy through ad hominem attacks. We don't think that that is a useful or productive way to do business."
"And perhaps we refrain particularly from ad hominem attacks when it comes to our relationships with our allies," she said. Trudeau's former foreign affairs advisor Roland Paris, however, mocked Trump as "a pathetic little man-child."
Trudeau did receive some public backing from friends in Europe.

"There is a special place in heaven for @JustinTrudeau," tweeted Donald Tusk, president of the European Council, after Navarro's "hell" comments.
Chancellor Angela Merkel told German television Trump's "withdrawal via Twitter is of course sobering and a little depressing." She vowed that Germany would stick to the communique.
"You can destroy an incredible amount of trust very quickly in a tweet," added German foreign minister Heiko Maas on Twitter. "That makes it all the more important that Europe stands together and defends its interests even more offensively."
"#EuropeUnited is the answer to #AmericaFirst," he wrote.
French President Emmanuel Macron also criticized the US, with his office releasing a statement warning "international co-operation cannot be dictated by fits of anger and throwaway remarks".
"We are sticking to [the communique and its commitments] and whoever reneges on them is showing incoherence and inconsistency," the French statement said.
Macron had earlier on Twitter mocked the idea that the US tariffs, which have also been imposed on the European Union and Mexico, were essential to protect homeland security.
Sen. John McCain, a Republican on the Senate Foreign Relations Committee, evidently felt the need on Saturday night to try to reassure troubled US allies.
"To our allies: bipartisan majorities of Americans remain pro-free trade, pro-globalization & supportive of alliances based on 70 years of shared values," he tweeted. "Americans stand with you, even if our president doesn't."
Trump's presence at the G7 had already been dramatic, with a viral photo released by Germany's government showing him seated as other leaders crowded around him and, according to a source, pressed him to reject protectionism.
"Just another #G7 where other countries expect America will always be their bank," wrote national security adviser John Bolton on Twitter as he too shared the picture. "The President made it clear today. No more."
Speaking Sunday on CNN, Kudlow appeared equally defiant and defended the president's actions.
"How many times has President Trump said, 'If you hit me, I'm going to hit you back'?" Kudlow said.