President Donald Trump on Thursday issued a proclamation to mark World AIDS Day without mentioning the LGBT community, the segment of the US population most disproportionately affected by the disease.
"On this day, we pray for all those living with HIV, and those who have lost loved ones to AIDS," read the symbolic statement signed by Trump to mark Friday's internationally recognized World AIDS Day.
Past proclamations under President Obama for World AIDS Day did make explicit mention of disproportionately affected populations, including gay and bisexual men, trans women, as well as black, Latinx, and Southern populations.
Representatives for the Trump administration did not respond to requests for comment, but told the Daily Beast that "HIV/AIDS afflicts people of all types."
Figures from the Centers for Disease Control and Prevention show that gay and bisexual men accounted for more than 70% of new HIV infections in 2014. More than 600,000 of the 1.1 million people living with HIV in the US are gay or bisexual men.
Scott Schoettes, the HIV project director for Lambda Legal, which advocates on behalf of LGBT Americans living with HIV/AIDS, told BuzzFeed News he was extremely disappointed, but not surprised, in the president's statement.
"Not only did the White House statement on World AIDS Day fail to mention the population in which two-thirds of HIV cases in the US occur — gay and bisexual men — it also failed to point out the disproportionate impact in communities of color, for gay and bisexual men of color, particularly young men of color, or for transgender women," he said.

Schoettes is one of six people who quit the Presidential Advisory Council on HIV/AIDS in June, furious at what they said were regressive health policies and a lack of care shown by Trump.
He said it is currently estimated that one in two black gay and bisexual men will be diagnosed with HIV during their lifetime.
"That is an appalling statistic that we cannot paper over with platitudes about how 'HIV/AIDS affects people of all types,'" Schoettes said. "Simply put, HIV affects people in some communities more than others, and our federal government cannot turn a blind eye to that."
As part of the changeover in administrations, the Office of National AIDS Policy website was immediately taken down when Trump took over, and more than 10 months into his presidency a new website has yet to be established. And as with many positions in the executive branch, the president still has not appointed anyone to head the office.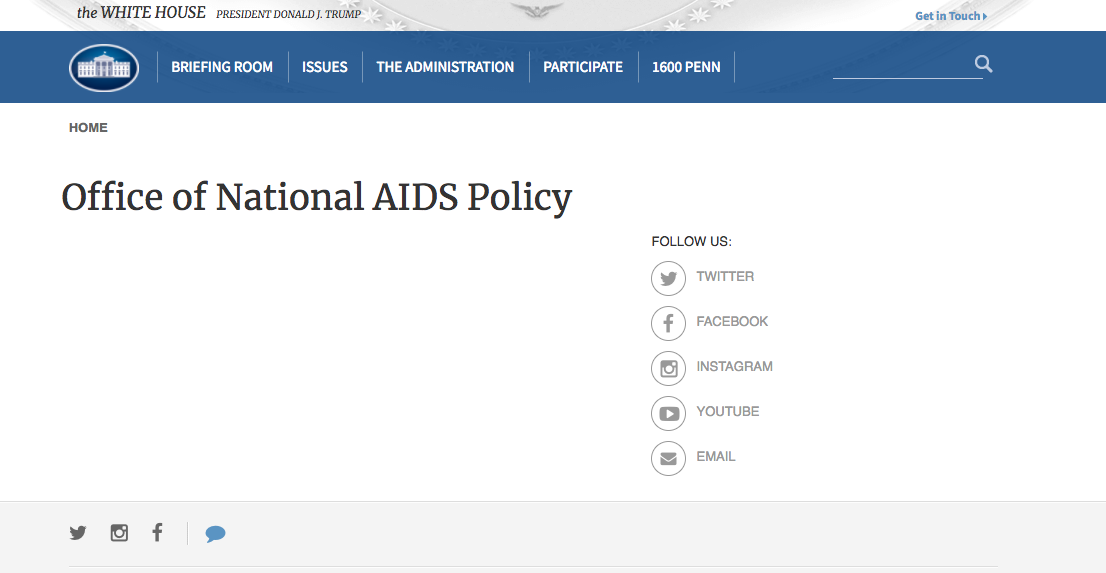 The White House used Trump's statement to boast of the continued successes of the President's Emergency Plan for AIDS Relief (PEPFAR), a global program that began under President George W. Bush in 2003. Ambassador Deborah L. Birx, the US Global AIDS coordinator and PEPFAR leader, told reporters on Thursday that "the United States remains the key leader of the HIV/AIDS response, and under this administration leadership of President Donald Trump, we are continuing to lead in the response around the globe."
However, the proposed budget the president unveiled in May would slash contributions to PEPFAR by $800 million annually. A report released this week by the One Campaign suggested the cuts could lead to some 300,000 deaths and 1.75 million new infections each year.
"The Trump administration appears ready to unilaterally trade the iconic red ribbon for a white flag of surrender in the global fight against AIDS," the report's authors wrote.
Democratic National Committee spokesperson Joel Kasnetz told BuzzFeed News it was "downright insulting" for the White House to "pretend" to recognize World AIDS Day while proposing to slash PEPFAR's budget.
"Trying to erase LGBTQ people from the history of HIV/AIDS is another slap in the face," he said. "In his first year in office, Trump hasn't missed an opportunity to be cruel to the LGBTQ community and the millions living with HIV all over the world."
Despite attempting to position himself as a friend to the LGBT community during the election, Trump opted not to issue a statement or proclamation marking June as Pride Month.
The president also issued a statement in honor of the International Holocaust Remembrance Day in January, but failed to mention Jews.