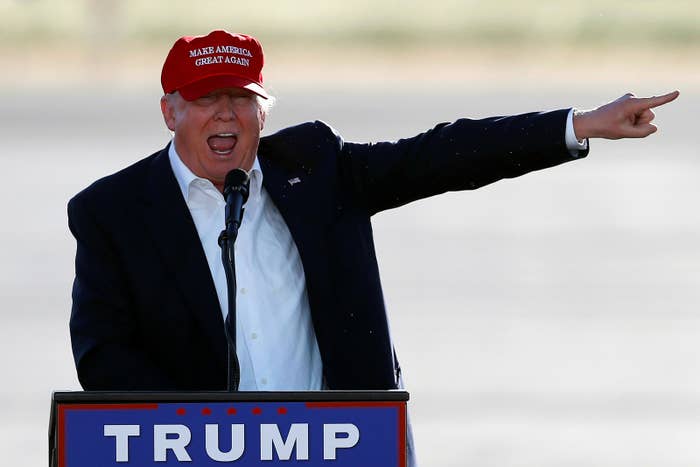 Following days of lashing out against an American-born judge of Mexican heritage, Donald Trump said a Muslim judge should also be recused from hearing any case against him because of his policies.
In an interview with Face The Nation that aired Sunday, Trump repeated his criticism of Judge Gonzalo Curiel, a federal judge overseeing a lawsuit against the now-defunct Trump University.
"I say he's got bias," he told host John Dickerson. "I want to build a wall. I'm going to build a wall."
"This judge has treated me very unfairly, he's treated me in a hostile manner. And there's something going on."
Curiel, a judge in the Southern District of California, was born in Indiana to immigrant parents.
The wealthy businessman's attacks on Judge Curiel have earned him criticism from House Speaker Paul Ryan and prominent lawyers.
Asked by Dickerson if Trump would feel a Muslim judge would not treat him fairly due to his proposal to ban Muslims entering the United States, Trump said, "It's possible, yes. Yeah. That would be possible, absolutely."
Trump was also asked Sunday about Hillary Clinton's harsh critique of him during a speech on Thursday that her advisers say has motivated supporters.
"It was a whole, you know, written out by professionals, and just shot after shot. It was supposed to be foreign policy and it was really Trump policy. And she got it all wrong," he said.
He promised that if elected he would have his attorney general investigate Clinton over her use of a private email server while secretary of state, even if the ongoing FBI investigation finds no wrongdoing.
Trump also said U.S. Army generals leading the fight against ISIS "don't know much."
"Do you still feel like you know more about ISIS than the generals?" Dickerson asked.
"Well, they don't know much, because they're not winning. That I can tell you. Now, I think they're not winning for a different reason. I think Obama's hurting them."
Following comments unearthed by BuzzFeed News, Trump also admitted that he had in fact supported some type of U.S. intervention in Libya in 2011, despite his recent claims to the contrary.