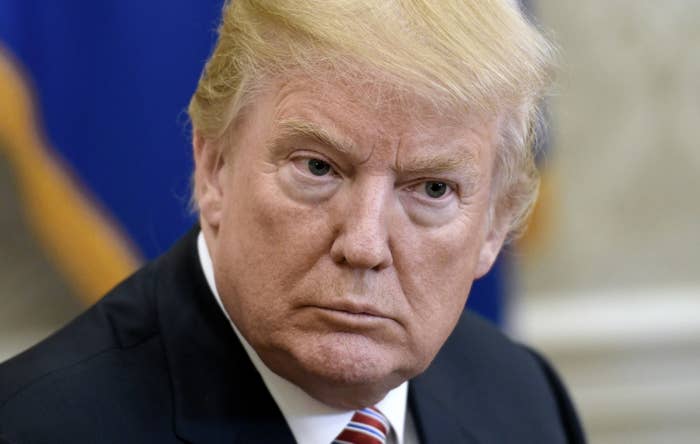 As the US continues to grapple with a cultural reckoning of sexual assault and harassment claims that has reached the White House, President Donald Trump on Saturday bemoaned that lives are "being shattered and destroyed by a mere allegation."
A day after Trump defended Rob Porter, his former staff secretary who resigned after accusations became public from his two ex-wives that he was physically and emotionally abusive, the president took to Twitter to criticize what he said was a lack of due process.
"Peoples lives are being shattered and destroyed by a mere allegation," he tweeted. "Some are true and some are false. Some are old and some are new. There is no recovery for someone falsely accused — life and career are gone. Is there no such thing any longer as Due Process?"
A second White House staffer also resigned Friday night over an allegation of domestic abuse from a former spouse. The ex-wife of speechwriter David Sorensen said he ran over her foot with a car and put out a cigarette on her hand. He denied the allegations.
Trump's tweet came as he was holed up at the White House, according to the press pool, and not at his frequent weekend retreat of Mar-a-Lago in Florida, nor one of his beloved golf courses. New York Times reporter Maggie Haberman said he was sitting in the residence "watching coverage of the last five days re Porter."
The Porter story has rattled the White House, unleashing a fresh wave of chaos in the West Wing as the media investigates who knew of the allegations from his ex-wives and when. Chief of Staff John Kelly and communications director Hope Hicks are said to be in trouble with their boss for issuing conflicting statements about Porter.
On Friday, Trump said Porter had done a "very good job" in the White House, but was now having "a tough time."
"He also, as you probably know, says he's innocent, and I think you have to remember that," Trump told reporters in the Oval Office. "He said very strongly yesterday that he's innocent, so you have to talk to him about that, but we absolutely wish him well — he did a very good job when he was at the White House."
On Saturday, New York Senator Kirsten Gillibrand criticized the President's reactions to abuse allegations that have surfaced against members of his staff.
"The President has shown through words and actions that he doesn't value women," she said on Twitter. "It's not surprising that he doesn't believe survivors or understand the national conversation that is happening."
The senator also went after Trump's Saturday morning tweet, pointing to allegations of sexual misconduct that have been levied against the president himself.
"If he wants due process for the over dozen sexual assault allegations against him, let's have Congressional hearings tomorrow," Gillibrand said. "I would support that and my colleagues should too."
More than a dozen women have accused Trump of sexual misconduct or unwanted sexual advances throughout the years, many who came forward during the 2016 presidential campaign.
The White House and President Trump have accused all of the women of lying about the allegations.
Even after winning the election, Trump has been unable to escape additional allegations, including reports that he had a sexual relationship with porn star Stormy Daniels in 2006 while married with First Lady Melania Trump.
Trump has denied the affair.
The president has also repeatedly come to the defense of men accused of sexual misconduct or assault, including Alabama Republican Senate candidate Roy Moore, former Fox News chair Roger Ailes, and former Fox News host Bill O'Reilly.

In 2012, however, he cautioned pop star Rihanna against reuniting with her former boyfriend, Chris Brown, who physically assaulted her. "If @rihanna is dating @chrisbrown again then she has a death wish," he tweeted. "A beater is always a beater — just watch!"
In the 1980s, he also led a public campaign for the death penalty for five minority teenagers accused of beating and raping a woman in New York City's Central Park. The imprisoned men were later exonerated on DNA evidence, although Trump has never apologized.
Trump — who once bragged his fame allowed him to "grab [women] by the pussy," who allegedly walked in on teenage beauty queens as they were undressing, and who repeatedly made vulgar comments about women's appearance while on the radio — has himself denied claims by at least 13 women who say he made unwanted sexual advances.
He has also repeatedly called for the imprisonment of his political rival Hillary Clinton, declaring her guilty without any trial having occurred.