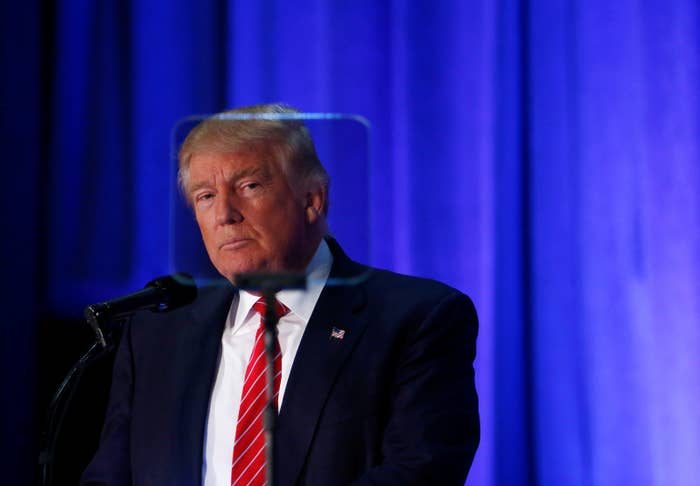 Painting a grim picture of global security, Donald Trump on Monday called for "extreme" new measures to counteract terrorism, including an "ideological screening test" for all new US immigrants.
In a lengthy speech read at an uncharacteristically slow pace in front of a Youngstown, Ohio, audience, the Republican presidential nominee said if elected, he would institute "extreme, extreme vetting" to ensure all US immigrants "share our values and respect our people."

"In the Cold War, we had an ideological screening test," Trump said. "The time is
overdue to develop a new screening test for the threats we face today. Those who do not believe in our constitution, or who support bigotry and hatred, will not be admitted for immigration into the country."
In a bid to counter the political correctness he blamed for leading people to ignore the warning signs of terrorism, Trump said one of his first acts as president would be to establish a "Commission on Radical Islam," whose members, he said, would include "reformist voices in the Muslim community who will hopefully work with us."
"The goal of the commission will be to identify and explain to the American public the core convictions and beliefs of radical Islam, to identify the warning signs of radicalization, and to expose the networks in our society that support radicalization," he said.
Trump also signaled that he would leave Guantanamo Bay open, call for an international conference on radical Islam, and end "the era of nation-building" he said was responsible for creating lawless countries in which terrorism could flourish.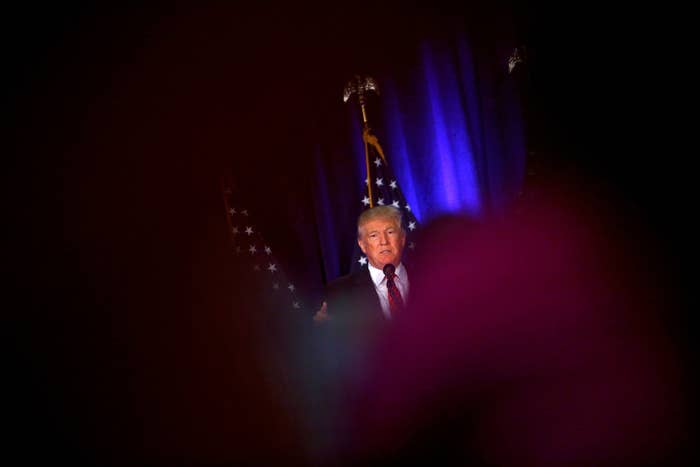 Trump laid the blame for the "Age of Terror" squarely at the feet of President Obama and Hillary Clinton, describing their foreign policy as failed and dangerous.
His speech, billed for days as a major and detailed address on Trump's plans to combat "radical Islamic terrorism," opened with an exhaustive account of the various deadly attacks that have occurred in recent years: the 2009 shooting at the Fort Hood military base; the 2013 Boston marathon bombings; the 2015 attack on military centers in Chattanooga, Tennessee; the 2015 San Bernardino shooting; and July's massacre inside a gay nightclub in Orlando, Florida.
"The common thread linking the major Islamic terrorist attacks that have recently occurred on our soil...is that they have involved immigrants or the children of immigrants," he said. "Clearly, new screening procedures are needed."
He also meticulously catalogued the recent bloodshed in Europe, name-checking attacks in Paris, Brussels, and Nice, as well as the slaughter in a French church and aboard a German train.
Trump painted a rosy picture of the Middle East in the pre-Obama administration era, describing Libya as "stable," Syria as "under control," Egypt as being ruled "by a secular president and an ally of the United States," and Iraq as "experiencing a reduction in violence."
"Fast-forward to today. What have the decisions of Obama-Clinton produced?" he asked, describing Libya as "in ruins," Syria as "in the midst of a disastrous civil war," Egypt as containing a "foothold" for terrorists, and Iraq as "in chaos."
In fact, Trump, who supported and praised the invasion of Iraq, once called on the Obama administration to take action against Libyan dictator Muammar al-Qaddafi and described the toppling of former Egyptian president Hosni Mubarak as a "good thing."
In recent days, Trump has shocked many political observers with his comments that Obama and Clinton were "the founders of ISIS," a line of attack that he continued on Monday.
"With one episode of bad judgment after another, Hillary Clinton's policies launched ISIS onto the world," he said. "Importantly, she also lacks the mental and physical stamina to take on ISIS, and all the many adversaries we face – not only in terrorism, but in trade and every other challenge we must confront to turn this country around."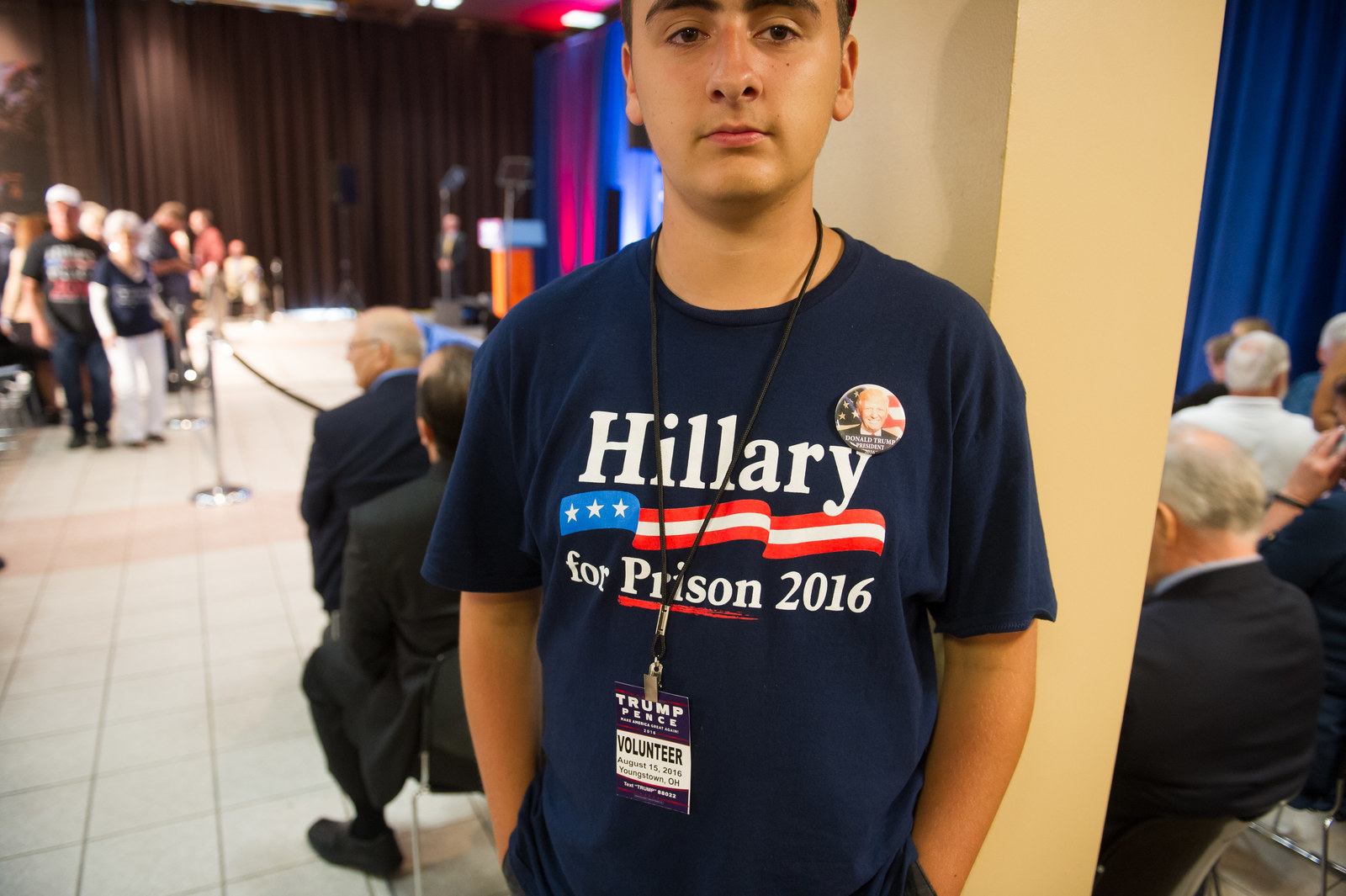 Trump also assailed the Bush and Obama administrations for not seizing Iraq's oil after the US invasion.
"In the old days, when we won a war, to the victor belonged the spoils," he said. "Instead, all we got from Iraq – and our adventures in the Middle East – was death, destruction, and tremendous financial loss."
With questions swirling about his possible ties to Moscow and President Vladimir Putin, Trump told the audience he believed he could find "common ground with Russia in the fight against terrorism."

He also criticized Clinton's desire to take in refugees from the Syrian civil war.
"In short, Hillary Clinton wants to be America's Angela Merkel, and you
know what a disaster this massive immigration has been to Germany and the people of Germany," he said, referring to what he said was a booming crime rate.
A German police report his campaign cited as evidence of the crime rate noted 69,000 crimes were committed or attempted by migrants in the country in the first quarter of 2016, but most were carried out by those from North Africa, Georgia, and Serbia. The report did not state what percentage the 69,000 crimes or would-be crimes represented of the country's total crime rate, Reuters reported.
As soon as Trump's speech ended, his campaign staff released a transcript of his prepared remarks, complete with citations and footnotes.