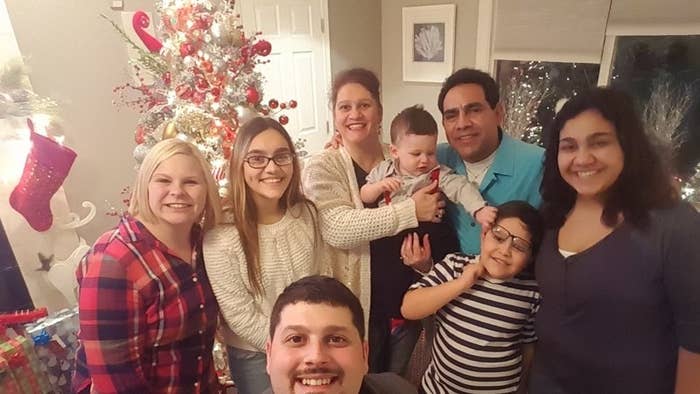 A Mexican man who entered the United States illegally almost 20 years ago is set to be deported on Friday, amid an uptick in detentions by immigration agents emboldened by President Donald Trump — whom the man's own wife voted for.
Roberto Beristain, 43, has been in the custody of US Immigration and Customs Enforcement (ICE) officers since he was detained on Feb. 6 in Indianapolis, department spokeswoman Leticia Zamarripa told BuzzFeed News.
The Mexican national, who owns a steak restaurant in the Indiana town of Granger, arrived in the country in 1998 before being detained two years later and ordered to leave.
During a trip to Niagara Falls in 2000 with his wife, Helen, and stepson, Phil Kolliopoulos, Beristain was arrested when the family inadvertently took a wrong turn and arrived at the Canadian border, Kolliopoulos wrote online.
After hiring a lawyer and posting $1,500 in bail, Beristain was released on a voluntary self-deportation order, giving him 60 days to leave the country.
"With Roberto expecting his first child soon, this was not an option for him to leave," Kolliopoulos wrote. "He believed to be the supportive and loving husband and father he was made to be."
When the 60 days was up, the voluntary departure order reverted to a final order of removal, said Zamarripa, the ICE spokeswoman. But for many years, no action was taken.
Instead, Beristain was able to obtain a driver's license, social security card, and work permit, according to Kolliopoulos. Beristain also checked in each year with ICE agents as part of his work permit, the South Bend Tribune reported.
It was during his annual check-in with agents in Indianapolis in February that he was suddenly arrested, becoming one of hundreds of undocumented immigrants detained since President Trump took office.
"They came outside, knocked on the window," Helen Beristain told Indiana Public Media earlier this month. "They said, 'Are you Roberto's wife?' And, I said 'Yes.' And, they said, 'Well, your husband is being detained because of a deportation [order] 16 and a half years ago.' And, I said, 'That's a joke.' And, they said, 'No, it's true.'"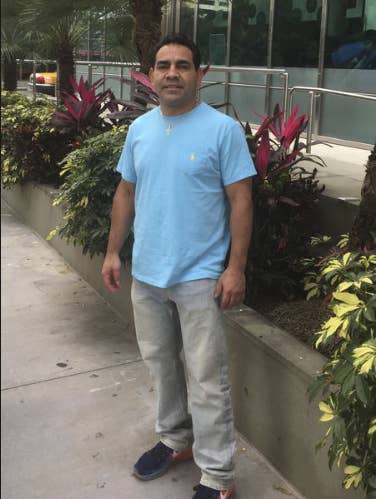 Zamarripa said Beristain remains in ICE custody pending his removal to Mexico. "For operational security reasons, ICE does not release information regarding upcoming removals," she said.
But Adam Ansari, a Chicago lawyer representing the family, said Beristain was set to leave the country on Friday.
"Right now, he's set to be deported tomorrow," Ansari said.
Helen Beristain told Indiana Public Media she voted for President Trump believing that only "killers" and cartel members would be deported.
"We don't want to have cartels here, you don't want to have drugs in your high schools, you don't want killers next to you," she said. "You want to feel safe when you leave your house. I truly believe that. And, this is why I voted for Mr. Trump."
Pete Buttigieg, the Democratic mayor of South Bend, wrote in the Huffington Post that "the favorite themes of conservatism" were at stake in Beristain's case.
"Hard work, small business ownership, suspicion of overbearing government, and support for family. Each one of those themes is at stake here—and each is insulted by the prospect of a person like Roberto being ripped away from his business, friends, wife, and children, by a federal agency," he wrote.
Under Obama-era directives, ICE focused mainly on criminals and those who posed a threat to public safety. But since Trump signed an executive order in January on immigration, ICE agents have been detaining hundreds of undocumented immigrants, including those not charged with any crimes.

"This executive order is ripping families apart," said Ansari, the attorney.
Ansari said that if Beristain is deported tomorrow, the family will petition for him to get on a waiver program so he can return to the US legally. A 2007 green card application, based on his marriage to Helen (a US citizen), is still pending, Ansari added.
"They're distraught," he said of the family, adding that they did not wish to speak to media on Thursday. "They have lost a husband, a father, a main breadwinner."
Helen Beristain indicated to Indiana Public Media that she felt misled by the president's plans.
"[Trump] did say the good people would not be deported, the good people would be checked," Helen Beristain said.