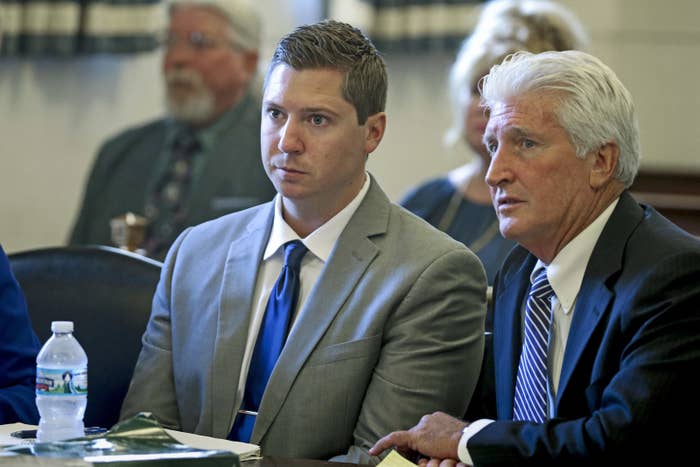 An Ohio judge declared a second mistrial Friday in the case of Ray Tensing, a University of Cincinnati police officer who shot and killed an unarmed black man during a traffic stop, after a jury deadlocked and could not reach a verdict.
This is the second time a jury has been unable to determine whether Tensing was guilty of murder or voluntary manslaughter over the July 2015 death of Sam DuBose. In November, Tensing's first trial ended in a mistrial.
Jurors told the court Friday they were deadlocked and could not reach a unanimous decision, but Judge Leslie Ghiz instructed them to keep deliberating.
Hours later, the nine white and three black jurors said they still could not overcome their divisions after five days deliberations, prompting Ghiz to declare a mistrial.

The result is a crushing blow to DuBose's family and represents another significant defeat for local prosecutors.
Hamilton County prosecutor Joseph Deters had said in November that he chose to retry the former officer "after careful consideration" in order to "bring justice in this case for the victim's family and our community."

City Manager Harry Black said the retrial "evoked strong, often varying, feelings across the Cincinnati community."
"We understand the emotions involved and that this is a difficult decision to swallow for many, especially the DuBose family," Black said in a statement.
He urged any protesters to gather peacefully.
Tensing pulled over DuBose on July 19, 2015, because his car was missing a front license plate. Body camera footage showed the officer attempting to open's DuBose car door after the driver refused to do so. After a brief struggle, Tensing shot into the car, striking DuBose in the head.

"I meant to stop the threat," Tensing testified this month. "I didn't shoot to kill him. I didn't shoot to wound him. I shot to stop his actions."
But prosecutors argued Tensing was not being dragged by the car when he fired his weapon.
"This is the most asinine act I've ever seen a police officer make," Deters said in 2015.
Although DuBose was not following commands, the situation should not have escalated the way it did, Deters said.

"[Tensing] wasn't dealing with someone wanted for murder," Deters said after Tensing was charged. "He was dealing with someone with a missing front license plate."
Tensing has been out of prison on bond since July 2015.
In January 2016, the University of Cincinnati settled a lawsuit with DuBose's family for $5.3 million.
Last week, a Minnesota police officer was found not guilty of second-degree manslaughter over the fatal shooting of Philando Castile during a traffic stop last year.
On Wednesday, jurors cleared a Milwaukee police officer of any wrongdoing in the death of Sylville Smith in August.