The teenage girl who allegedly received indecent messages from Anthony Weiner said she is "upset" with FBI Director James Comey after she found out via the media that her case had been tied to the use of Hillary Clinton's private email server, BuzzFeed News can exclusively reveal.
Comey has been criticized for going public with the latest investigation into Clinton's emails so close to the election and despite a lack of clear evidence, but the teenager told BuzzFeed News she feels aggrieved that the bureau gave her no warning that her case would be thrust into the national spotlight and tainted with electoral politics.
"The FBI asked for me to speak to the media as little as possible. I have tried to stay quiet, but Comey has upset me," the teenager told BuzzFeed News. "The last thing that I wanted was to have this become political propaganda."
Comey's Friday announcement that agents investigating an "unrelated case" had "learned of the existence of emails that appear to be pertinent to the investigation" of Clinton's private server has sent shockwaves through political circles and provided a last-minute jolt to the presidential contest. As the New York Times first reported, the emails were discovered on the private computer of Weiner, 52, and his now-estranged wife, Huma Abedin, a top Clinton aide, by investigators probing messages the disgraced former congressman allegedly sent to the underage 15-year-old girl, now 16.

The girl told BuzzFeed News she was informed of the connection only on Friday afternoon after completing an hours-long interview with FBI agents when she was then telephoned by a reporter seeking comment on Comey's announcement.
The girl also wrote a scathing open letter to Comey, published in full by BuzzFeed News, in which she said his letter to Congress had brought her case "back into the media spotlight" and led to her being hounded by reporters.
"Why couldn't your letter have waited until after the election, so I would not have to be the center of attention the last week of the election cycle?" she wrote.
"Anthony Weiner is the abuser. Your letter helped that abuse to continue. How can I rebuild my life when you have made finding out my 'story' the goal of every reporter?"
BuzzFeed News is not identifying the underage girl or her family to protect their privacy. BuzzFeed News independently confirmed the teen's identity, in part, via an email provided by Weiner, by traveling to her hometown, and by speaking with her and her father.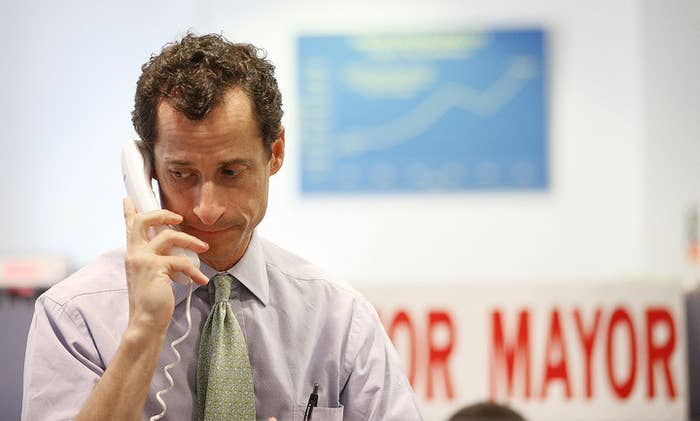 Her father told BuzzFeed News he has been left feeling "angry that the local folks had interviewed my daughter for six hours that same day about intimate details from her previous interactions with a pervert and then released the story of Weiner's server before we could drive home from the site where she was interviewed."
What's more, the girl's father says he believes the local FBI agents investigating her case were also unaware Comey was preparing to go public until they, too, read about it on Friday in the media. He said he based this view on the fact that agents contacted him only after the announcement to ask if he and his daughter "were okay, and asked if we had thought of leaving the area to avoid media scrutiny."
"We got a call from a media member before the FBI local contact texted to check on us," he said.
However, both the girl and her father praised the local FBI agents with whom they have been working.
A spokesperson for FBI's national press office told BuzzFeed News they had no comment.
The girl first went public with her story in an interview with the DailyMail.com in September, sharing messages with the website in which Weiner appeared to tell the teen he woke up "eager," was trying to "[conjure an] image" of her showering, and thought her getting dressed for the gym "[sounded] alluring."

According to the teen, Weiner allegedly used the Confide app, which sends self-destructing messages, to send one particularly explicit text about "[busting] that tight pussy."
The teen also told the website the two also had Skype conversations in which Weiner reportedly asked her about masturbation and requested she undress. He also allegedly shared pornographic videos with her.
Weiner, who has denied multiple requests for comment from BuzzFeed News since Friday, told the Mail in September he was "filled with regret" and "heartbroken" for his online communications, but said he believed he had been the victim of a hoax. "While I have provided the Daily Mail with information showing that I have likely been the subject of a hoax, I have no one to blame but me for putting myself in this position," Weiner said.
When originally contacted by BuzzFeed News in September, Weiner declined to provide further comment than his Daily Mail statement.
Abedin announced in August she was separating from Weiner after the New York Post published photos and messages he sent to another woman. New York City child welfare workers launched an investigation into Weiner after one of the pictures printed showed the congressman's crotch, with the couple's young son visible in bed next to him.
Neither the teenage girl nor her father are supporters of Republican nominee Donald Trump. The girl described herself as a "big fan" of the Clintons and said she had met them at rallies. She added that she hopes to move to Germany if Trump is elected.
Her father said he had voted early for Clinton but was regretting his decision because of the toll of past few days on his family.
"With the recent developments with my daughter, I can say that I would likely not have voted for either of these clowns if I had it to do over again," he said. "How do you not know who works for you? How could you have so many sleazeballs close to you?"
The teenage girl says the past few days have left her feeling "confused."
"I was having self-esteem issues when this whole thing started with Anthony Weiner," the teenager said. "Now as a result of my frailty, this could take down the United States presidential election. I mean, come on, who's in charge of America?"