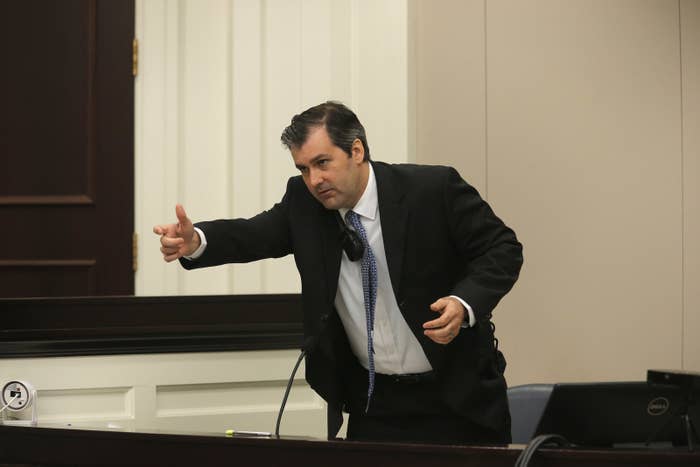 The South Carolina police officer filmed fatally shooting an unarmed black man in the back in 2015 pled guilty on Tuesday to a federal civil rights charge of using excessive force.
"The defendant, Michael Slager, having withdrawn his plea of Not Guilty entered May 11, 2016 pleads guilty to Count(s) 1 of the Indictment, after arraignment in open court," read a plea signed by Scott admitting to willfully using unreasonable and excessive force that resulted in the death of Walter Scott.
A bystander filmed the then-North Charleston officer firing his handgun five times, striking Scott in the back as he ran away following a traffic stop related to a burned-out brake light on April 4, 2015.
Slager had testified in state court that he acted "in total fear" after Scott had tried to take his taser.
As part of a plea agreement reached with federal prosecutors, Slager pled guilty to violating Scott's civil rights to be free from the use of unreasonable force by a law enforcement officer. "The defendant used deadly force even though it was objectively unreasonable under the circumstances," read the plea agreement. "The Defendant acknowledges that his actions were done willfully, that is he acted voluntarily and intentionally and with specific intent to do something that the law forbids."
Two additional federal charges of obstructing justice and using a weapon during a crime of violence were dropped.
In exchange for his guilty plea, state prosecutors also agreed to drop a separate murder case against the former police officer. South Carolina prosecutors had vowed to retry Slager following a mistrial in December when a jury deadlocked and could not reach a unanimous verdict on murder or manslaughter charges.
"We hope that Michael's acceptance of responsibility will help the Scott family as they continue to grieve their loss," Slager lawyer Andy Savage said in a statement to BuzzFeed News.
A federal judge could sentence Scott to life in prison, but prosecutors agreed to recommend a reduction. Slager will be able to appeal any sentence the court ultimately hands down.
"The Department of Justice will hold accountable any law enforcement officer who violates the civil rights of our citizens by using excessive force," Attorney General Jeff Sessions said in a statement.
At a press conference, Solicitor for the Ninth Judicial Circuit Scarlett Wilson praised the Scott family for allowing justice to take its course.

"Today is a big day," Wilson told reporters. "It's not a joyous day. It's sad to see such an event like this and see it before your very eyes and to know how many good men and women are paying for what Michael Slager did. It's not fair."
Scott's brother, Anthony, thanked officials on behalf of the family.
"This is not just a victory for my family," he said. "This is a victory for Charleston, North Charleston, South Carolina, the United States, and the world."
"We see that unjust cops will not be tolerated anymore," he said.