Donald Trump on Thursday said that he was speaking in jest when he made an open request to Russia to hack into Hillary Clinton's emails.
"Of course I was being sarcastic," he said on news show Fox and Friends.
The Republican presidential nominee reiterated that he did not know who was responsible for the hack.
"They have no idea if it's Russia, if it's China, if it's somebody else," he said. "Who knows who it is?"
Just one day before, after denying he had colluded with Russian President Vladimir Putin to leak Democratic National Committee emails, Trump expressly asked Russia to find "missing" emails belonging to Hillary Clinton.
"Russia, if you're listening, I hope you're able to find the 30,000 emails that are missing," he told reporters on Wednesday in Doral, Florida. "I think you will probably be rewarded mightily by our press. Let's see if that happens. That will be next."
The DNC, cybersecurity experts, and US officials have said Russian state hackers were most likely behind the hacking of thousands of DNC emails, which were uploaded to WikiLeaks on Friday. The FBI is now investigating the incident.
The Republican nominee for president denied any ties to Putin or any role in the leak, which Democrats have suggested was done to boost Trump's campaign.
"I'm not going to tell Putin what to do. Why should I tell Putin what to do?" he said.
Trump denied there was any evidence that Russia was behind the attack, but also said the hacking showed a lack of respect of the US.
"But if it is Russia, it's really bad for a different reason, because it shows how little respect they have for our country when they would hack into a major party and get everything," he said, before immediately asking Russia to hack Clinton's emails.
Later in the day, Trump told supporters at a town hall in Pennsylvania he questioned how a Clinton campaign official could be sure Russia was behind the hack.
"Might be a 400-pound person sitting in bed," he said. "Might be. Some of the greatest hackers of all time. But he said Russia. And then he said Trump."
Trump added that he hadn't done anything related to the leak of the emails.
"I wish I had that power," Trump said. "Man, that would be power."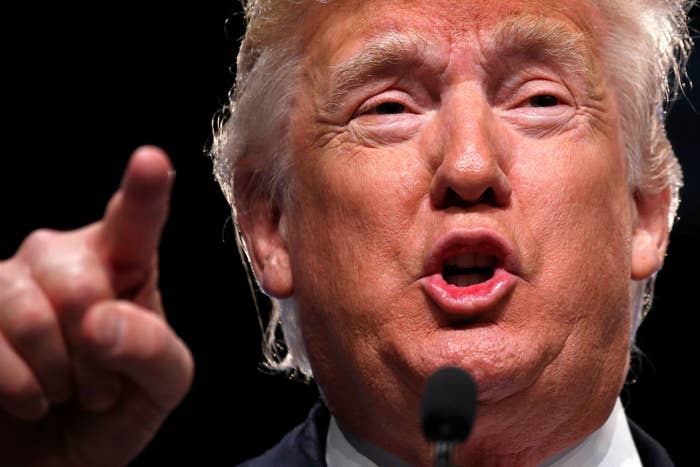 Hillary Clinton's senior policy advisor Jake Sullivan issued a statement, blasting Trump's comments.
"This has to be the first time that a major presidential candidate has actively encouraged a foreign power to conduct espionage against his political opponent. That's not hyperbole, those are just the facts," Sullivan said. "This has gone from being a matter of curiosity, and a matter of politics, to being a national security issue."
In July, FBI Director James Comey said he would not recommend charges against Hillary Clinton for sending classified emails on a personal server she used while secretary of state. Comey added that his investigators managed to find "several thousand" emails Clinton did not turn over to the State Department because she deemed them private.

When a reporter asked Trump if he had "any qualms about asking a foreign government, Russia, China, anybody, to interfere, to hack into a system of anybody in this country" or if it gave him "pause," he responded, "No, it gives me no pause."
"Well, they probably have [the emails]. I'd like to have them released. ... If they have them, they have them."
"You know what gives me more pause?" he said, telling a female reporter to "be quiet."
"That a person in our government ... would delete or get rid of 33,000 emails. That gives me a big problem," he said.
Christine Quinn, the vice chair of the New York State Democratic Committee, told CNN the comments were "almost treasonous."
"The man who thinks he's going to be president of the United States stood in front of the world and called on Russia and Putin to hack into the emails of the former secretary of state," she said. "It's honestly almost treasonous."
Rep. Adam Schiff (D-CA), the ranking member of the House Permanent Select Committee on Intelligence, said Trump's comments showed "staggeringly poor judgement even for him."
And former CIA Director Leon Panetta said Trump's comments draw his loyalty to the US into question and hint at a possible conspiracy with another nation, CNN reported.
Former Speaker of the House Newt Gingrich criticized the media for what he said was a "joke."
Immediately after the press conference, the Trump campaign sent out a statement from Gov. Mike Pence, in which Trump's running mate vowed that whoever is behind the DNC hack will be held responsible:
The FBI will get to the bottom of who is behind the hacking. If it is Russia and they are interfering in our elections, I can assure you both parties and the United States government will ensure there are serious consequences.

That said, the Democrats singularly focusing on who might be behind it and not addressing the basic fact that they've been exposed as a party who not only rigs the government, but rigs elections while literally accepting cash for federal appointments is outrageous.

The American people now have absolute and further proof of the corruption that exists around Hillary Clinton. It should disqualify her from office, if the media did their job.
A spokesperson for Speaker Paul Ryan also issued a statement Wednesday, calling Russia "a global menace led by a devious thug."
"Putin should stay out of this election," the spokesperson said.
Shortly after, Trump issued another plea to Russia via Twitter: