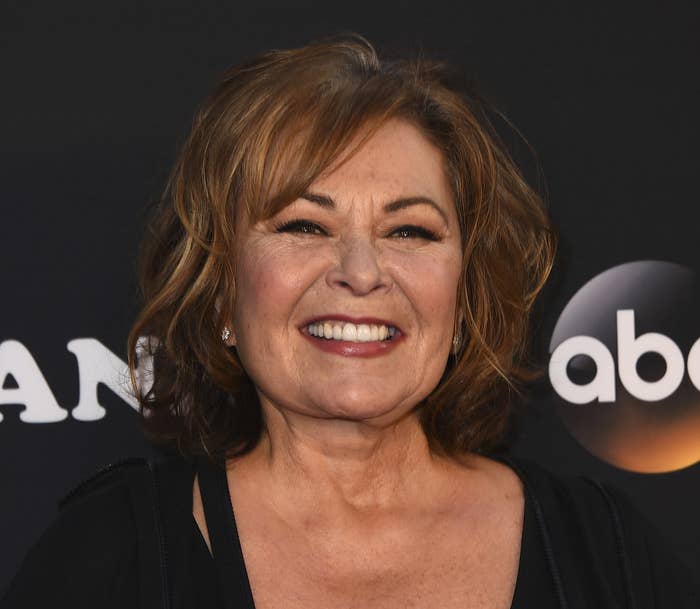 Roseanne Barr, the star of ABC's popular revival of the sitcom Roseanne, has apologized after she compared former Obama administration official Valerie Jarrett to a monkey.
In a tweet posted on Tuesday morning, Barr said the black senior adviser to President Obama was the "baby" of Egypt's Muslim Brotherhood political party and Planet of the Apes.
The tweet came in response to a conspiracy-laden thread alleging Jarrett had helped cover up CIA spying.
After her racist remark drew criticism on Twitter, Barr defended her statement.
"It's a joke," she wrote in response to a CNN reporter.
"Muslims r NOT a race," she said in response to another user.

Late Monday night, Barr also tried to tie Chelsea Clinton to Democratic megadonor (and frequent conservative target) George Soros.

"Chelsea Soros Clinton," she tweeted, further alleging Clinton was married to Soros's nephew. She later alleged Soros, a prominent Jew, collaborated with the Nazis, something that is also untrue. Barr's Soros tweets were later re-tweeted by Donald Trump Jr. A Soros spokesperson told the New York Times the comments were insulting to all Jews.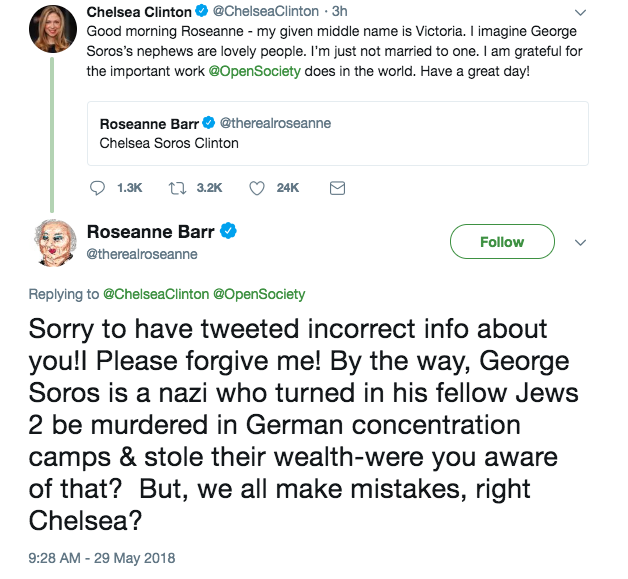 Representatives for ABC and Barr did not immediately respond to a request for comment on Tuesday.
Shortly after this story was first published, Barr tweeted an apology and said she would leave Twitter. It was not clear if she was leaving Twitter permanently.
She then wrote a follow-up tweet with a more detailed apology.
Actor Sara Gilbert, who plays Darlene Conner on the show, condemned Barr's tweet as "abhorrent."
Barr has a history of making wildly provocative and patently false statements on Twitter. She has shared conspiracy theories that Minority Leader Nancy Pelosi is a reptile and criminal, and that Hillary Clinton and other senior Democrats secretly operated a worldwide sex-trafficking and pedophilia ring, a theory known as "Pizzagate."
On March 27, the same day the Roseanne revival premiered on ABC, Barr accused Parkland shooting survivor David Hogg of performing a Nazi salute in a since-deleted tweet.

Nevertheless, Roseanne has been a big hit for ABC, with the premiere drawing more than 18 million viewers.
Several writers who worked on the original Roseanne series told BuzzFeed News earlier this month that the star's Trump-loving, conspiracy-fueled politics have overshadowed the revival.
"I would have difficulty if I were on the show," said Miriam Trogdon, who worked on the original show for two seasons. "I would wish that she wouldn't tweet so that didn't become something that was played into the show."