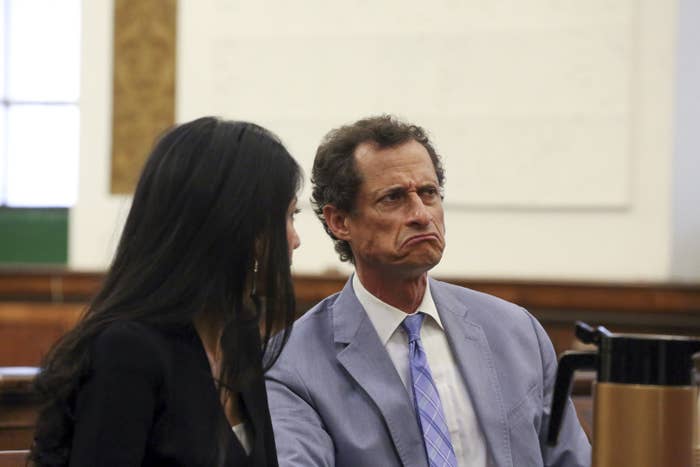 Anthony Weiner should be sentenced to prison time for sexting with an underage teen girl "no matter what motivated the minor victim," prosecutors argued Wednesday.
Lawyers for the disgraced former New York congressman last week argued he should receive probation and be spared any time in prison after he pled guilty in May to one count of transferring obscene material to a minor.
As part of their argument, Weiner's defense team argued the then-15-year-old girl first made contact with Weiner on Twitter with the aim of making money by selling her story to the press. They also said the girl admitted to investigators she had been seeking to influence the outcome of the presidential election. (The girl told BuzzFeed News before the election she supported Hillary Clinton and was furious with former FBI Director James Comey for his public announcement linking their case with Clinton's email server.)
However, in their sentencing submission on Wednesday, prosecutors urged the judge to focus on Weiner's conduct, not the teen girl's "various motives":
The defendant's submission repeatedly makes note of the 15-year-old Minor Victim's various motives for communicating with Weiner and her profit from sharing those communications with the media. While careful not to cast blame on the Minor Victim outright or disclaim ultimate responsibility for his crime, he relies, in part, on the circumstances of their communications in arguing for a sentence of probation. That argument should be rejected, and Weiner should be sentenced for what he did – not what motived the Minor Victim. Weiner, a grown man, a father, and a former lawmaker, willfully and knowingly asked a 15-year-old girl to display her body and engage in sexually explicit conduct for him online. Such conduct warrants a meaningful sentence of incarceration.
As part of the plea agreement, prosecutors sought a sentence of between 21 and 27 months in prison, but the ultimate decision rests with US District Judge Denise Cote, who could sentence Weiner to up to 10 years in prison — or no time at all.
"The non-custodial sentence that Weiner proposes is simply inadequate; his crime deserves time in prison," prosecutors wrote.
The prosecutors also urged the judge to be skeptical of Weiner's "claimed enlightenment and post-conduct rehabilitation" given his "widely-reported prior scandals."
"Weiner's demonstrated history of professed, yet failed, reform make it difficult to rely on his present claim of self-awareness and transformation," they wrote.

Weiner is scheduled to be sentenced on Monday.