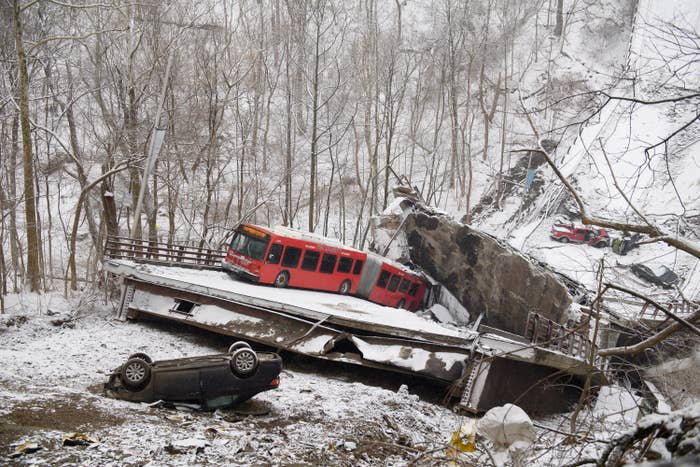 A two-lane bridge collapsed in Pittsburgh early Friday, just hours before President Joe Biden arrived in the city on a scheduled trip to plug his $1 trillion infrastructure bill, which includes billions of dollars to repair such structures.
Three people were taken to a local hospital with non-life-threatening injuries following the collapse of the bridge, which crossed a creek in the city's largest municipal park, according to the Pittsburgh Department of Public Safety. Seven others suffered minor injuries.
"There was a boom, then a monster sound," Melissa Bakth, who lives near the park, told the Post-Gazette newspaper. "It was so loud, and it didn't stop. It could've been me. I'm on that bridge every day. It's very, very busy."

Photos from the scene showed a commuter bus and several other vehicles were crossing the bridge when it came down before 7 a.m. local time. Some cars could be seen on their side or upside down amid the wreckage and snow.
Rescue workers had to rappel down more than 100 feet in order to reach some of the victims.
"It's just surreal to see a bridge you've driven over countless times collapse down," Pennsylvania Lt. Gov. John Fetterman told CNN in an interview from the scene. "It's quite a dramatic scene."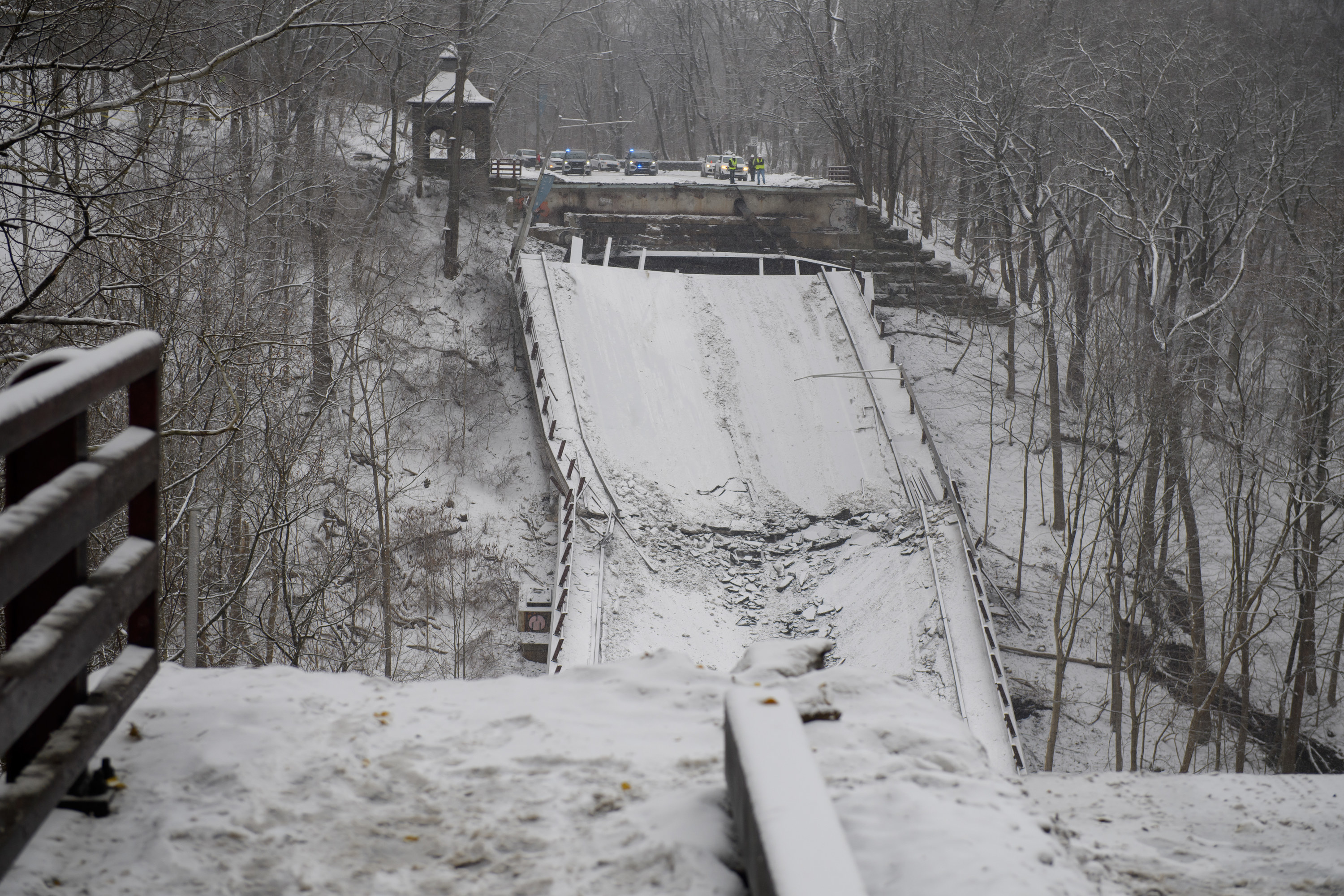 Previous inspections of the bridge by both state and federal authorities had found it to be in poor condition like 45,000 others across the country. One 2018 tweet that went viral following the collapse showed a person expressing concern to city officials about the bridge's rusted beams.
Biden's trip to Pittsburgh on Friday afternoon still went ahead, although he made a detour to visit the disaster site to meet with emergency personnel and local officials. He said it was "astounding" that no one was killed.
The president's trip was intended to promote, among other things, the bipartisan infrastructure bill passed in November, which includes more than $110 billion in funding to repair roads and bridges across the US. At the time of the bill's passage, the White House described the new law as the single largest investment in bridge repair since the construction of the interstate highway system.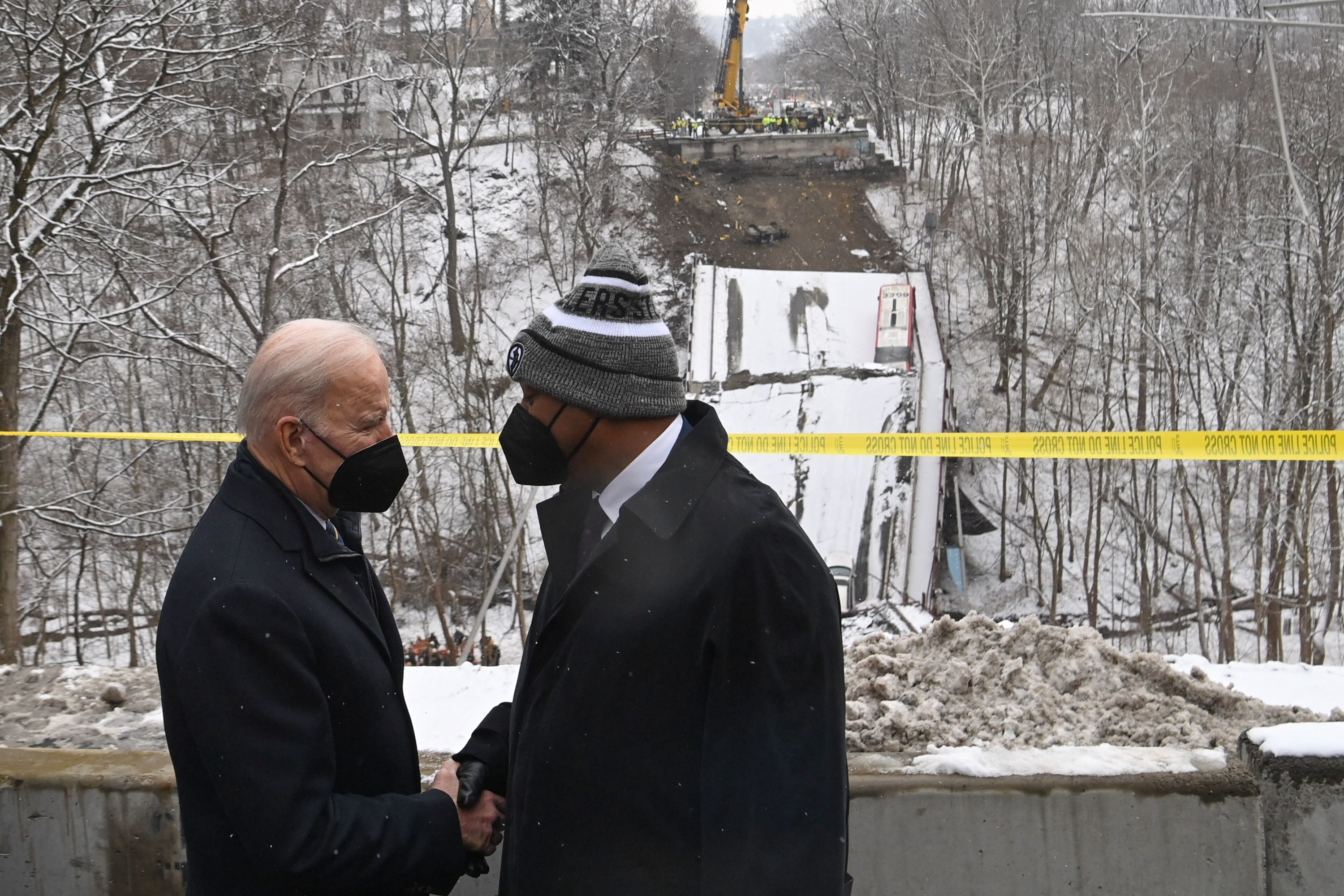 At the site on Friday, Biden vowed that all the bridges in Pittsburgh would be fixed. "Not a joke," he said. "This is going to be a gigantic change."
Fetterman said Friday's collapse served as a wake-up call regarding the importance of infrastructure spending.

"It can't be overstated the president's visit to talk about infrastructure when we have this situation here," he said.