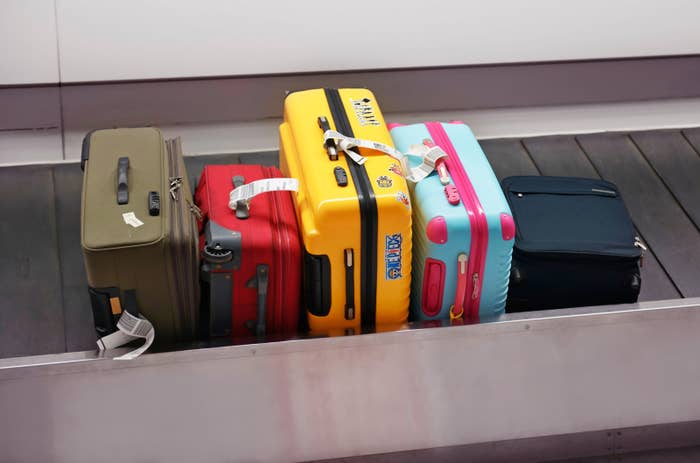 For freelance travel writer Sarah Khan, the idea of flying with her laptop packed in her checked luggage is not just inconvenient, it's unimaginable.
In addition to working on her latest article while in the air, Khan likes to have her computer in the cabin, out of fear it could somehow be stolen — and her livelihood lost — were she to pack it in her checked luggage.
But with Monday's news that the US is banning electronic devices from being carried aboard flights from the Middle East, Khan is stressing about what she'll do about her upcoming Emirates flight to Johannesburg, transiting each way through Dubai.
"I fly to South Africa a lot and they're notorious for breaking into luggage," she told BuzzFeed News. "I can't imagine what I am going to do."

Under the new directive, passengers traveling to the US from all major Middle Eastern travel hubs, including Dubai — the world's busiest international airport — cannot bring laptops, tablet computers, and digital cameras into the cabin with them.
The Department of Homeland Security says the ban was enacted based on "evaluated intelligence [that] indicates that terrorist groups continue to target commercial aviation and are aggressively pursuing innovative methods to undertake their attacks."

Jeff Price, a professor of aviation security at the Metropolitan State University of Denver, said the British government briefly introduced a similar electronics ban in 2006. "The bombers were going to use electronics to detonate the bombs and [officials] weren't sure how many bombers were involved," he wrote in a blog post on Tuesday. "The ban was lifted after a few weeks (and tens of thousands of dollars in bag theft later)."
Khan is not alone in fearing that her valuables may be at risk if packed in her checked luggage under this new ban. Several Twitter users on Tuesday expressed concern about the fate of their pricey electronics if placed in checked baggage.
"Theft from bags is a real thing," said Steven Frischling, a Connecticut-based former aviation industry blogger who says he tries to fly only with carry-on baggage. There are no central statistics on such theft, Frischling said, but the issue makes headlines whenever there is a mass-arrest of baggage handlers.
In 2014, the Transportation Safety Administration said more than 500 baggage screeners had been fired since it was established in 2001, according to the Wall Street Journal. A CNN analysis found more than 30,000 property loss claims were filed by passengers with the TSA between 2010–14, most claiming valuables were taken from checked baggage.

Under an international treaty known as the Montreal Convention (to which the US is a signatory), an airline's liability for loss or damage to a passenger's luggage is limited to the equivalent of about $1,360.

"I suspect the average person's laptop probably doesn't exceed that," said aviation law expert Jol A. Silversmith.
Silversmith, a partner at the Washington, DC, law firm Zuckert Scoutt & Rasenberger, said airlines have tried to minimize their liability even further by discouraging passengers from packing any electronics in their checked baggage.
Indeed, both Emirates and Etihad, two UAE airlines that will be affected by the electronics ban, contain clauses in their conditions of carriage that expressly prohibit passengers from packing computers and personal electronic devices into their checked baggage.

Silversmith believes such language was intended to also "dampen down the number of people who put in a claim" for damaged or stolen items in their luggage.
But following Monday's directive, both Emirates and Etihad are now expressly directing passengers to pack their computers and other large electronics in their checked bags — an apparent violation of their own terms of carriage. Both airlines did not respond to requests for comment.

Frischling, the former aviation blogger, said airlines want to limit their liability for valuable items in checked bags because it's not just their staff who handle the luggage.

"You go to the airline counter and it goes down the baggage belt and goes to a third-party contractor, plus the TSA if you're in the US. That's three layers of companies," he said. "How do you know who went through your bag? You don't."
But Khan, the freelance travel writer, said she fears that nefarious airport workers will see the electronics order as motivation to pilfer people's belongings.
"Now they know laptops are going to be checked in," she said, "it's going to be a free-for-all."