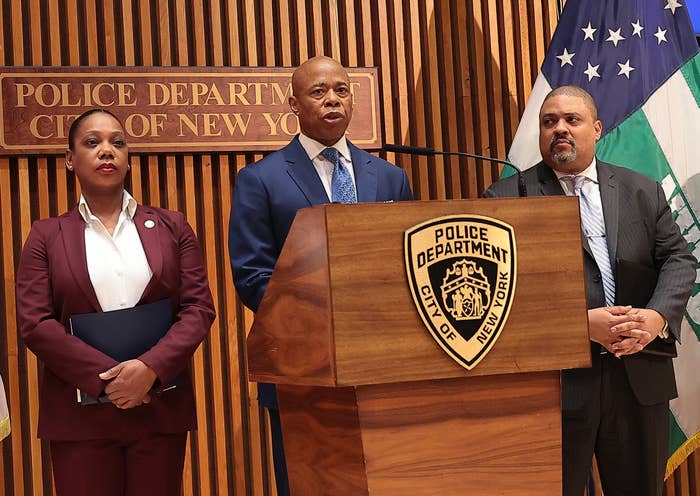 Five men have been charged in connection with a drugging and robbery scheme that preyed on patrons of Manhattan gay bars and resulted in at least two deaths, officials announced Tuesday.
The fifth and final suspect, 35-year-old alleged group leader Jayqwan Hamilton, was arrested by NYPD officers on Monday following months of fears in New York City's LGBTQ community stemming from reports over the incidents.
NYPD Chief of Detectives James Essig said investigators probed 17 similar incidents between September 2021 and August 2022.
Prosecutors say that the group of men conspired to approach people outside bars or clubs and offer them drugs that were used to incapacitate them. The men would then steal the victims' phones and credit cards, or make cash transfers via apps, while their victims were either unconscious or, in the case of two men, dead.
"We want to send a message to the LGBTQ community: We understand the trauma you experienced during this time," Mayor Eric Adams told reporters at a news conference.
Julio Ramirez, 25, was found dead in the backseat of a cab in the early hours of April 21, 2022, after leaving the Ritz bar in the Hell's Kitchen neighborhood and entering the taxi with three other men who left him incapacitated. An autopsy found he died from an overdose of fentanyl, p-fluorofentanyl, and heroin.
In the days after his death, authorities say his killers stole at least $3,200 from Ramirez via unauthorized bank transactions and used his credit card to purchase sneakers.
Over a month later, on May 28, 33-year-old John Umberger left the Q NYC bar in Hell's Kitchen and was allegedly approached by two of the men. Some 90 minutes later, they left him incapacitated in an apartment, before stealing thousands of dollars and using his credit cards to make unauthorized purchases.
Umberger's autopsy also showed he died from an overdose of fentanyl and p-fluorofentanyl.
Authorities also charged the men with at least two other nonfatal drugging robberies that occurred on April 8 and May 14, 2022. Those victims had also been patrons at Q NYC and the Ritz.
"The defendants engaged in a concerted and deliberate scheme to harm innocent individuals," Manhattan District Attorney Alvin Bragg told reporters. "Their motive, we allege, was simple: to make money."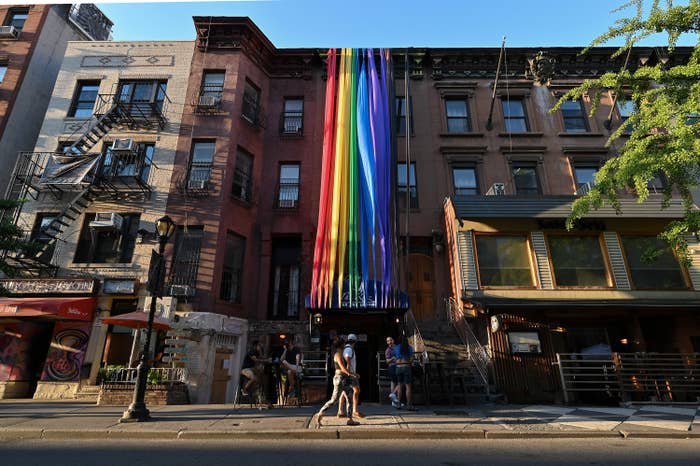 In addition to Hamilton, the other men arrested were Robert Demaio, 34; Jacob Barroso, 29; Andre Butts, 27; and Shane Hoskins, 30.
All five were charged with first-degree robbery and fourth-degree conspiracy, as well as various counts of grand larceny and identity theft.
In addition, Hamilton, Demaio, and Barroso were charged with second-degree murder over Ramirez's death. Hamilton and Demaio faced another second-degree murder charge for Umberger's death.
Attorneys for some of the men did not immediately respond to a request for comment.
Essig told reporters that investigators found two videos on Demaio's cellphone; the first showed Hamilton and Demaio inside Umberger's apartment, while the second showed Umberger lying motionless on a bed in the same pose his body was later found.
In December, authorities also charged another man, Kenwood Allen, 33, with robbery and murder over two similar fatal drugging robberies that occurred on the Lower East Side in March and July 2022.
Erik Bottcher, an openly gay member of the New York City Council, thanked police and prosecutors on Tuesday for their work on the case.
"Although these arrests will not bring back Julio and John, they are a step towards justice for their families and loved ones," Bottcher said on Twitter. "I hope this sends a message far and wide that if you victimize our community, you will be apprehended and you will be held accountable."
Bragg encouraged anyone who believes they may have been a victim of the scheme to come forward to authorities.
"I know these incidents have provoked a lot of fear," Bragg added. "Nobody should have to worry about their safety and well-being when enjoying Manhattan's vibrant nightlife and this investigation sends a clear message that we have no tolerance for this kind of dangerous conduct."