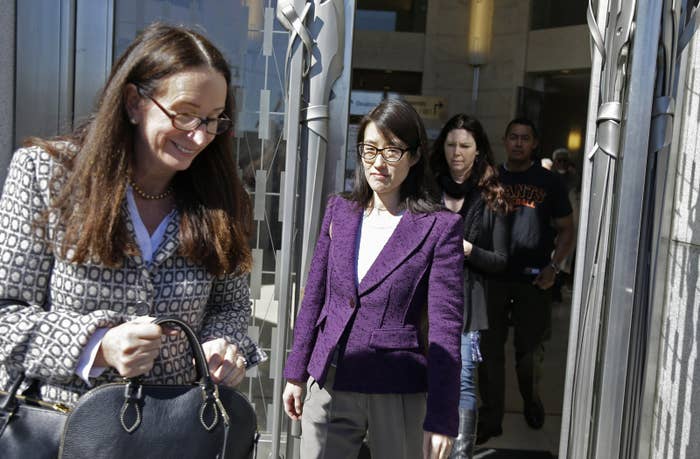 The new chief executive of Reddit, Steve Huffman, has denied that former CEO Ellen Pao was used as "a scapegoat" to introduce changes to the site that infuriated some users.
Pao, who resigned as Reddit CEO on Friday, endured a week of intense criticism from users after Victoria Taylor, one of the site's most popular employees, was dismissed and several online communities dedicated to racist, sexist, and fat-shaming topics were banned.
During an "Ask Me Anything" session on the site on Saturday, Huffman, one of the site's original founders, denied Pao was sacrificed in order to make the unpopular changes.
"Ellen was not used as a scapegoat," Huffman wrote. "She stepped up during a time of crisis for Reddit, for which we were thankful. Things didn't go smoothly, for sure, but I will do my best to guide us forward."
"The Reddit team has been through a lot the past while. I hope I can bring some stability," he wrote.
Many sections of the site, or 'subreddits,' were temporarily shut down by volunteer moderators in protest against Taylor's termination.
During the online Q&A, Huffman was asked whether Taylor, who used to run the 'AMA' sessions, would be reinstated to the company, but he said she would not be returning.
"I know she was well-loved by many moderators, and I'm very sorry at how everything played out. It could have been handled much better," he wrote. "However, she was let go for specific reasons, which I obviously will not share, and we will stand by that decision."
Huffman also said it was "unlikely" any of the banned subreddits would be making a return to the site, writing that he intends to make the creation of a "clear content policy" an immediate priority.
"We will make it very clear what is and is not acceptable behavior on Reddit," he wrote.
Huffman said things that could be banned under the policy would include content which is illegal, which undermines the site's integrity, and which "causes other individuals harm or to fear for their well-being."
He specifically cited one banned subreddit, 'Fat People Hate,' as an example of a group that had "crossed a line."
"Harassment and bullying effect people dramatically in the real world," he wrote, "and we want Reddit to be a place where our users feel safe, or at least don't feel threatened."
However, Huffman said that he wants to keep the site as "open as possible" but would try to be more transparent when explaining why certain content was banned.
"I want to be very clear: I don't want to ever ban content," he wrote. "Sometimes, however, I feel we have no choice because we want to protect Reddit itself.
An earlier version of this story misidentified Huffman in a photo, which has since been removed.