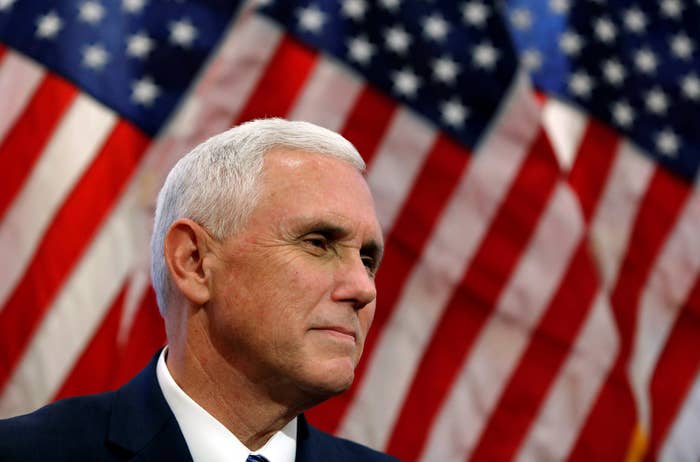 Vice President-elect Mike Pence said Sunday he was not offended when the cast of the Broadway show Hamilton delivered an impassioned address following a show he attended.
For a second straight day, President-elect Donald Trump on Sunday continued to publicly criticize the show's cast members for stopping at the end of Friday's curtain call to directly address Pence and urge him to "work on behalf of all of us."
"The cast and producers of Hamilton, which I hear is highly overrated, should immediately apologize to Mike Pence for their terrible behavior," Trump wrote of the show, which has won a Pulitzer prize and multiple Tony awards.
On Saturday night, Trump also tweeted — and then deleted — a post saying the speech by actor Brandon Dixon, who plays Aaron Burr in the musical, "very rude and insulting" and mocking him for being unable to memorize lines.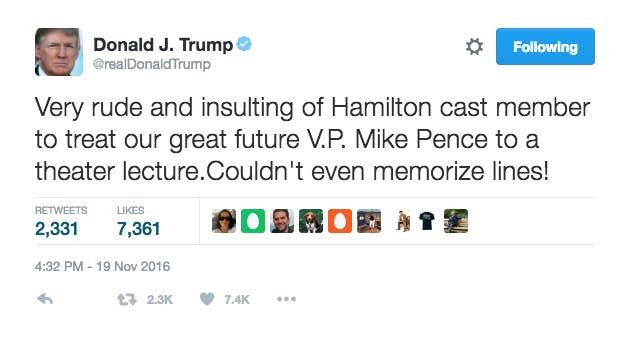 Hardcore Trump supporters have since called for a boycott of the wildly popular show, which is sold out until August 2017.
Pence told Fox News Sunday anchor Chris Wallace he was not offended by the cast's actions, but said he would "leave to others whether that was the appropriate venue to say it."
Pence said he did listen to the cast's speech about feeling anxious since the election, telling Wallace he wanted to address the "center of that message."

"What President-elect Donald Trump said on election night, he absolutely meant from the bottom of his heart," Pence said. "He is preparing to be the president of all the people of the United States of America."
When audience members both applauded and booed Pence as he made his way to his seat on Friday, the vice president-elect told Wallace he "nudged my kids and reminded them that's what freedom sounds like."
"My daughter and I and her cousins really enjoyed the show Hamilton," he said. "It's just an incredible production — incredibly talented people. It was a real joy to be there."