A Louisville police officer involved in the raid that killed Breonna Taylor is countersuing her boyfriend for shooting him during the March 13 incident.
Sgt. Jonathan Mattingly's lawsuit alleges Kenneth Walker inflicted battery, assault, and emotional distress on him by opening fire and striking him in the thigh during the raid.

He is requesting a jury trial, damages, and attorney fees.
"Sgt. Mattingly was shot and nearly killed by Kenneth Walker," Mattingly's attorney Kent Wicker said in a statement to BuzzFeed News. "He's entitled to, and should, use the legal process to seek a remedy for the injury that Walker has caused him."

The lawsuit was filed in response to one that Walker filed this summer against several Kentucky officials. He has said he opened fire in self-defense, believing the police officers raiding the apartment shortly before 1 a.m. were intruders.
Steve Romines, the attorney representing Walker, told BuzzFeed News his client was protected by Kentucky's self-defense laws.
"This is the latest in a cycle of police aggression, deflection of responsibility, and obstruction of the facts in what is an obvious coverup," he said in a statement. "The counterclaim just brings it full circle."
"If Kenny can be sued for defending himself, make no mistake, all lawful gun owners' rights are at risk. And that should scare everyone," he said. "We intend to defend Kenny — once again — from baseless charges intended to harm, intimidate, and cover up the events of March 13, 2020."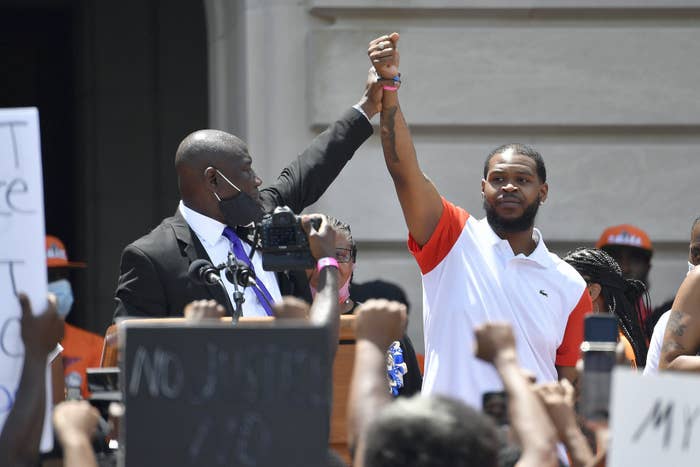 Earlier this month, Mattingly said he believes the seven detectives should have entered Taylor's apartment faster during the raid, suggesting she might still be alive if officers had barged in within 10 seconds of knocking. (Officers involved in the raid have said they waited up to a minute before entering.)
But three policing experts told BuzzFeed News that Mattingly's statements were ridiculous.
"I think we all have outrage fatigue, but this is a truly outrageous statement," Pete Kraska, a criminal justice and police studies professor at Eastern Kentucky University, told BuzzFeed News. "It indicates zero understanding of the issue of conducting dynamic entry raids on people's homes in the middle of the night, not to arrest a murderer but to look for evidence of minor drug infractions."
Mattingly also told the Courier-Journal earlier this month that he believed Walker was responsible in part for his girlfriend's death.
"With this narrow hallway, shooting from it, him diving out," Mattingly told the newspaper. "He put her in an impossible situation."
Last month, one of the officers involved, Brett Hankison, was charged with three counts of wanton endangerment in the first degree for shooting into a neighboring apartment during the raid.
No officer has been charged over Taylor's death.
Kentucky Attorney General Daniel Cameron has said the grand jury decided no officer could be charged because they were acting in self-defense after being fired upon by Walker.
But grand jury members have since spoken out to the media, saying they were not asked to consider any charges related to Taylor's death.
Two grand jury members told CBS News on Thursday that Cameron was a liar.
"They never gave us the opportunity to deliberate on anything but the charges for Hankison. That was it," said one juror. "There were several more charges that could have gone forward on all of those officers, or at least the three shooters."