First, she offended fans of Zayn Malik/One Direction/not being a bigot by tweeting some racist, homophobic abuse at the singer, who she believed had copied her music video.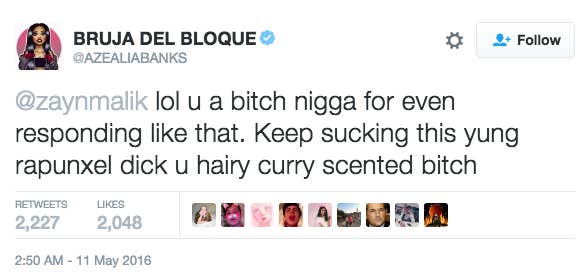 Well, the rapper has had some time to think and has offered her "deepest apologies" in a statement she posted on Instagram.
"Employing racial/sexual slurs/stereotypes in attempts to make fun of or degrade another person or group is not fair or fun for anyone," she wrote, adding that she had allowed "anger to get the best of [her]."
She also said her use of the term "curry" was an "NYC joke about cabs smelling like curry," adding that she "personally really enjoy[s] curry and cook[s] with it often."
But then, less than a day after she apologized, she posted a comment from a fan that criticized Skai Jackson, with Banks describing the teen star as a "coon in training."
Maybe the apology only applied to Zayn? In that case, here's Skai waiting for the next apology.