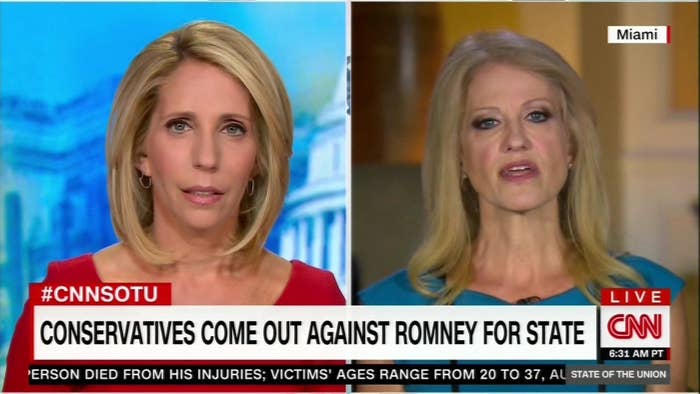 Donald Trump's former campaign manager, Kellyanne Conway, launched an extraordinary critique of Mitt Romney on Sunday, joining a chorus of hardline conservatives opposed to the president-elect appointing the former Massachusetts governor as secretary of state.
Romney, who publicly chastised Trump as a "phony" and a "fraud" who was "playing the American public for suckers" during the election campaign, is now being considered for the role of top US diplomat, much to the consternation of Trump loyalists.
The appointment of a presidential cabinet is normally a clandestine affair, but in a highly unusual public spectacle, former Speaker of the House Newt Gingrich and former Arkansas Gov. Mike Huckabee have appeared on television in recent days to argue that Trump should not trust Romney to the post.
On Thursday, Conway tweeted that she had been receiving a "deluge of social media & private [communications]" warning against the appointment of Romney, but appearing on TV on Sunday it was clear that she, too, had personal issues with the 2012 Republican presidential candidate.

"I'm all for party unity but I'm not sure we have to pay for that with the secretary of state position," she said on CNN's State of the Union, describing a possible Romney appointment as a betrayal to Trump's hardcore supporters.

"I'm just saying that we don't even know if Mitt Romney voted for Donald Trump," she continued. "So I think there are concerns that those of us who are loyal have and you want somebody — you want a secretary of state who is loyal to the president and loyal to the president's vision of the world."
Conway said she and others will ultimately support the president-elect's final choice, but added she "felt compelled to mention it because it's just breathtaking in scope and intensity the type of messages I've received from all over the country ... [from] the number of people who feel betrayed to think that Governor Romney would get the most prominent cabinet post after he went so far out of his way to hurt Donald Trump."
At the end of Conway's takedown of Romney, CNN anchor Dana Bash responded, "Pretty clear how you feel."
In addition to Romney, Rudy Giuliani, the former New York City mayor and Trump loyalist, is considered a leading contender for the secretary of state position.
"Astounding to hear K. Conway, who has the ability to tell Trump privately, trash possibility of Romney as Sec of State publicly on @CNNSotu," Ana Navarro, a Republican commentator, tweeted after the show.
Conway then retweeted Navarro's post, adding:
In a separate appearance on ABC's This Week, Conway doubled down on her Romney criticisms, but would not explain why she was going public on TV and on Twitter with her opinions.

"I weigh in privately," she responded.