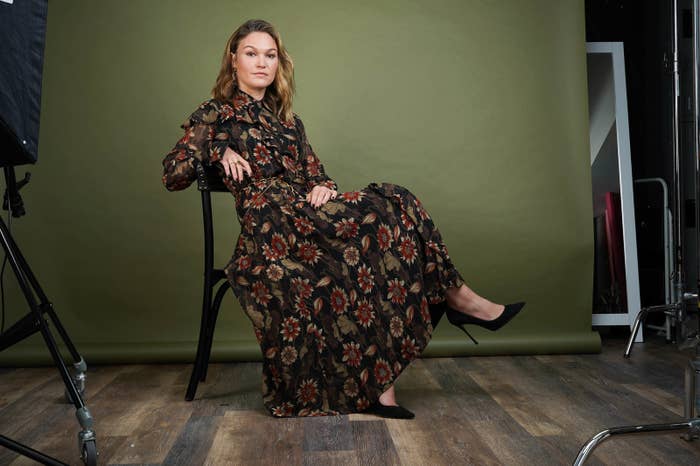 Julia Stiles, star of such teen classics as 10 Things I Hate About You and Save The Last Dance, has shared details of her next big film — and it's something very, very different from those earlier projects.
Stiles is among a slew of stars appearing in Hustlers, a film due out in September that tells the true story of a group of exotic dancers in New York City who began drugging, and then stealing from, clients in their strip club's champagne room. The movie is based on a 2015 New York magazine story that detailed how the women ran up tens of thousands of dollars in charges on the unsuspecting men's credit cards.
"I was so interested in the story and the script, the director and the cast, that I told the director, 'I don't care. I will sweep the floors, I will make coffee and sandwiches for everybody because I just want to be a part of this,'" Stiles said in an interview Thursday on AM to DM, BuzzFeed News' live morning show on Twitter. "It felt like they really hit on something."
In the film, Stiles plays the journalist who got to the bottom of the crime caper, while stars like Jennifer Lopez, Constance Wu, and Cardi B appear as strippers.
The incredible cast also includes Lizzo and Trace Lysette.
Stiles, who also stars on the Sundance Now crime drama Riviera, said her Hustlers character functions as a "window into this world for the audience" so that viewers can "understand why these women did what they did."
"I start off skeptical of them and maybe judgmental, and very quickly come to realize that they were kind of entrepreneurs, dare I say," she said.
Stiles also revealed she filmed most of her scenes with Wu and Lopez, whom she had particular praise for.
Lopez is "not only phenomenal at pole-dancing, she's phenomenal, period," said Stiles.
"When I was in scenes with her it took everything not to have my jaw drop because she does so many things you can sometimes forget that she's a really legit actress, and she just stunned me," she said.
Stiles also hinted that Lopez may even be a contender come awards season.
"Beyond the nails and the hair and makeup and the jewelry and the Bronx accent, she just transformed into this other person," Stiles said. "But it didn't feel like a performance and I think people are going to be really riveted by her."
Watch the interview with Julia Stiles: