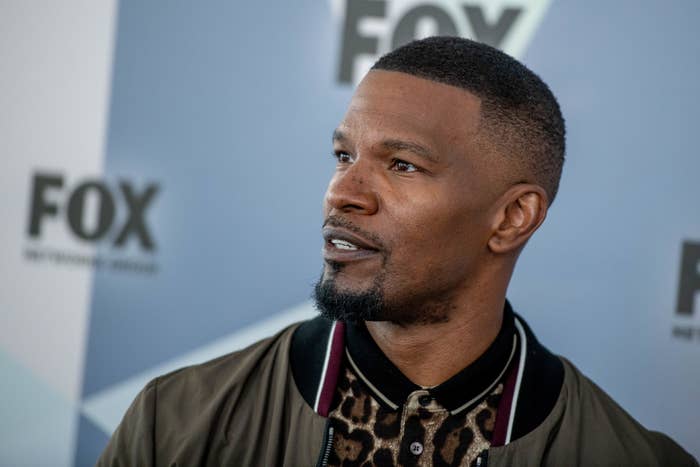 Lawyers for Jamie Foxx told BuzzFeed News in an email that a woman's allegation that the actor struck her in the face with his penis is not technically sexual assault.
Las Vegas police told BuzzFeed News on Wednesday that an unnamed woman came to them on Friday of last week to allege "that a sexual assault occurred in the Las Vegas area in 2002 and named Jamie Foxx as the suspect."
"A report was taken and the incident will be investigated," police said, declining to name the woman or provide any further details "due to the nature of the crime."
However, citing "law enforcement sources," TMZ reported that Foxx struck the woman in her face with his penis when she refused to perform oral sex on him at a party.
When BuzzFeed News contacted for comment on Wednesday, the lawyers vehemently denied the woman's claims, calling them "absurd." They said that the actor would file his own police report against the woman for filing a "false police report against him."
BuzzFeed News then published a story titled, "Jamie Foxx Is Denying An Allegation That He Sexually Assaulted A Woman In 2002."
But after that article was published, lawyer Allison Hart with the firm Lavely & Singer wrote to a BuzzFeed News reporter requesting that BuzzFeed News "immediately correct the false and highly defamatory headline so that it is clear that Mr. Foxx has not been accused of sexual assault."
While reiterating that her client "emphatically denies that this incident ever occurred," Hart argued that "even if the alleged incident had occurred, the alleged conduct she described is not sexual assault."

Citing a section of Nevada law, Hart argued that sexual assault in the state requires "sexual penetration."
"In other words, under Nevada law, sexual assault is defined as a forcible rape," she wrote. "Accordingly, even if the woman's absurd claim that Mr. Foxx allegedly struck her in the face with her penis were true, which Mr. Foxx denies, it is not a sexual assault."
Multiple news outlets used the term "sexual assault" in their headlines and coverage to describe the allegation against Foxx.