Number Of Homeless People Jumps To Almost 60,000 In New York City
Mayor Bill de Blasio made it his mission to reduce homelessness, but the scale of the problem has so far proved overwhelming.
The number of homeless people in New York City has reached a modern high of almost 60,000, according to a report on Monday from WNYC, as Mayor Bill de Blasio struggles to contain a chronic problem he inherited.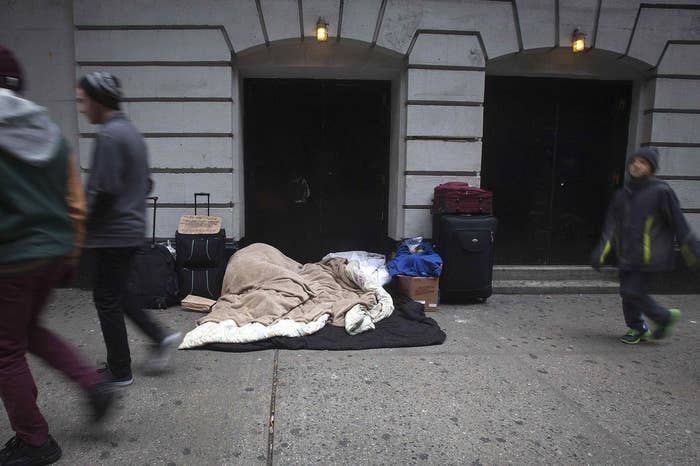 During Michael Bloomberg's term as mayor, the number of homeless in the city soared more than 70%, reaching a record high of 53,000, according to the advocacy group Coalition for the Homeless.
Before he took office as Mayor, de Blasio had indicated his commitment to tackling the problem with a new approach. "We have the highest number of people in shelter in the history of this city," he said on Dec. 12, 2013, "the highest number in the city-run shelter system ever, the highest number of people who are homeless in any sense literally since the Great Depression, and it simply can't continue."
"So we will address the problems in the shelter system and we will take a very different approach," he said.
But de Blasio's efforts are still struggling against the continuing surge.
A total of 59,246 slept in New York City homeless shelters each night in October, up more than 6,000 from one year before.
Of those seeking shelter in October, more than 25,000 were children in families.

"It's a bad number," Tony Shorris, the first deputy mayor, told WNYC.
However, Shorris also maintained the de Blasio administration is on the right track. "Many of the programs the mayor said he wanted to put in place have begun to be put in place, and we've begun the redesign of the homeless system in every aspect of it," he said.
Part of the plan to reduce homelessness involves rent subsidy programs. Most participants pay 30% of whatever income they have on rent, with officials picking up the rest.
When the subsidies program was unveiled in August, de Blasio told the New York Times the program would "help break the cycle of chronic homelessness and provide New York City's homeless families with a stable place to live, fundamentally transforming their lives for the better."
Since those comments, around 2,000 more people have sought refuge in city shelters.