A principal at a South Carolina high school sparked a debate about patriotism when he barred students from waving the US flag at a football game.
Lou Lavely, principal of Travelers Rest High School, called for students to stop waving the flag at a game on Friday night against Berea High School, where one-third of the student body is Latino.
Lavely and other Greenville County school officials said the flag has previously been disrespected by some students to taunt their Latino rivals.
"In the past, there have been a selected number of [Travelers Rest] students who either wore sombreros or wore ponchos to games and that was discouraged because it was seen as derogatory to Hispanic students," Beth Brotherton, assistant communications director for the school district, told BuzzFeed News.
"There have been instances, not just at Travelers Rest but at a different school, where the flag has been used to insinuate racist things," she continued. "Students have shouted Olé! or things like that."
At Friday's game, students were encouraged to only wear school colors as a show of pride, but when some began waving the Stars and Stripes in the stands, Lavely directed an assistant principal to ask them to stop, Brotherton said.
"Very quickly murmurs started in the crowd and people started texting," she said, "and that's when people started showing up at the front gate with large flags on poles and trying to make a different kind of statement."
Hunter Ballew, a 25-year-old graduate from Travelers Rest High, told BuzzFeed News he arrived at the game to pick up his younger brother when he heard about the flag ban. When he tried to get in, he was blocked by police.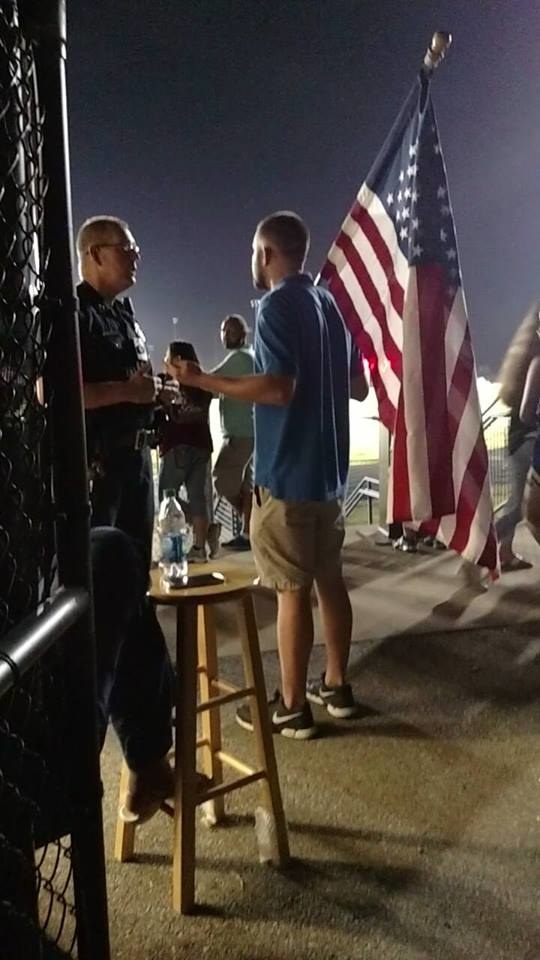 "I took the flag because obviously they can't suspend me," he said. "I tried to enter and was told I couldn't. I talked to the cops who told me the principal had authority over the property."
Ballew posted the photograph of him being barred entry on Facebook, where it soon went viral.
"I'm sick of this political correctness," he wrote. "We need to do something about it because it's not getting any better."
In a statement on Saturday, Lavely defended his decision as being made in "the best interests of all attending the game and in the spirit of patriotism and respect for our flag."
"Using the American flag to display disrespect and unsportsmanlike behavior is in itself improper and disrespectful to our flag," Lavely wrote, adding that the flag flies on a pole at the stadium and guests stand for the national anthem.
"The American flag, or any other symbol of our great nation, is welcome to be displayed and honored at our school events as long as it displayed properly and it is not used in any form of parallel taunting or disrespect," he wrote.
The principal of Berea ahigh, Mike Noel, also released a statement, supporting Lavely: "He was protecting the greatest symbol of our nation, the American Flag. His decision was based on the premise that the American flag should not be used in a disrespectful or unsportsmanlike like manner. He made the right decision."
However, after conservative news sites picked up the story, angry commenters began deluging a Facebook page associated with the school's athletics team.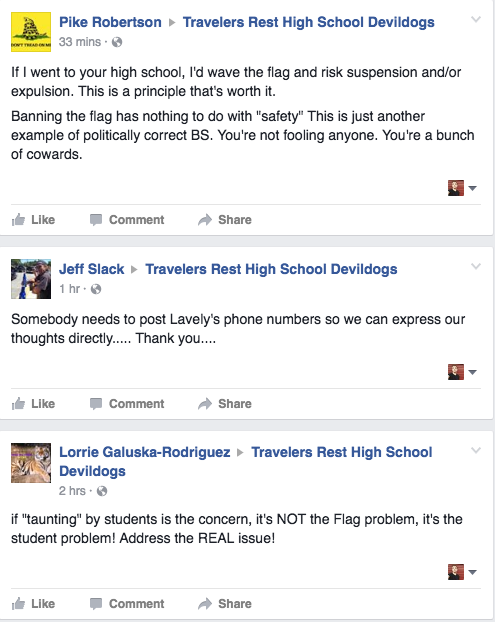 Some simply left pictures of the American flag in protest.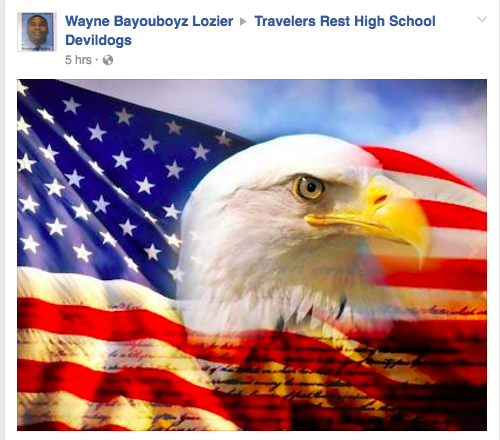 School officials were often forced to release photographic evidence to counter rumors that they were banning students with flags on their clothing or cars.
On Monday, officials released a new statement, noting that after meeting with staff and students, and having "the benefit of time to reflect," Principal Lavely had reached a different decision.
"[Lavely] based this decision on current students' request that he judge them on their own merits and not based on the actions of past students," a statement from school officials read. It continued:
As a result, effective immediately, students are allowed to bring the American Flag to any and all Travelers Rest High School events. Instead of restricting possession of the flag, the TRHS administration will, if needed, address the misuse of the Flag, or any other inappropriate behavior, on an individual basis.
Hunter Ballew said he agreed it was the right thing to do.
"With not allowing in any student with a flag, you're profiling — you're assuming that they're going to cause trouble, that they're racist," he said. "That's profiling. It's wrong. His assumptions trumped our rights."
Beth Brotherton added that, with all the media attention, Lavely had "been through the wringer on this one."
"This is a school that's incredibly patriotic," she said. "I think the fact that the principal was judged for being unpatriotic and called a lot of bad names by people who don't listen to the reasons was wrong."
She also said that Noel, the principal at Berea High, was saddened that his students were characterized as being "offended" by the flag.
"His students are as American and patriotic and loving of their country as anyone else," she said.