While other demonstrations had already sprung up all over the city, the word was that this protest would naturally begin where seemingly all such protests find a home in New York: Union Square, the site of the first Labor Day parade in 1882 and the traditional cradle of the city's activist politics. The police presence was heavy, and news vans sat idly in anticipation, but the square's seasonal Christmas markets were buzzing along, with at least another two hours of trading before vendors shut their stalls. Emergency emails were reserved for wet weather advisories. No one had received word that protesters were coming to start their own revolution.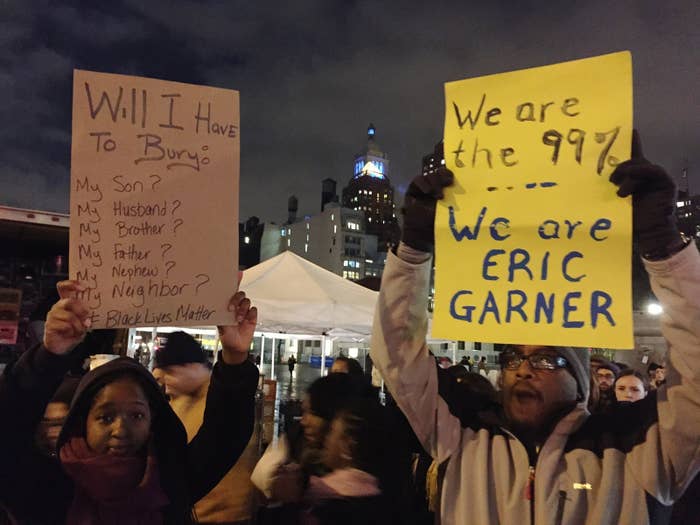 In the southwest corner of the square — right near a bronze statue of Gandhi, standing tall and leaning forward as if starting his own march — the cry thundered out: "I can't breathe! I can't breathe! I can't breathe!" A large black man, who identified himself only as "George from the Bronx," began bellowing the last words of another large black man, now deceased.
As if from nowhere, dozens of people descended and joined the chorus, unfurling rolled-up cardboard signs that had been hastily cobbled together. Immediately they began heading north up Broadway, filling Manhattan's artery with impassioned shouts of "No Justice! No Peace!" and "Hands Up! Don't Shoot!"
Ryan Ford was among those marching. Originally from St. Louis — the city rocked by alarmingly similar circumstances just a week before — Ford said he was marching because America's race problem extends well beyond Ferguson, Missouri. "There's no such thing as a dirty cop if the courts are there to back them up," he said.
Their numbers swelled with each passing block. Two young white men, Adam Shaukat and Eric Wittenburg, were waiting at a crosswalk on their way home from work when the marchers passed them, hands raised, chanting still. Dressed in collared shirts, Shaukat and Wittenburg looked at one another before the impromptu decision was made to join the ranks.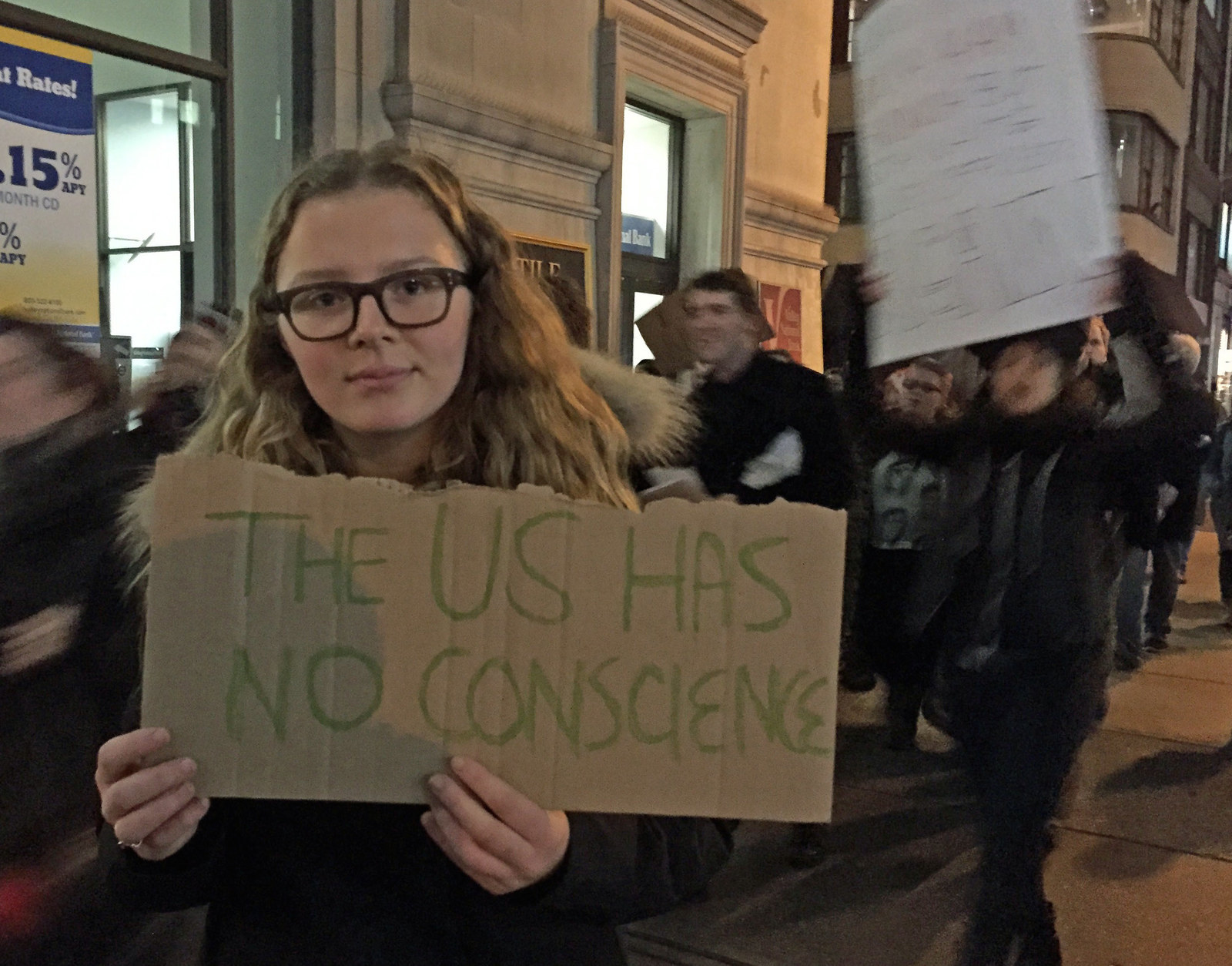 The crowd was a mix of races and ages, with parents clutching bundled-up infants and elderly women marching in silence. At just 14 years old, Charlotte Soehner said she couldn't hide her disgust. "I'm not directly affected by this," she said, "but I am affected by how fucked up our judicial system is."
Brooklyn resident Tara Duvivier was touched by the composition of the crowd, but seemed philosophical. "Every movement naturally dies down," she said, "but this is something black people have to deal with every day."
Barriers corralled the crowd once they reached the streets around Rockefeller Plaza. They had come to try to crash the lighting of the plaza's famed Christmas tree, which NBC was broadcasting live. It's sister network, MSNBC, stuck with the protests. "We want to make sure the nation's attention isn't distracted by lights," one protester told me.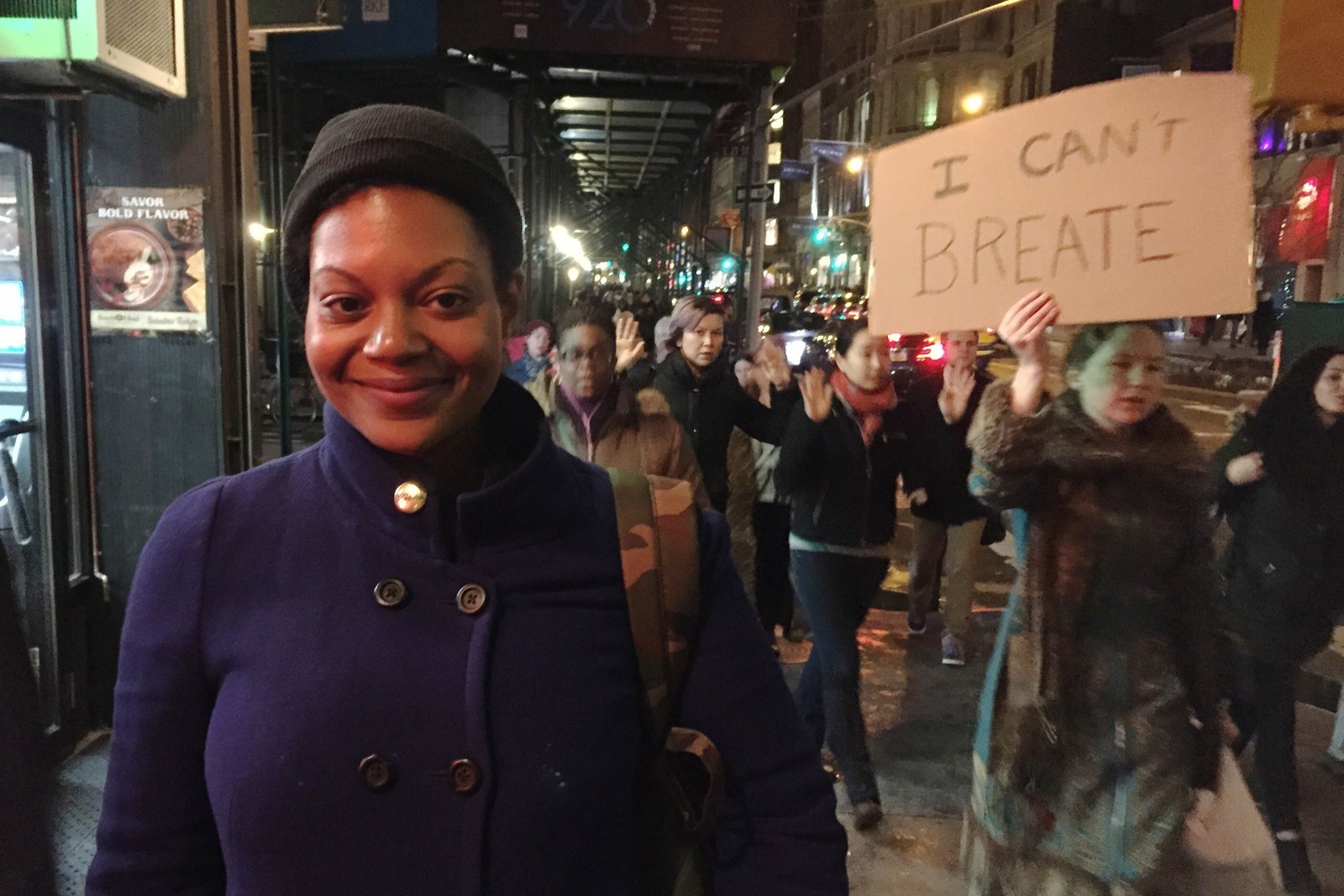 Tourists gawked and took pictures, with many grumbling about how difficult it had been to reach the tree. "You're ruining Christmas," one man was heard saying to no one in particular.
The swollen mass of people was sandwiched in front of Saks Fifth Avenue. There was nowhere to go, so they stopped and talked to foreign reporters who had somehow managed to squeeze camera operators into the crowd. Others yelled at cops, or at least made a show of yelling for the press. They called them Nazis. They mocked them for "compensating" by carrying guns. They questioned how they could get up in the morning, or tell their children what they did. Black cops came in for special attention, with some in the crowd urging them to cross the barrier and join their "brothers." Through it all, the officers stood silent.
Amid all the shouts there were also sudden quiet moments that seemed to take the protesters by surprise, and they laughed nervously as they waited for someone to start a new chant. It seemed to reflect that no one really seemed to know what was going on, or where they were supposed to be heading.
Eventually a decision was made to head to Times Square to try to meet up with one of the other groups roaming the city. Leaderless, but still somehow being led, they marched back downtown.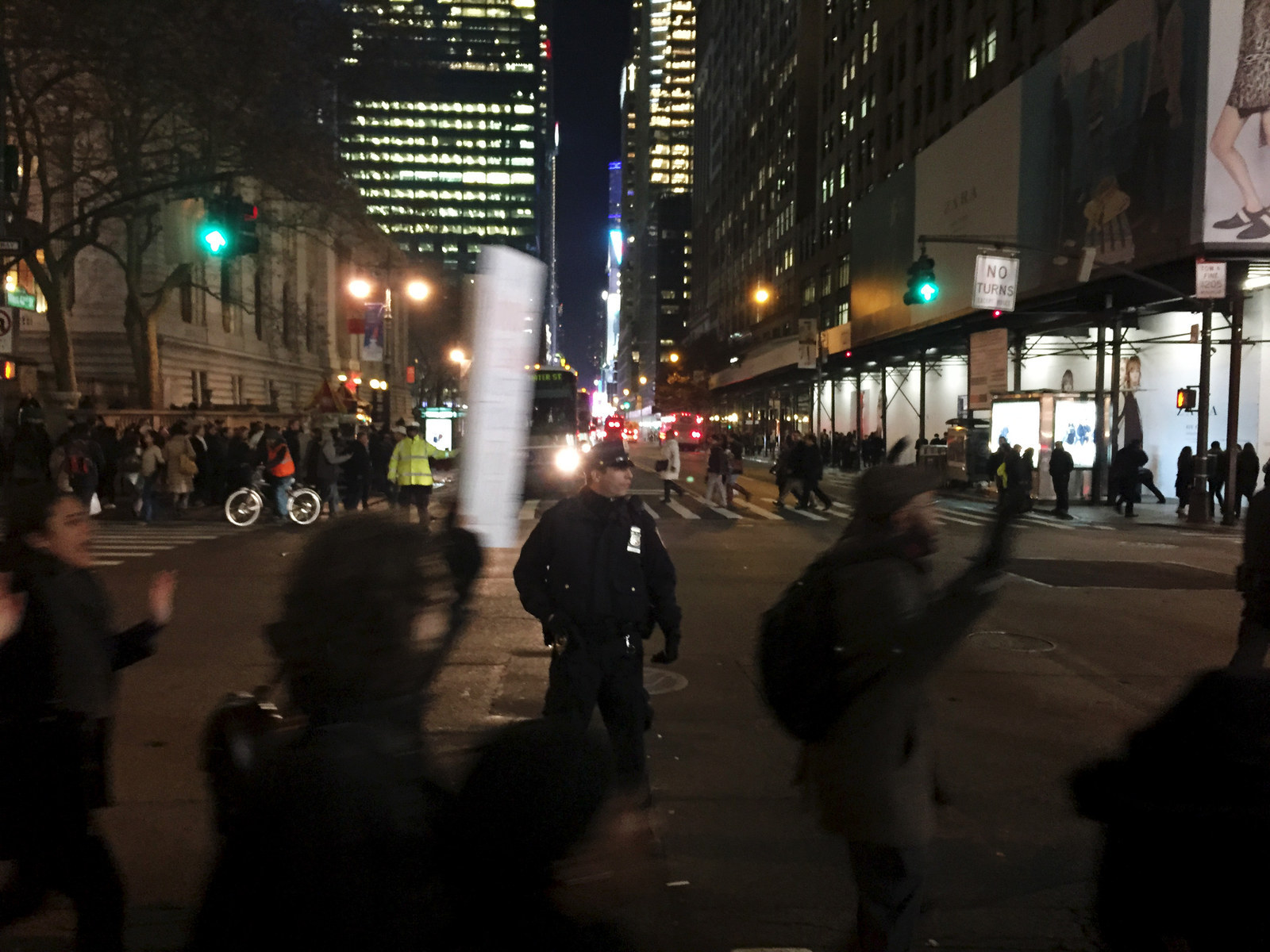 Along the entire route, black store workers who had been busy closing up for the night popped their heads out of shop windows, filmed the demonstration on their cell phones, chanted along, or raised their hands too. Similar silhouettes could be glimpsed in the apartment windows high above.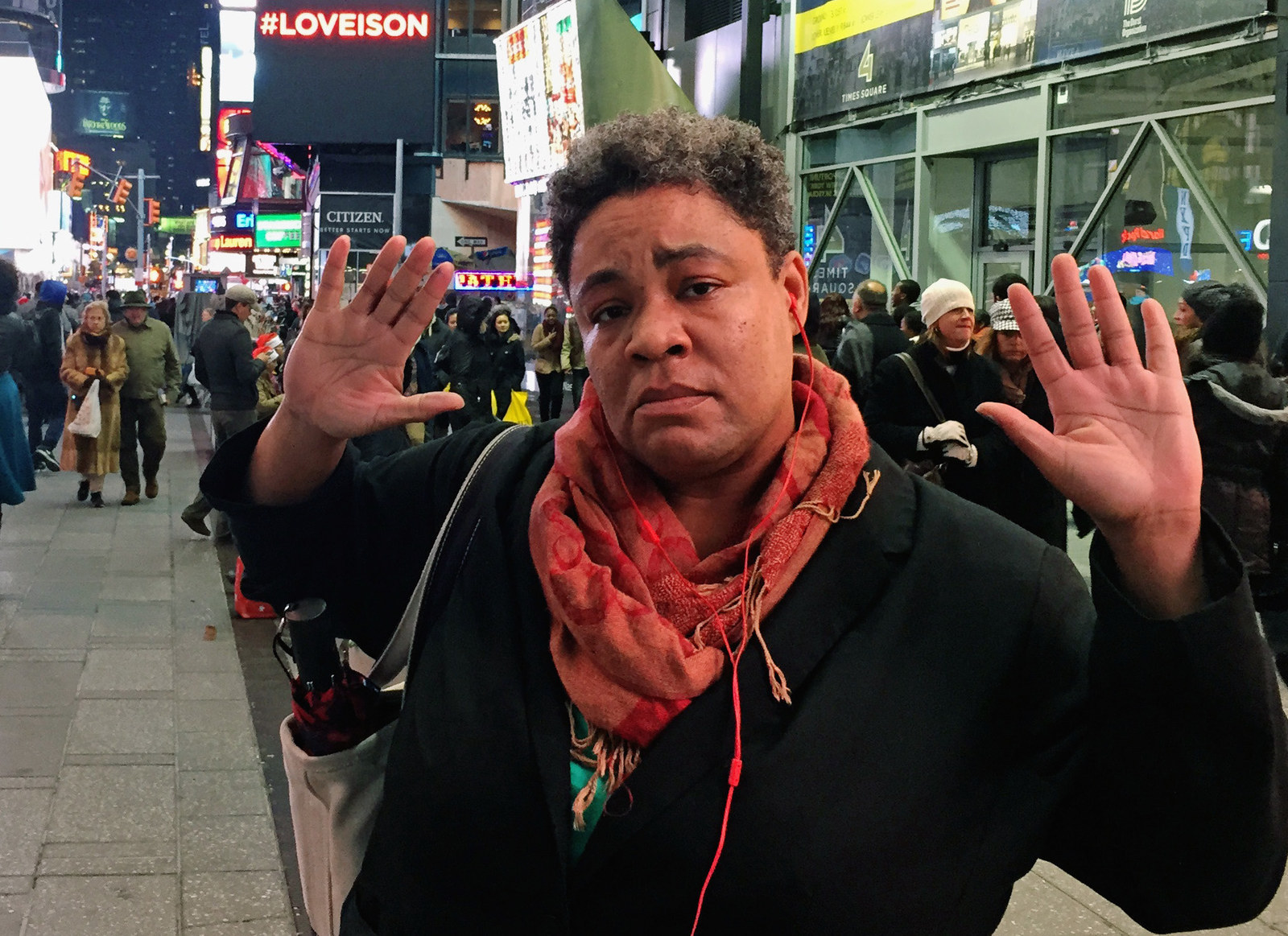 As the protesters passed through Times Square shouting their now familiar refrain of "Hands Up! Don't Shoot!" bystander Kamilah Moon of Brooklyn put down her Whole Foods shopping bag and raised her hands in silent solidarity. "People are under siege," she said. "This is a terrible moment in U.S. history."
Right next to a crowd of tourists distracted by a "kiss-cam" projecting their images on one of the many big screens at the "Crossroads of the World," the protesters sat opposite a fluorescent NYPD building and held a moment of silence.
They then headed west, walking down the center of the road now as they passed Broadway theaters on their way to the West Side Highway. When they arrived at the major road that marks the edge of the island of Manhattan, they were blocked by dozens of officers and police vans who had been expecting more protesters to try to swamp the road. They were instead herded north to the beginning of an overpass at 57th and 7th, where the protesters stood by the side of the road. Officers slowly allowed traffic to begin streaming past.
CNN's Chris Cuomo went live from the scene. He was drowned out by chants of "Fuck CNN!"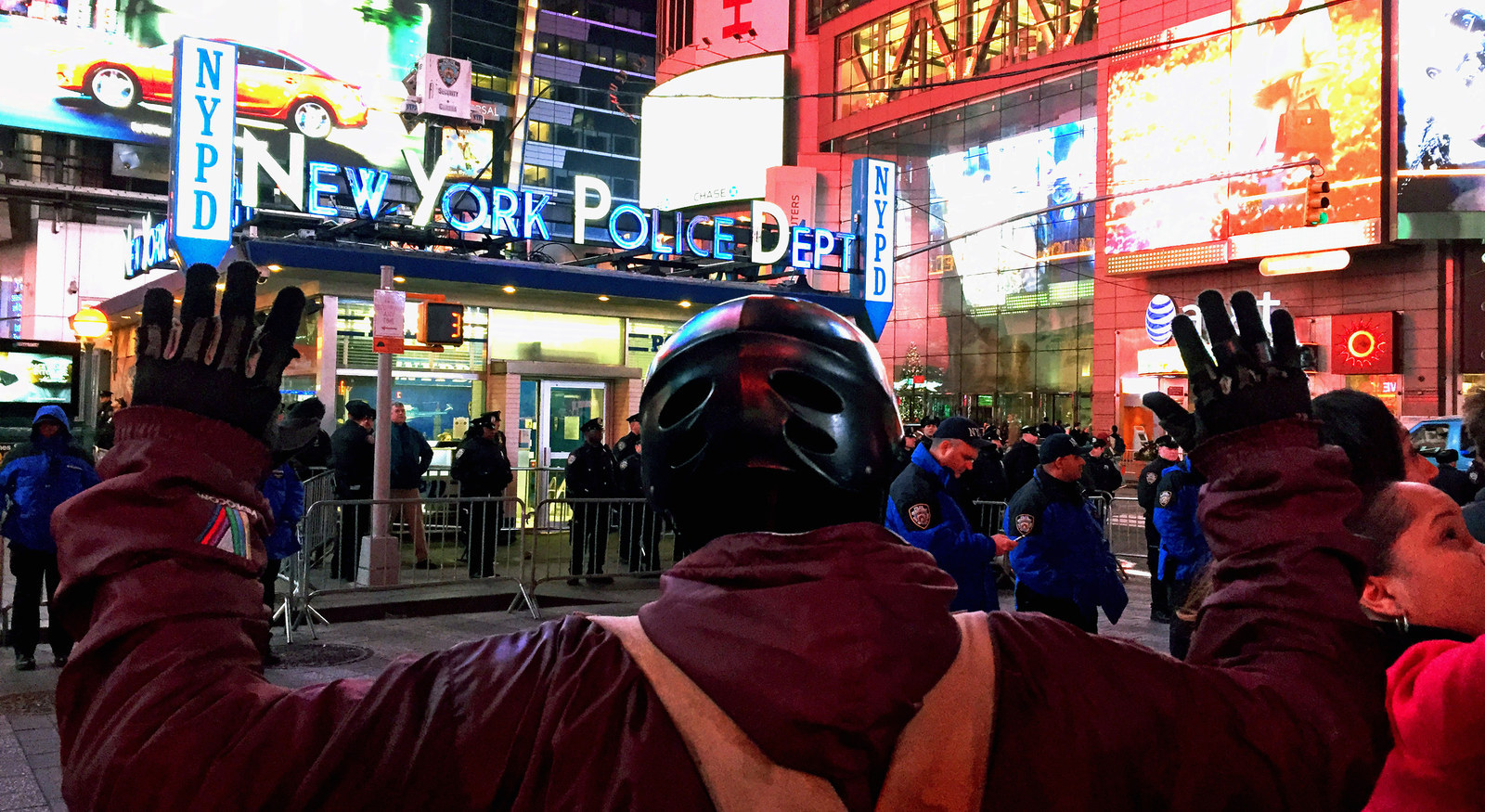 To discuss their options, the 100-strong crowd performed a "mic check" in unison, whereby one person would yell a phrase that others would in turn repeat so everyone could hear. Faced with arrest if they held a sit-in, the amplified chorus decided to retreat back to Times Square.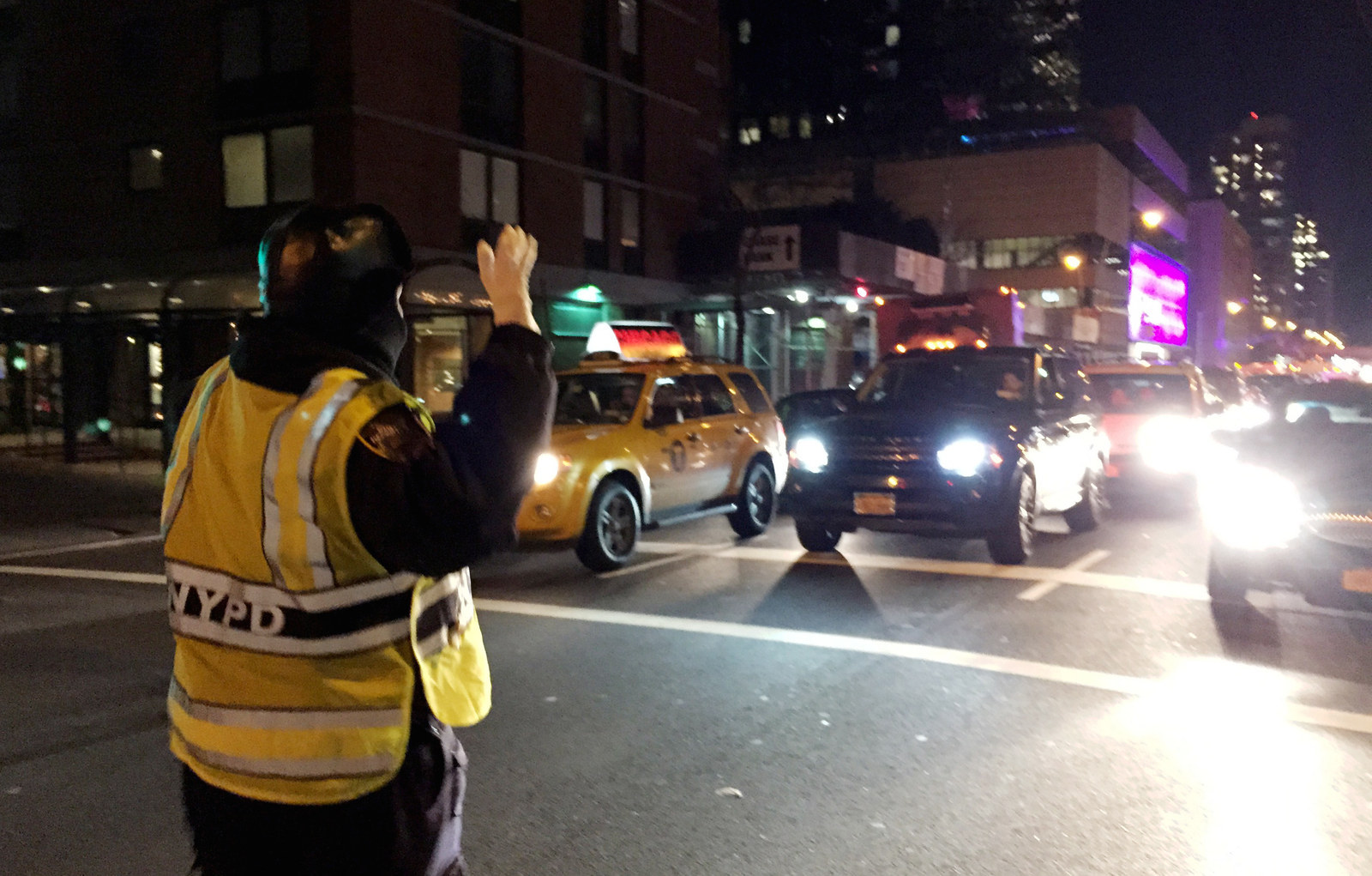 As they marched once more across town through the center of the streets, they naturally brought traffic to a standstill. Police helped too. The crowd cheered as one black cop raised her hands to mimic them, but she quickly turned back to the snarling traffic jam once people tried to take her picture.
Red and blue flashing sirens added to the aura of light radiating from Times Square, as countless cop cars screamed past. At least 15 vans filled with riot police sat idle. Cops on foot wore helmets and carried batons and plastic handcuffs. Tourists stopped taking photos of the cartoon mascots that populate the area, and poised their cameras at the ready, expecting the worst.
But instead the crowd rejoiced as the fragmented protest groups at last seemed to find one another at Times Square. As their numbers exploded to around 1,000, they made their way down 7th Avenue, weaving among yellow taxis and garbage trucks which occasionally honked their horns in a sign of support as the demonstrators briefly lay down at various intersections.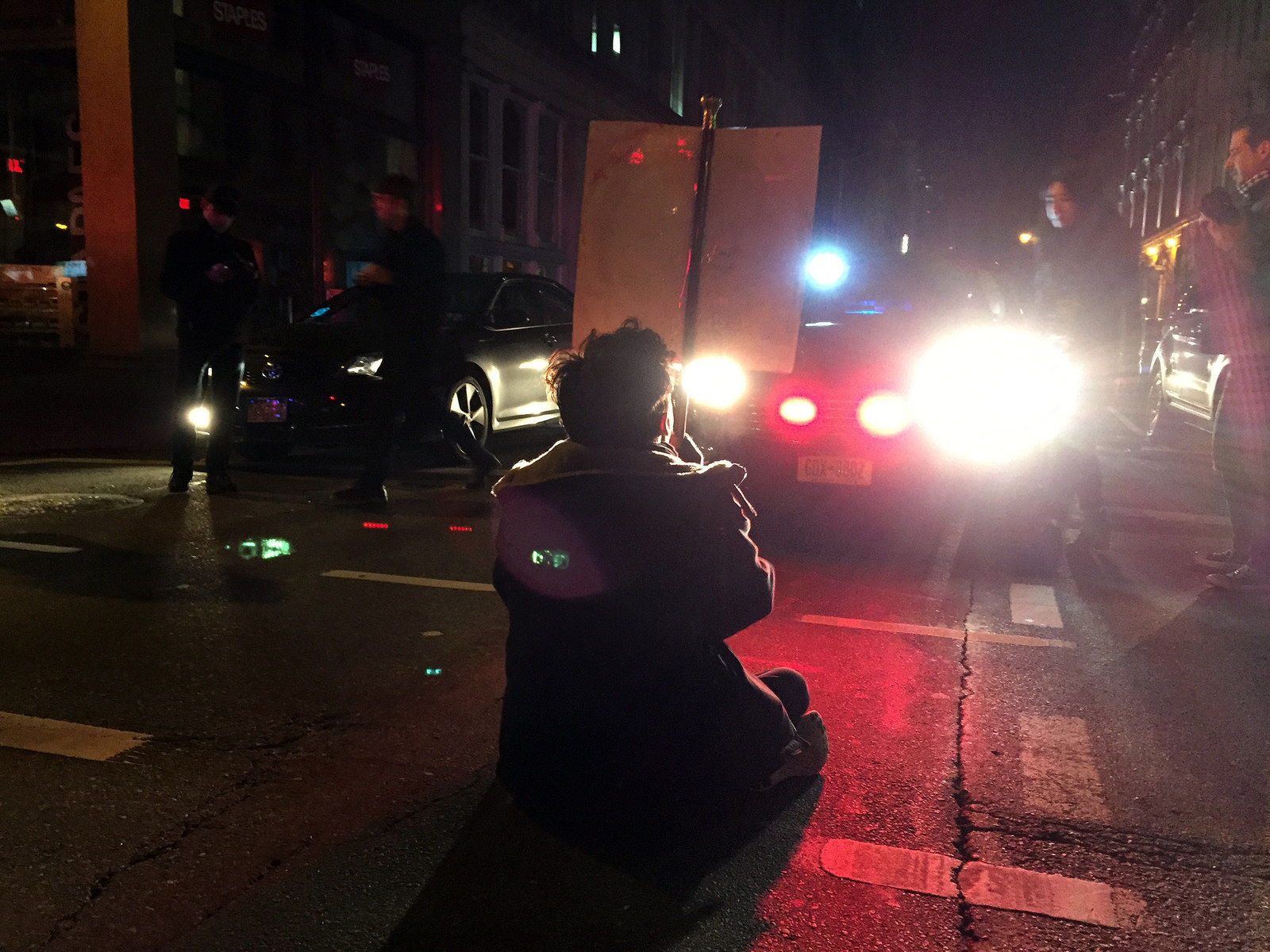 The crowd passed courthouses, police stations, and City Hall — all of which would have been natural places to stop and concentrate their anger — but they instead continued until they met a wall of police blocking the entrance to the Brooklyn Bridge. Briefly, the police appeared intent on stemming the flow of people, but they soon relented and made way for the protesters to take over the iconic bridge. The younger diehards continued, while most others seemed to splinter off rather than risk arrest.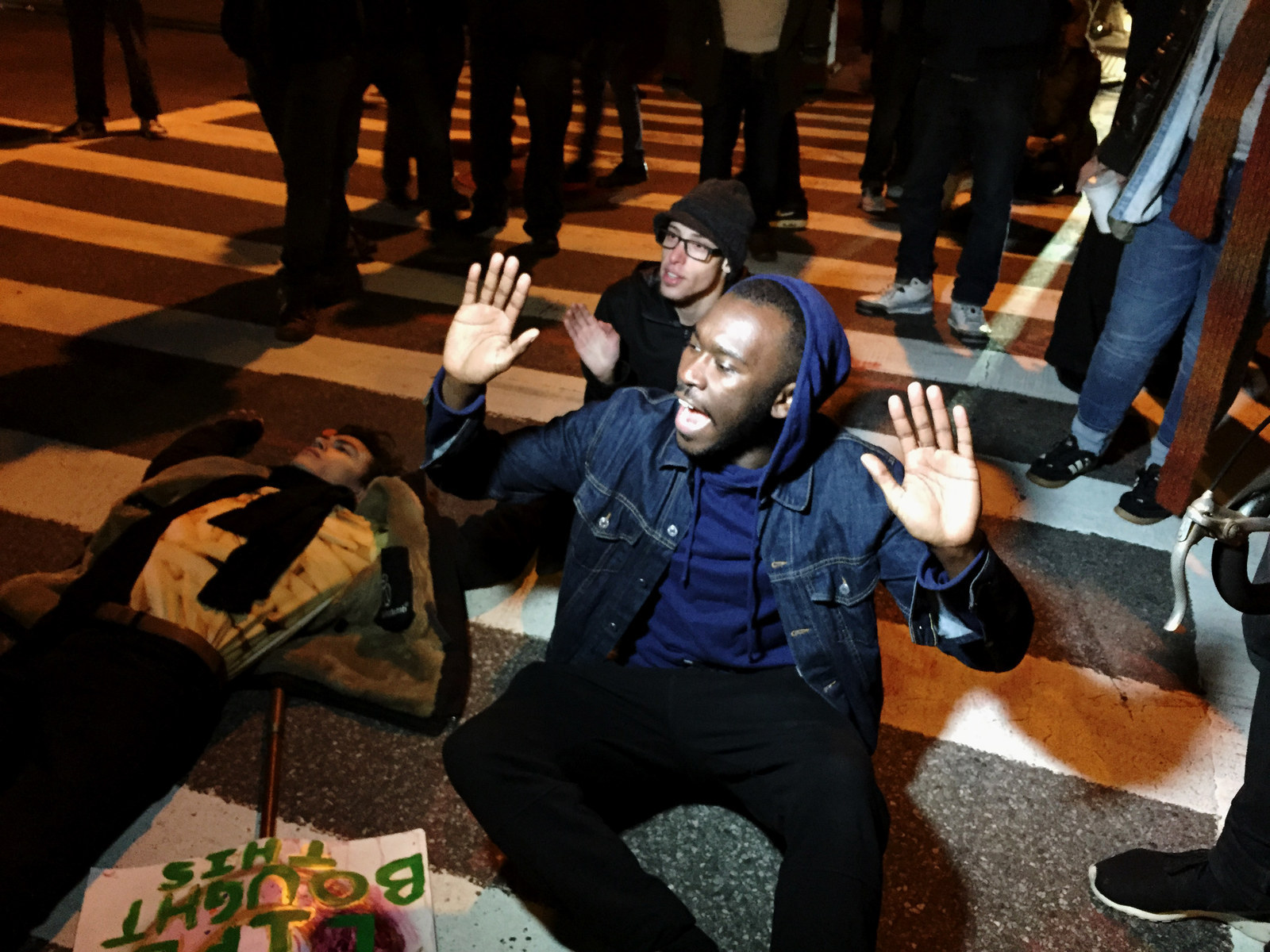 Energized by their midnight seizure of the bridge, which was now completely free of traffic, the crowd sat down near the center of the Brooklyn-bound roadway. "Whose bridge? Our bridge!" they chanted.
"This is the worst place to be, tactically," one protester yelled, as a multitude of police approached from one side, while other officers waited at the other end.
"They can't arrest us all," another demonstrator cried. "There's too many of us!"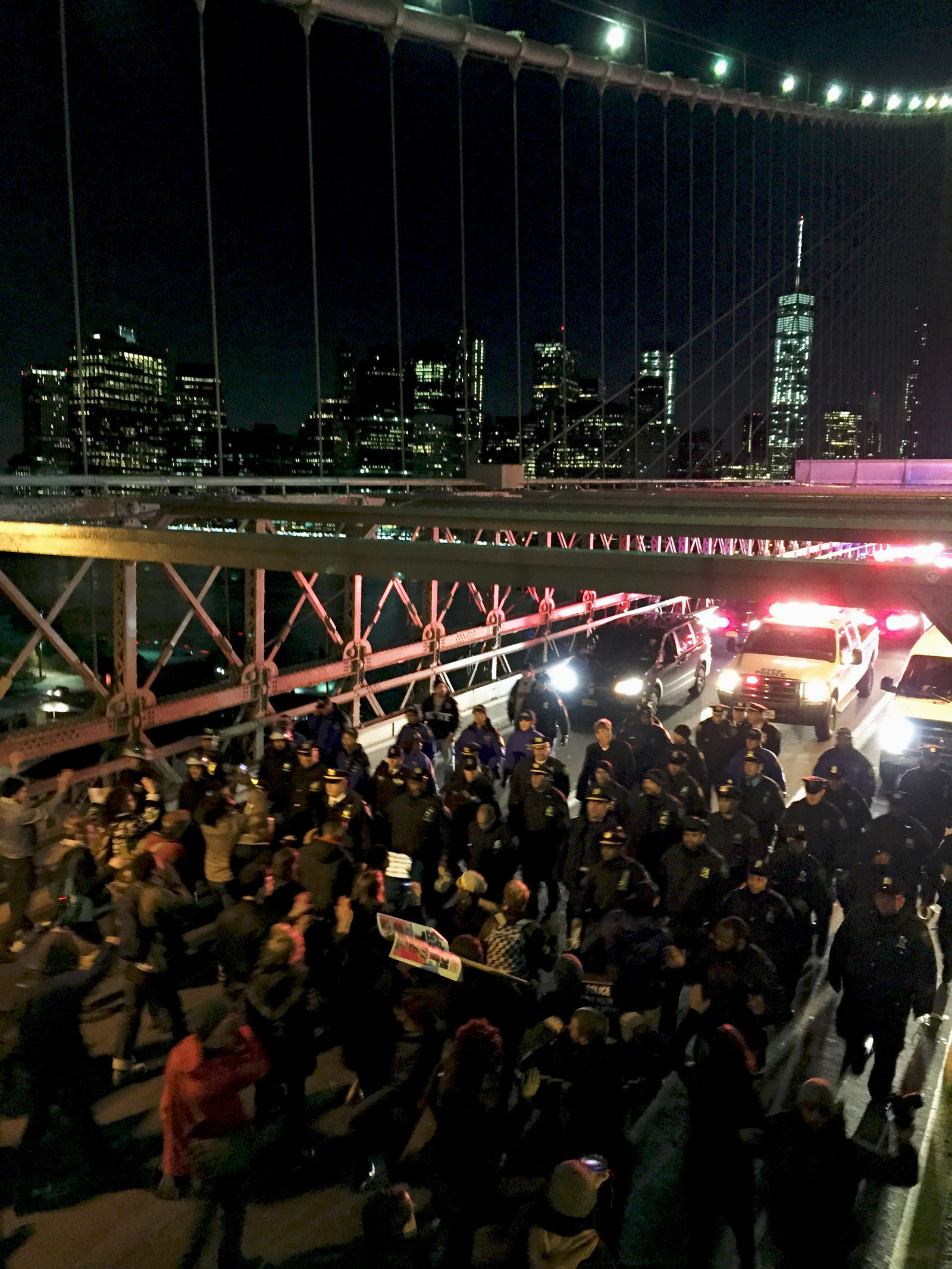 But the officers had had enough. With plastic handcuffs in hand and a helicopter flying above, they began warning the crowd over a megaphone that demonstrators faced arrest if they didn't move on immediately. It wasn't long until the two sides met. A female protester screamed as she jostled with police and was bound by plastic. At least four people were arrested.
As police slowly moved forward, some protesters linked arms and formed a wall, while others stood almost face-to-face with officers. They all walked slowly backwards against the slow tide of law enforcement which was washing them off the bridge.
Waiting in downtown Brooklyn was an even larger contingent of cops, who drastically outnumbered the 50 or so demonstrators remaining. It was 1 a.m. and everyone was exhausted, both physically and emotionally. After some quick back and forth about whether it was the police or protesters who were blocking traffic, a decision was made to call it a night. One of those arrested was hauled into the back of a black van. Three young Hasidic men who had stopped to watch turned to walk home.
Eric Garner's widow, Esaw, would speak on morning television in just a few hours. "I appreciate everyone who's out there marching for my husband," she told CBS. "His name will be remembered."