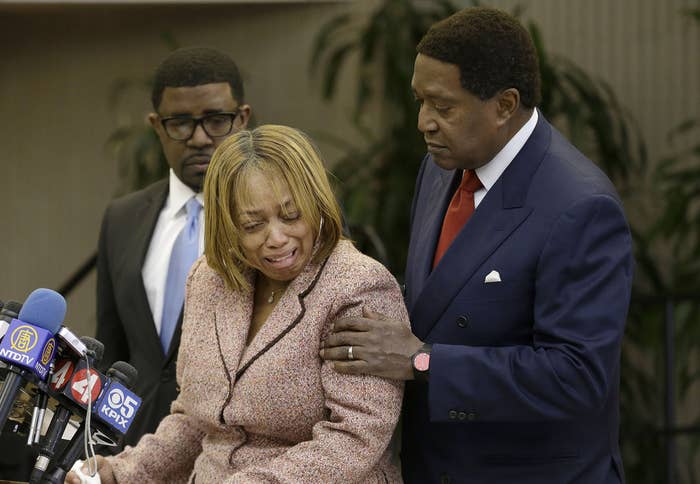 Federal officials on Monday announced a comprehensive review of the San Francisco Police Department after five officers were filmed in December fatally shooting a black man armed with a kitchen knife, igniting outrage and protests.
"In the days and months ahead, we will examine the San Francisco Police Department's current operational policies, training practices and accountability systems, and help identify key areas for improvement going forward," Attorney General Loretta Lynch said in a statement.
The independent review will be conducted by the Department of Justice's Office of Community Oriented Policing Services (COPS).
It comes after 26-year-old Mario Woods was shot dead on Dec. 2 in the city's Bayview neighborhood after police said he made a threatening motion at them with a knife.
However, lawyers for the Woods family have filed a federal lawsuit against the department, saying video of the shooting contradicts the police account, and alleging he was "having some mental problems."
"That video clearly demonstrates that Mr. Woods' hand was down by his side at the time that officers shot him," attorney Jonn Burris told BuzzFeed News in December. "The police position was bogus."
The five officers who opened fire on Woods have been identified as Winson Seto, Antonio Santos, Charles August, Nicholas Cuevas, and Scott Phillips. The department said only one of the officers involved is white.
They were all placed on administrative leave while the shooting was investigated.
In the days after the shooting, Mayor Edwin Lee directed his city's office to change how officers use force.
"I saw the video. I found it very upsetting, as many did, and it raised a number of questions," Lee said in a statement.
Lee and Police Chief Greg Stuhr, in addition to the American Civil Liberties Union, wrote to Lynch to request the Justice Department review.
"The findings will allow the police department to implement best practices in law enforcement and empower the community to hold the department to those standards," COPS Office Director Ronald Davis said.