This Dog Was Rescued After She Was Doused With An Acid Normally Used To Dissolve Metals
"She's just a super-sweet dog and I think she knows she's now being helped," an animal services officer said. WARNING: This story contains graphic images.
Meet Rosie, a 5-year-old pit bull who's endured unimaginable agony and abuse.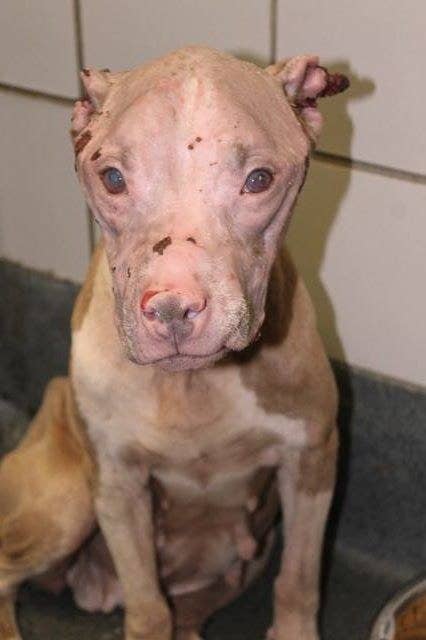 Texan officials with San Antonio Animal Care Services are investigating after she was found doused in the face with hydrochloric acid, a compound normally used to dissolve rust from steel. It's believed she went several weeks without medical attention.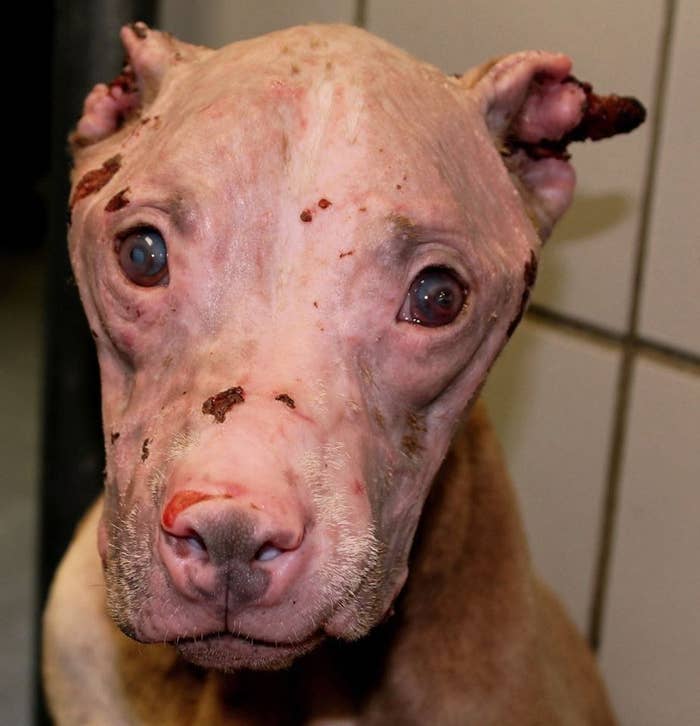 "She looks pretty horrific," Audra Houghton, an animal care field supervisor officer, told BuzzFeed News. "Her entire head is burnt. There isn't any skin untouched. Her eyes are burnt. She's lost all of one ear that was essentially melted off."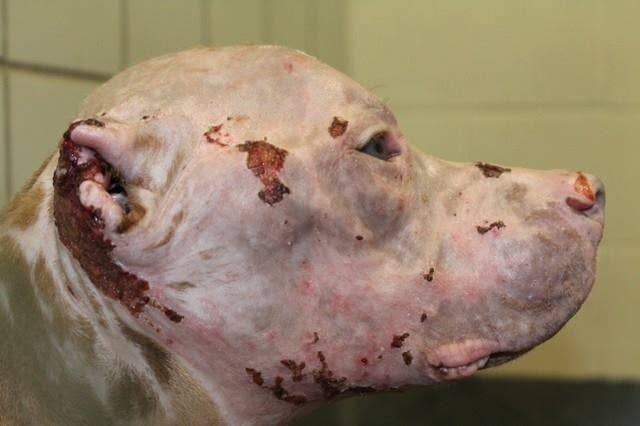 Rosie's being placed in foster care while she continues to recover from her injuries, but officials are also seeking donations to help pay for surgery that may help to restore her eyesight.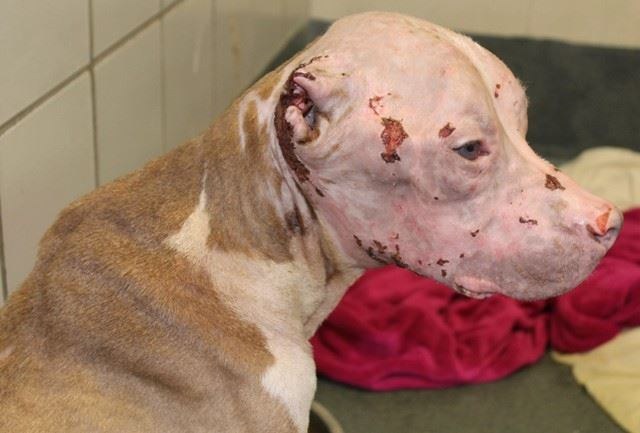 The dog's abuser may face a felony charge, which could result in two years in jail, Houghton said.
"I've never seen chemical burns like this," Houghton said. "I've never seen an animal that's been burned or lost part of their body as a result of their injuries. It's pretty extreme, and it's been a little overwhelming for some of our staff."
But despite Rosie's injuries, Houghton said she has been stunned by the dog's gentle disposition.
"She's an incredibly sweet animal," Houghton said. "A lot of animals in pain can get upset when you're trying to give them treatment, but she's just a super-sweet dog and I think she knows she's now being helped."
Update:
On Thursday, San Antonio Animal Care Services announced on Facebook that they have been flooded with donations that have already covered the cost of Rosie's surgery, which is scheduled for next week.
"Due to City financial policy, we want to make sure that donations from animal advocates that would like to help us help other pets like Rosie are able to utilized for those other pets (as Rosie's forecasted medical expenses have been covered); therefore, all future donations should be made as a "general donation" and - not in honor of Rosie or earmarked for Rosie – and will be able to be utilized for other pets in the shelter," officials said.
"Sadly, pets like Rosie are an all too common site at municipal shelters throughout the country; and is not the only case of animal cruelty we have seen or will continue to see," the officials said.