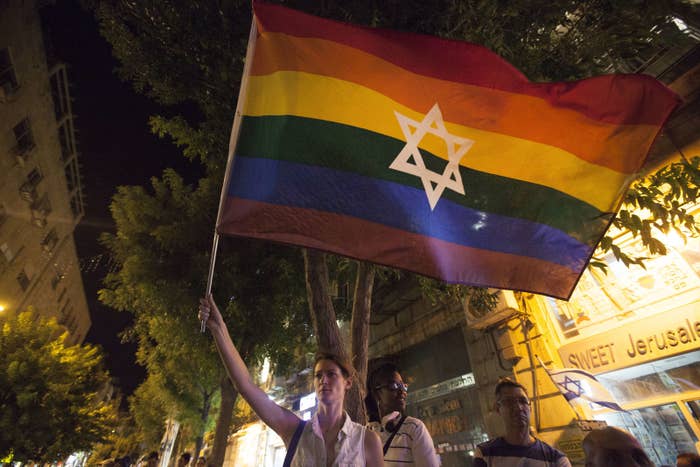 It's a flag that LGBT Jewish Americans have used for decades to express their identity, but when three women unfurled it at Chicago's Dyke March last weekend, it sparked a heated confrontation that led to them being kicked out of the event — and exposed ugly tensions within the left on the national stage.
The controversy that ensued after the June 24 march points to deeper strains and squabbles among a leftist movement attempting to collectively stand up to President Trump, LGBT Jewish Americans told BuzzFeed News.
"What runs through my mind is the tension between politics and identity — and the frustration that I have that the progressive community in the US cannot figure out how to create a united front," professor David Shneer, who teaches history and religious studies at the University of Colorado and co-edited the book Queer Jews, told BuzzFeed News.
The flareup offers a particularly sharp glimpse of the stress on the left between the attempt to create a united front of progressive causes — "intersectional" politics in the current language — and the fact that not all members of each group accept that mandate.
Idit Klein, executive director of the prominent Jewish LGBT group Keshet, said she is no longer "surprised nor particularly upset" when her queer Jewish identity is attacked from those on the right. "But to learn that three Jewish women with Jewish pride flags were asked to leave a Dyke March because their flags were triggering to others made me feel vulnerable as a Jew in a community that I consider my home," she said. "I immediately thought, 'What does this mean for the place of LGBTQ Jews in the broader queer community?'"
Two of the women ejected from the Chicago Dyke March alleged march organizers told them their rainbow flags with blue stars were "triggering" others in attendance at the demonstration, which bills itself as "a grassroots mobilization and celebration of dyke, queer, bisexual, and transgender resilience."

"They told me my choices were to roll up my Jewish Pride flag or leave," Ellie Otra, one of the women ejected, wrote in a Facebook post. "The Star of David makes it look too much like the Israeli flag, they said, and it triggers people and makes them feel unsafe. This was their complaint."
Organizers of the Dyke March, which is distinct from Chicago's main LGBT Pride Parade, did not respond to a request for comment. However, in a statement on Tuesday, they maintained the flags were welcome, but that the marchers were asked to leave for "expressing Zionist views that go directly against the march's anti-racist core values."
The organizers said the marchers were heard replacing the world "Palestine" in the chant, "From Palestine to Mexico, border walls have got to go," with the word "everywhere." After seeing their flags, marchers confronted the women to inquire about their views, the organizers said.
"There was an earnest attempt at engagement with these marchers, and the decision to ask them to leave was not made abruptly nor arbitrarily," organizers said. "Throughout a two-hour conversation, the individuals were told that the march was explicitly anti-Zionist, and that if they were not okay with that, they should leave."
"We welcome and include people of all identities, but not all ideologies," organizers said. "We believe in creating a space free from oppression, and that involves rejecting racist ideologies that support state violence."
Fed Up Fest, a punk music festival organized "by a collective of radical queer and trans activists and musicians," said it supported the Dyke March's decision, but also acknowledged "the violent reality of anti-Semitism that our Jewish queer and trans community members face, and hold space for these struggles, especially in light of our current political climate."
In a post for A Wider Bridge, the pro-Israel LGBT group where she works, Laurie Grauer, one of the women ejected, said she proudly stated her support for Israel (and an independent state for the Palestinians) when asked.
"Because of one belief I have that I shared when asked, because of the one symbol I carried, I was asked to leave," she wrote.
Grauer told BuzzFeed News she never changed the word "Palestine" to "everywhere" during a chant. She said the conversation with organizers did not last two hours and was, at times, not civil. She also stressed that the reason she and her fellow Jewish Americans were confronted was because of their flags.
The incident quickly generated national headlines and scorn from prominent Jewish LGBT advocates.
"I am so angry I am nearly at a loss for words," Steven Goldstein, executive director of the Anne Frank Center for Mutual Respect, told BuzzFeed News. "The organizers should hang their heads in shame."

Goldstein, a prominent gay activist, said march organizers should have distinguished between the ancient Star of David symbol and the Israeli flag (although he maintained demonstrators should have been able to march with the Israeli flag, too).
He attacked the march organizers for being fixated on intersectionality (the concept that different forms of social oppression must be seen as interconnected) at the expense of religious tolerance.
"How can you claim to be an LGBT leader and not know the most basic symbols of different religions that reflect the diversity of our country?" he said. "Are you so wrapped in your own nonsensical, non-real-world commitment to diversity — that you don't practice in reality — that you never took time to educate yourself?"
Author and City University of New York distinguished professor Sarah Schulman, who helped to found the original Dyke March in the early 1990s, said support for Zionism ran counter to the demonstration's spirit.
Schulman said her fellow Jewish Americans must recognize the Star of David symbol has been inextricably bound up with Israel, which she called "an apartheid state," and its military.
"It's disappointing that Israel and the Jews have been conflated, but this is the work of the Jewish state and this is the consequence of their actions," she said.
She said Israel and its supporters use the country's friendly LGBT policies to "pinkwash" its oppression of Palestinians.
The Chicago Dyke March organizers, in their statement, also said the Jewish pride flag raised eyebrows "due to its similarity to the Israeli flag and the flag's long history of use in Pinkwashing efforts."
Gregg Drinkwater, who is writing a dissertation on the history of Judaism and homosexuality at the University of Colorado, said LGBT Jewish groups have been using the Star of David to promote themselves since the gay liberation movement in the early 1970s because it was "the symbol that's most easily and quickly read as Jewish."
"I can't tell you how far back the Star of David on a rainbow flag goes, but I can tell you it well predates the idea of pinkwashing as a narrative," he said.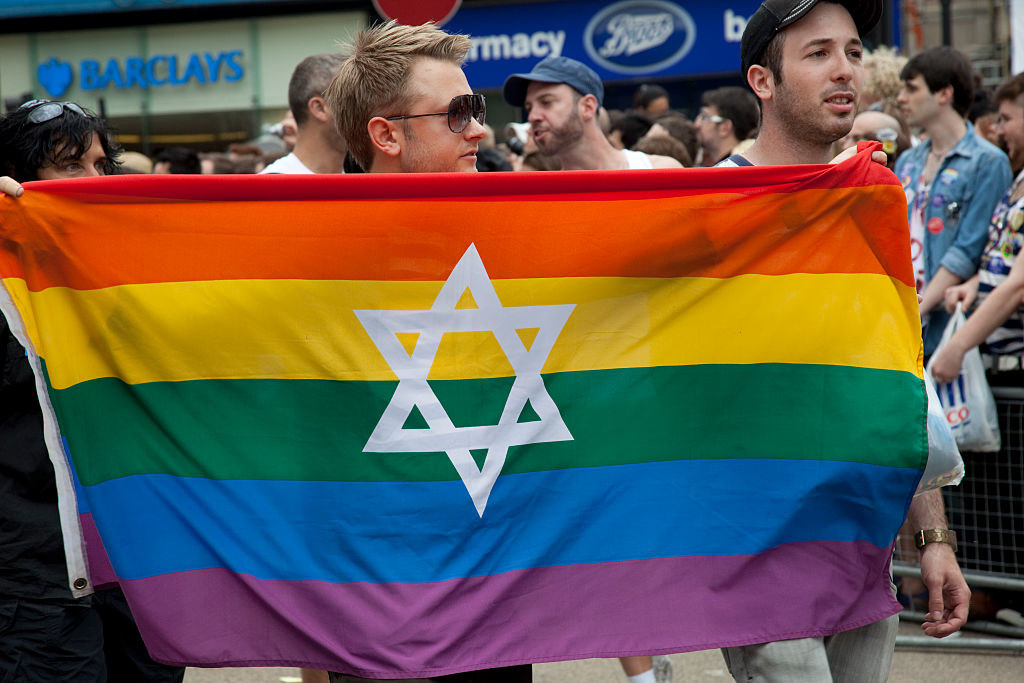 "What other symbol would be an alternative?" asked Amy Milligan, an assistant professor of Jewish and women studies at Virginia's Old Dominion University. "Because the Star of David exists well before the state of Israel. It's the symbol associated with Judaism, so it's the logical symbol to be used."

Milligan said she understands the star has "associations" with Israel and Zionism, "but when we see someone wearing a Star of David necklace or lapel pin, we don't label them as having political views. We understand it to be a religious symbol."
Shneer, the University of Colorado professor, said the semiotics of the flag in question — with a large blue Star of David placed in the center — did create an "echo" of the Israeli flag.
"The Dyke March organizers were not wrong to have seen the Israeli flag in there — but they also shouldn't have kicked those people out," he said.
Both Milligan and Shneer questioned what alternative symbols would be available to LGBT Jewish Americans to express their identity without the Star of David.
"If we look at pride symbols, we have the rainbow flag and the pink triangle — and that, of course, is problematic as a Holocaust symbol," Milligan said. "It leaves Jews with not a whole lot of pride symbols that they can really navigate."
For Shneer, when he sees the flag at pride marches, it is "a sign there are Jews here, not people who support Israel."

"The Star of David is more or less the universally recognized symbol today of the Jews," Shneer said, "and therefore removing the symbol from the toolbox of symbols to be used to define yourself as Jewish is taking a key symbol away. It'd be like saying, 'You can't fly the rainbow flag if you're gay because it triggers me.'"
When asked what other symbols she wanted LGBT Jewish Americans to use, Schulman, the CUNY professor, replied, "I don't know, but that's not my concern. It's disingenuous for Jews to contend that they don't have to confront the Israeli state."