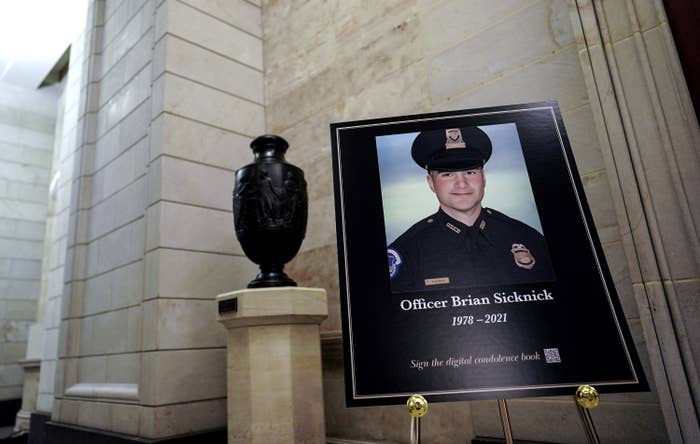 Federal authorities have arrested and charged two men with assaulting Brian Sicknick, the US Capitol Police officer who died after pro-Trump supporters stormed the building in January.
Julian Khater, 32, of Pennsylvania, and George Tanios, 39, of West Virginia, were arrested Sunday.
According to court papers, the two were shown in footage spraying a chemical substance in the face and eyes of three Capitol Police officers, including Sicknick, as they tried to access the building's lower west terrace. The pair appeared to time their sprays so that other members of the mob could remove barriers around the Capitol.
"Give me that bear shit," Khater can be heard saying as he asks Tanios for a canister of spray in video that is cited in the affidavit.
"Hold on, hold on, not yet, not yet," Tanios replies. "It's still early."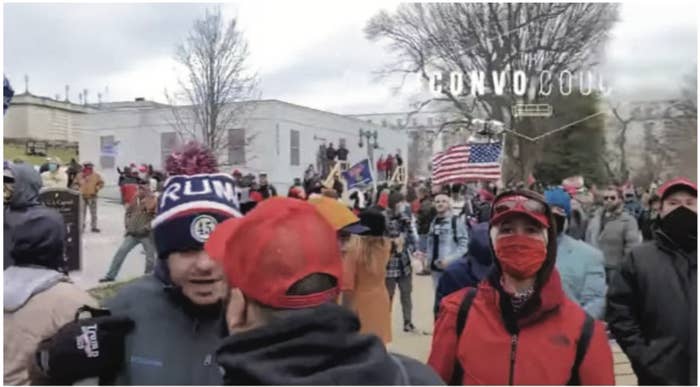 Video also shows Khater spraying in the direction of officers before he himself is sprayed in return.
One officer reported lasting injuries under her eyes, including scabbing that remained for weeks. She and another injured officer said the substance was "as strong as, if not stronger than, any version of pepper spray they had been exposed to during their training," according to court papers.
Authorities have not said definitively how Sicknick died following the riot, but investigators are reportedly probing whether he may have ingested a chemical substance such as bear spray.
According to court papers, the FBI received a tip that Khater and Tanios knew each other from growing up together in New Jersey.
Authorities were able to partly identify Tanios because he wore a sweatshirt featuring the logo of his sandwich business.
In a statement Monday, US Capitol Police Acting Chief Yogananda Pittman thanked investigators and prosecutors for their work to identify, arrest, and prosecute the two individuals.
"Those who perpetrated these heinous crimes must be held accountable, and — let me be clear — these unlawful actions are not and will not be tolerated by this Department," Pittman said.

Tanios and Khater are each charged with one count of conspiracy to injure an officer; three counts of assault on a federal officer with a dangerous weapon; one count of civil disorder; one count of obstructing or impeding an official proceeding; one count of physical violence on restricted grounds, while carrying dangerous weapon and resulting in significant bodily injury; and one count of violent entry and disorderly conduct, act of physical violence on Capitol grounds. The assault and obstruction counts are the most serious felonies that the two men face in terms of penalties, with each count carrying maximum sentences of 20 years in prison.
Tanios made his first court appearance on Monday afternoon in federal court in West Virginia, appearing remotely from jail wearing an orange uniform and light blue face mask. Prosecutors are seeking to keep him in custody while his case is pending, and a hearing on that is set for March 18; he'll remain in jail until then. He spoke little during Monday's appearance as a federal magistrate judge went over the charges he faces, the maximum penalties, and his rights.
Khater appeared later in the day before a federal magistrate judge in New Jersey; he also appeared remotely by video, and spoke little during the brief hearing. The government also plans to argue for pretrial detention for him, and he'll remain in custody pending an as-yet-unscheduled hearing on that once his case is transferred to the federal district court in Washington, DC.
UPDATE
Updated with information about Tanios and Khater's first court appearances.