NEW YORK — As the White House conspicuously declines to formally recognize Pride Month, former Vice President Joe Biden on Wednesday urged the LGBT community to push back against President Donald Trump.
"The first thing you should do, even though he won't respond, is hold President Trump accountable for his pledge to be your friend," Biden told a swanky Democratic National Committee (DNC) LGBT gala in midtown Manhattan. "Demonstrate that public opinion and history are on our side! Just because you don't have Barack and me in the White House doesn't mean it's time to give up, keep quiet, stay in the sidelines."
While candidate Trump pledged to "fight for" the LGBT community in a tweet last June — and posed with a Pride Flag at an October rally — his administration has so far declined to issue a proclamation recognizing June as LGBT Pride Month — as he did to mark African American History Month in February and Women's History Month in March.
Throughout the month, BuzzFeed News has asked the White House repeatedly if it plans to release a Pride Month statement. In response, spokesperson Kelly Love has said, "We will let you know if anything official goes out."
"The President is proud to have been the first ever GOP nominee to mention the LGBTQ community in his nomination acceptance speech, pledging then to protect the community from violence and oppression," another White House spokesperson did say back in January, when announcing that Trump would continue to enforce Obama-era workplace protections for LGBT workers and contractors.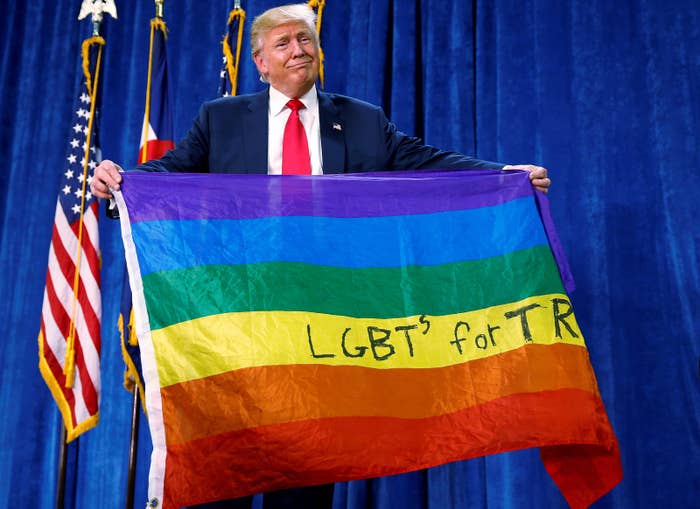 DNC Finance Chair Henry R. Muñoz III told BuzzFeed News that Trump has been "obtuse" in his relationship with the LGBT community. "I don't know where he stands," he said.
"Look at the people he's surrounded himself with, look at the people that have brought him to the White House, look at his vice president," Muñoz said. "You can say one thing, but then you have to do something. You have to act on it."
Muñoz also defended the symbolic act of a presidential proclamation for Pride Month. "Celebrations are important. Celebrations in that House are important because they're saying this House belongs to you," he said.
DNC Executive Director Jessica O'Connell told BuzzFeed News the White House was "obviously not walking the talk."
"Here we are in Pride, we haven't heard a word from the president," she said. "I think that this is an administration that might have wagged a flag during the campaign, but it seems like they're trying to erase us right now. It's very quiet."
Biden was awarded the inaugural "LGBT Hero Award" at the DNC fundraiser Wednesday. During his speech, he recounted the Obama administration's efforts to advocate for the rights of LGBT Americans in the military, health care, and in marriage: "Together we struck down the Defense of Marriage Act and we lit the White House in rainbow colors," he recalled.
"One of the reasons, in spite of this terrible period we're going through, I'm confident we'll prevail is because most change occurs culturally before it occurs governmentally," he said. "The country is way ahead, way ahead of political leadership."