Violent clashes broke out Saturday as Trump supporters attending a "Free Speech" rally in Berkeley, California, were confronted by self-described anti-fascist protesters.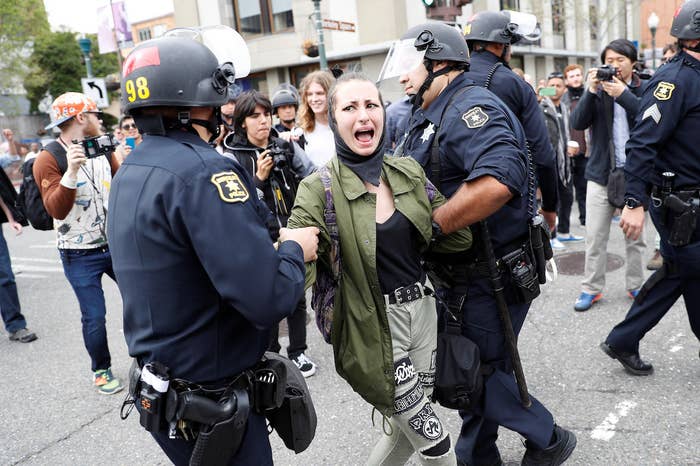 Aerial footage showed dozens of people punching and kicking one another.
An estimated 200-300 people were involved in the protests, sometimes breaking off into smaller groups that argued or yelled at each other. Twenty-one people were arrested, according to the Berkeley Police Department.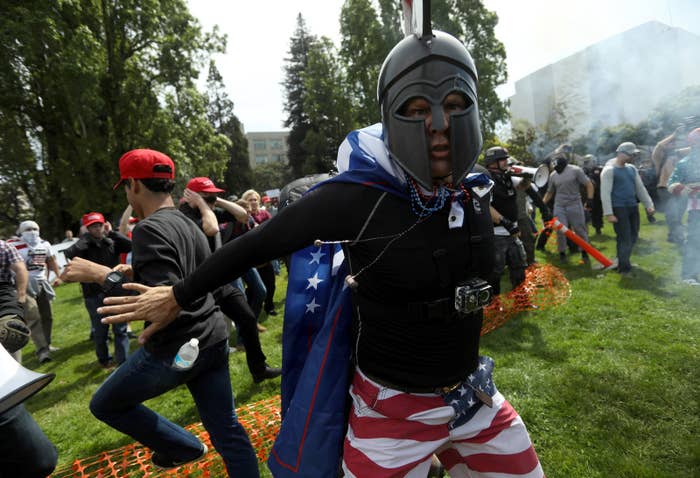 Berkeley Police Officer Jenn Coats told BuzzFeed News that those arrested were held on a variety of charges, including battery, assault with a deadly weapon and resisting a law enforcement officer. A complete list of individuals arrested was not immediately available.
Police also received reports of at least 11 people who were injured in the violent encounters that broke out during the protest, Coats said. Seven of those people were taken to nearby hospitals for treatment.
Demonstrators initially gathered at a local park but subsequently moved to the city's downtown area, according to a Berkeley Police Department spokesperson. Police called on county officials for reinforcements from neighboring towns.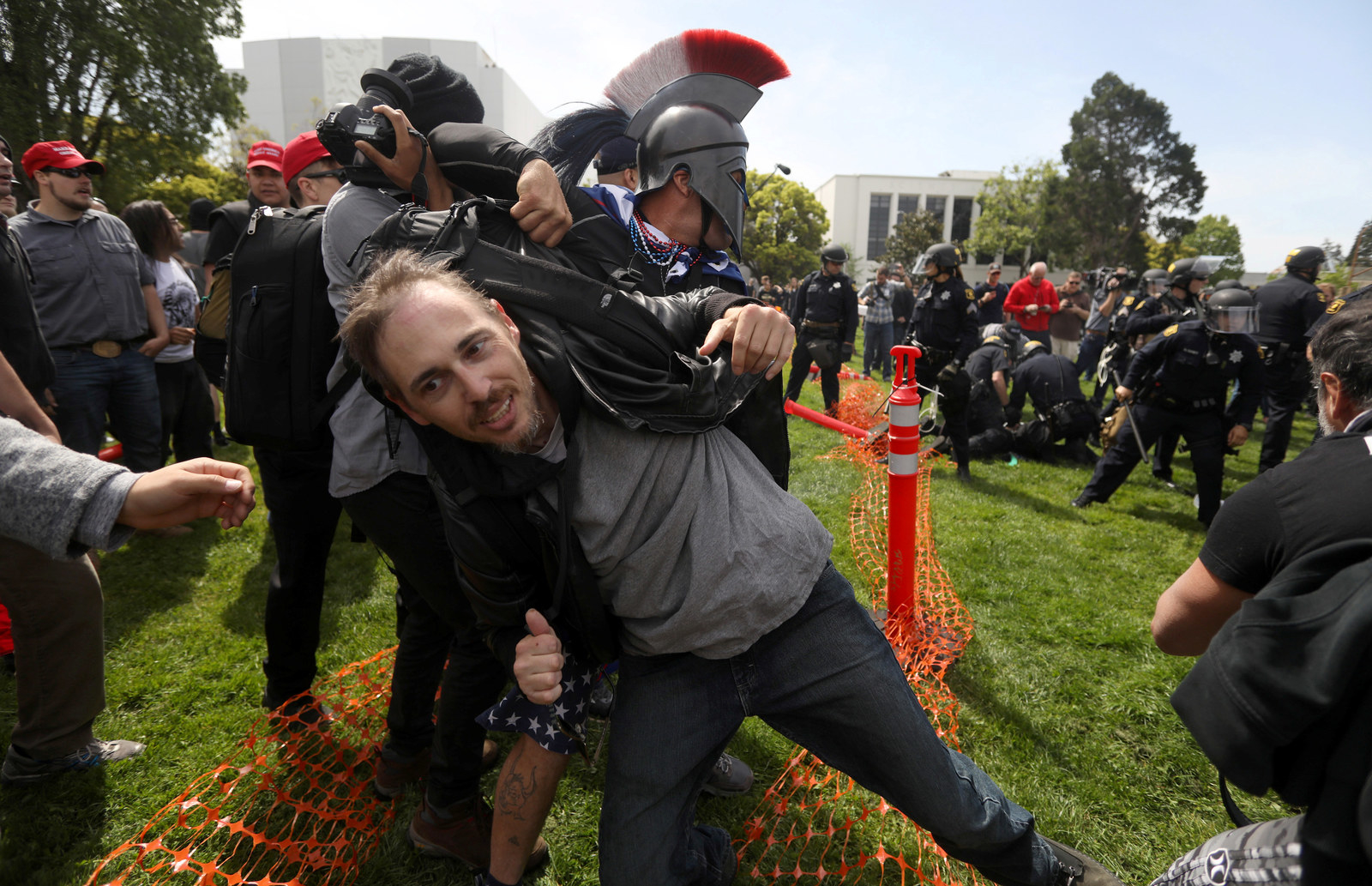 Photos and the BuzzFeed News livestream showed bloodied people at the event. Some protesters were seen using sticks and belts as weapons.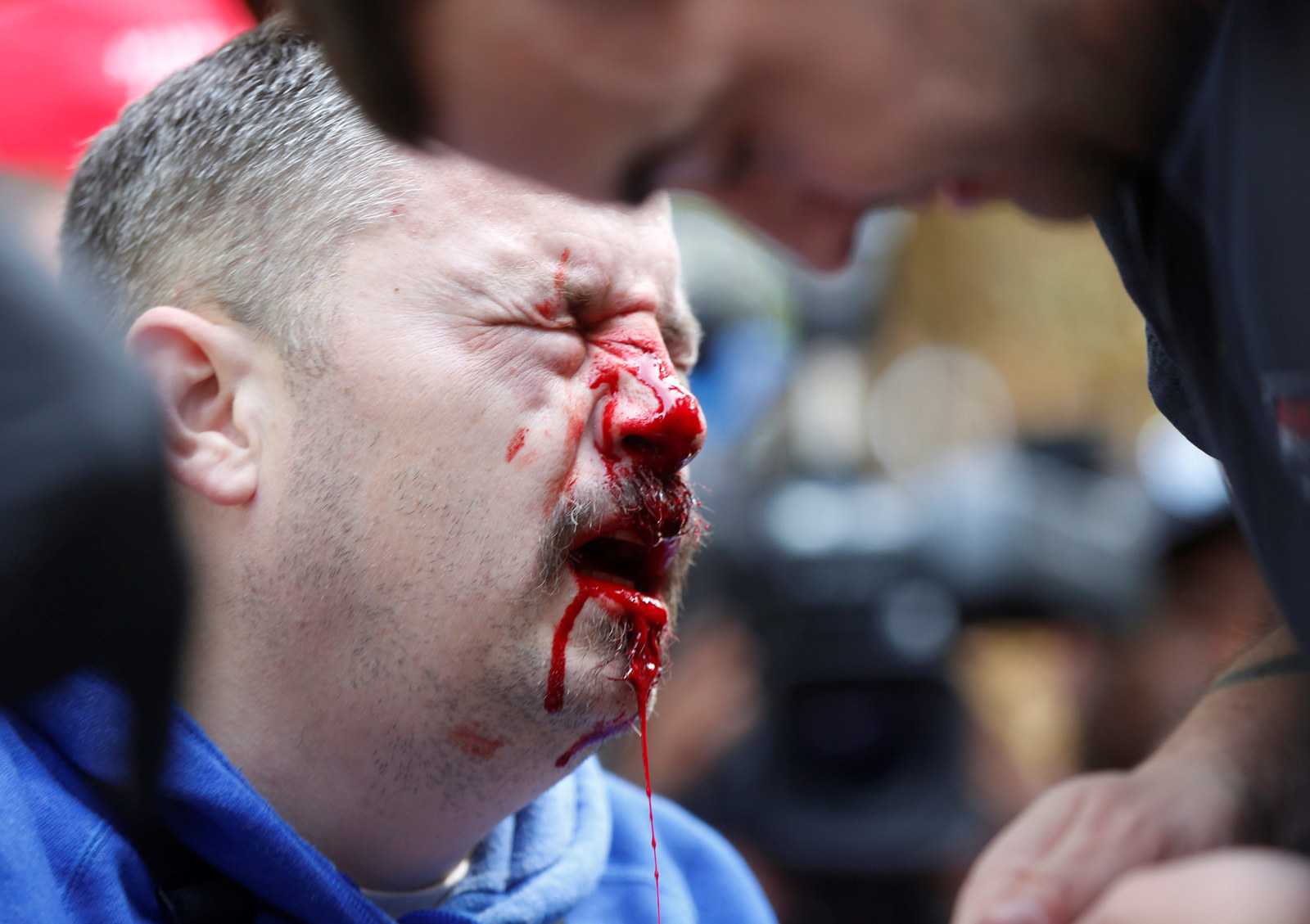 One pro-Trump supporter who was bloodied told BuzzFeed News that a protester had pushed him onto the ground and kicked him, causing his injury.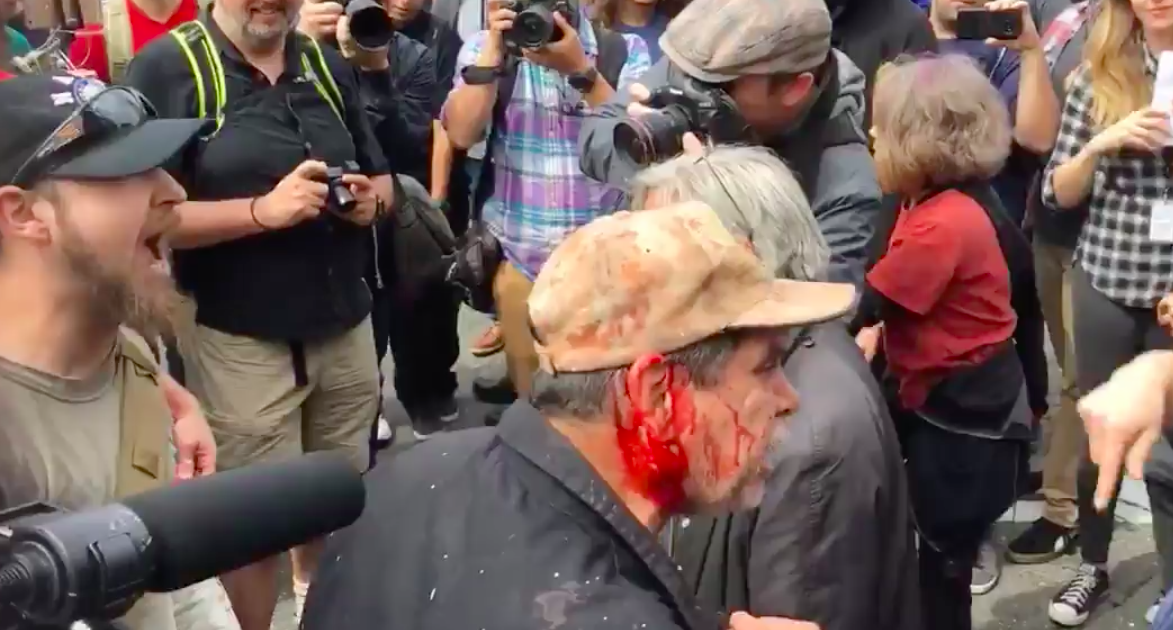 Protesters on both sides were seen holding shields and wearing helmets as they faced off.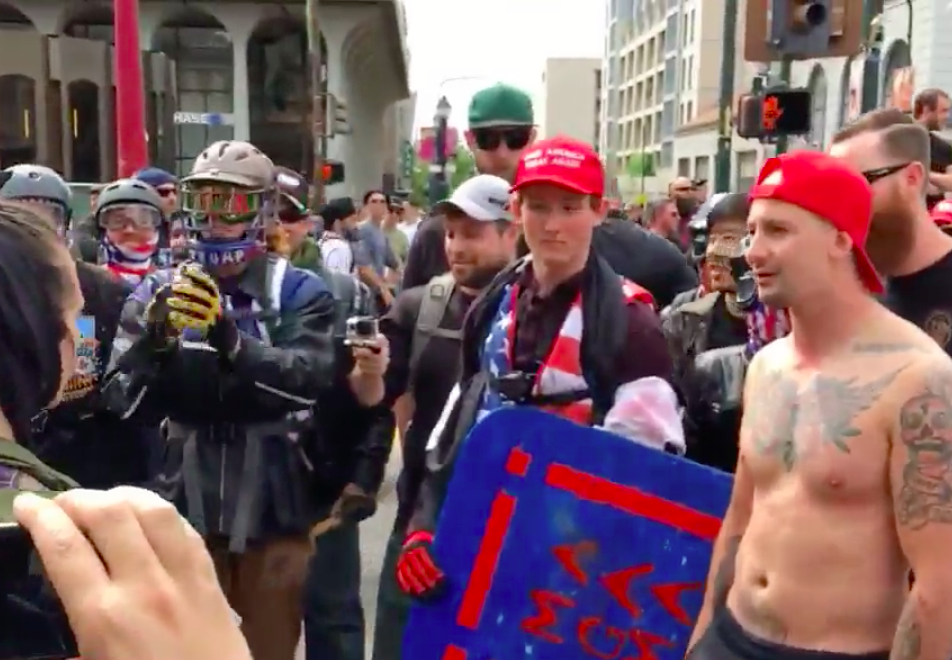 "There have been a couple of skirmishes, clashes, fights between people," Berkeley Police Officer Byron White said, adding that demonstrators had thrown fireworks and released gas.
Items such as metal pipes and baseball bats had been banned by authorities in anticipation of the event, White said.
Despite the two rival groups being able to repeatedly clash directly, seemingly without immediate police interference, White defended his department's response.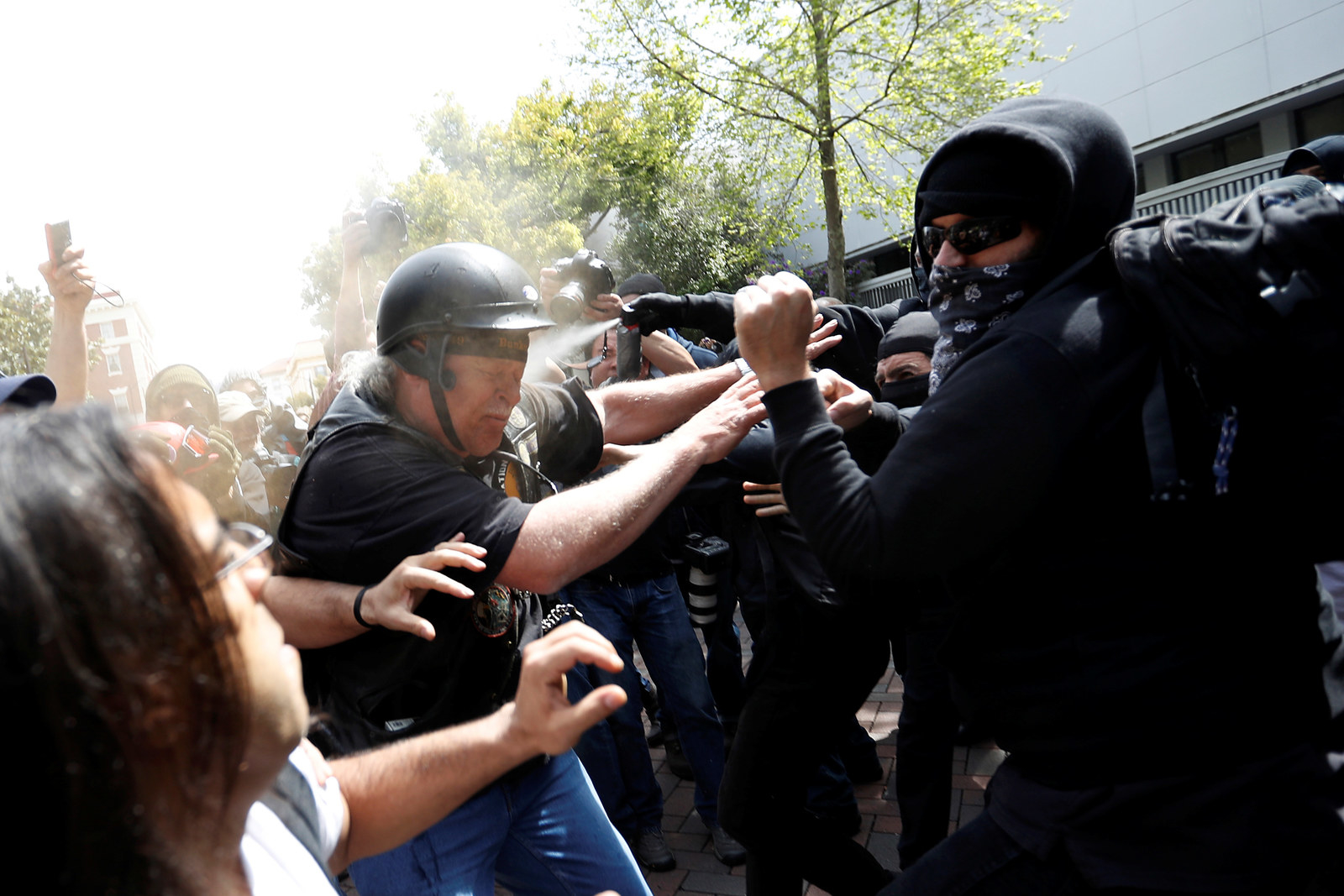 "The City of Berkeley Police Department is a small to medium-size department," he said. "Our police department total is 176. I can tell you most of that 176 is here today."
City officials received no protest permit request from either group, White said, but found out through social media and distributed flyers that the two groups planned to converge on a local park.
With no official communication between the city and protesters, officers were forced to estimate how many demonstrators would show up, White said.
"The amount of people at the park for the demonstration was in the hundreds," he said. "It's a challenge for us to keep that amount of demonstrators inside that area with the amount of people we had. It would require another level of force for us to do that."
Despite this, White did not agree that police had underestimated the protests.
"Every time we have a demonstration in the city of Berkeley, we learn a little bit from it," he said.
By 3:20 p.m., police officers in riot gear were seen forming a line near Center Street and Shattuck Avenue, where some protesters continued to face off.
The two groups had been gathering in that area, shouting and at times throwing punches at each other, for about four hours without any uniformed police officers in sight.
Blake Montgomery reported from Berkeley, David Mack reported from New York City, and Sal Hernandez reported from Los Angeles.